Open Your Free Demat Account
In 5 Minutes
Get Best Value With Our Packs
Regular
Account
Power Investor
₹
599
per month
Ultra Trader
₹
1199
per month
Bestseller
Feature
Brokerage free trades
X
X
100
Brokerage on equity
₹20
₹10
₹0
Brokerage on other segments
₹20
₹10
₹10
Net Banking Charges
₹10
₹10
₹0
DP Transaction Charges
₹12.5
₹12.5
₹0
Different Needs, Different Accounts
''
A free account for Youngsters-18-23 age
₹0

Brokerage on Intraday,
Equity, Mutual Fund

₹0

Account
Opening Charge

₹0

Account
Maintenance Charge
Open Now
''
A special account for your Wife/Husband
₹10

Brokerage
for all Trades

₹0

Account Opening
Charge

₹0

Commission On
Mutual Fund
Open Now
''
Touch new heights with Corporate Account
₹20

For All Trades

₹10

For Smart Trades*

₹0

Commission On
Mutual Fund
Contact Us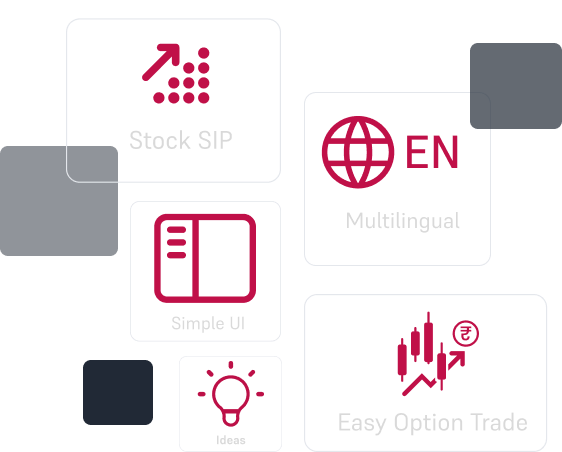 Start investing
- Daily long/short term investment calls
- Trade your view with quick option Traders
- 0% commission on mutual funds
- Same day SIP (0.6% higher returns)*
- Available in 8 different languages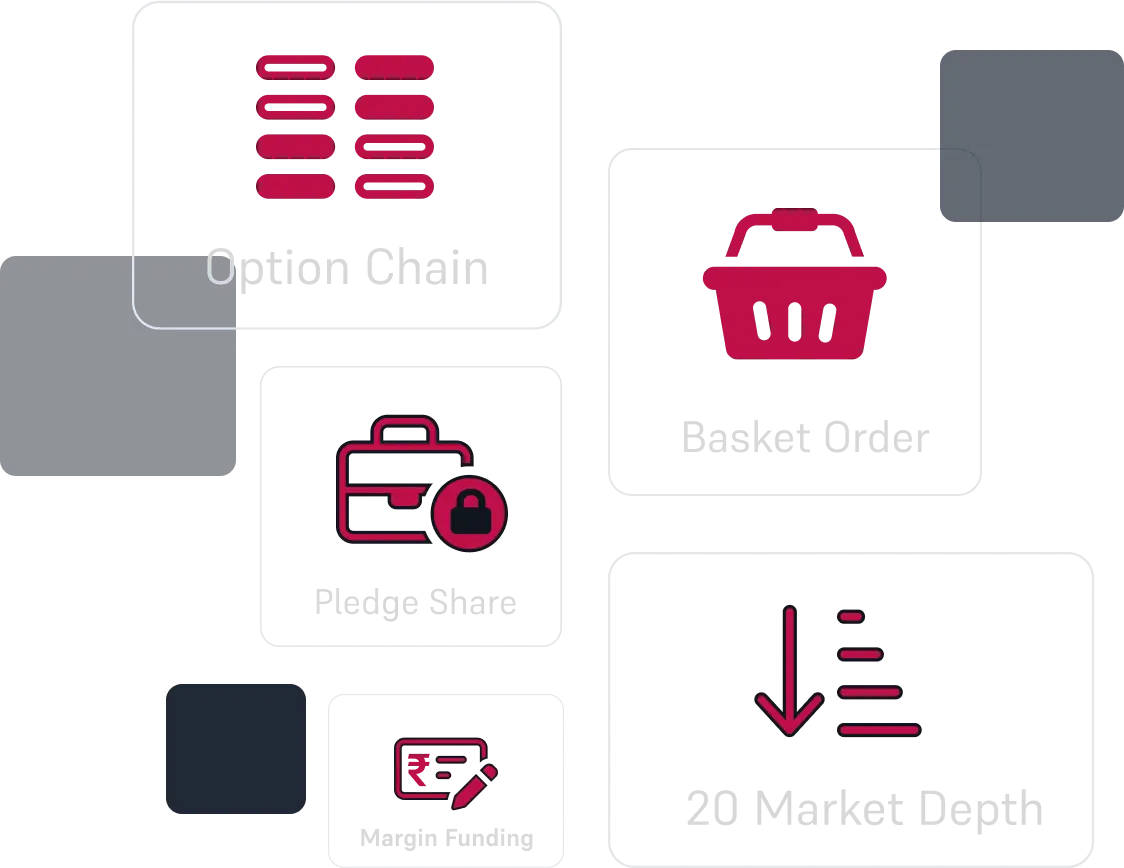 Trade like a Pro
- Real time option chain with greeks
- Place upto 10 orders with basket
- Real time pledging of stocks & mutual fund
- Intraday funding at 0% interest with margin plus
- Dedicated platform for FnO traders
Awards and Recognition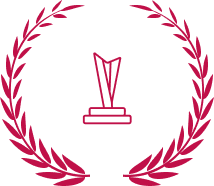 2022
Leading Member - Client
Business by MCX Awards
2022
The Great Indian BFSI
Awards
2022
Silver Digixx Awards
2022
2022
Great Place to Work
Certified
2021
Best Brand by
Economic Times
What Our Users Have to Say
This is the best application for traders.
Akshay Kumar Yadav
2023-02-23
Google playstore
There is a best support from the 5 paisa team, I am very thankful.
Iqbal Alam
2023-03-02
Google playstore
Very good app to use after modification. And the best part here is pack is available as per customer wish. Overall experience is very fantastic with this app.
Rahul Bharti
2023-04-15
Google playstore
Best trading and stock picking platform great value for money
Vijay Kumar Kushwaha
2023-05-03
Google playstore
What is a Demat Account?
A Demat account (short for Dematerialized account) is similar to a bank account – it is used to hold investments in an electronic form. An online Demat account may be used to hold shares or stocks, mutual funds, government securities, ETFs, and bonds.
In short, it is a tool that maximises your wealth & safekeeping; Demat accounts simplify and accelerate share trading procedures. Besides, it also mitigates challenges and risks one may experience with physical share certificates.
So, are you planning to invest in the share market? If yes, it has now become mandatory to open online Demat accounts.
Back then, shares used to be held in traditional forms through share certificates. But today, the whole process made sharing trading difficult.
In short, dematerialisation is the process that converts the physical share certificates and transforms them into an electrical form. Demat stands for dematerialisation since investors need to hold these shares & security on virtual platforms. Shares are converted directly into digital format. Then, they are stored in the Demat accounts.
Its prime objective is to ensure investors do not require having physical shares. It also ensures that they can trade & invest in real-time virtually in their account.
One of the most significant benefits of these accounts is to help users refrain from problems associated with conventional share certificates. Besides, it eliminates risks with forgoing share certificates. In these accounts, it is convenient and easy to hold securities. There's no stamp duty paid on the shares' transfer. It also reduces risks associated with delayed settlement. Lastly, they are budget-friendly and lessen transaction fees.

How to open a Demat Account?
The procedure to open a Demat account just got super simple. You can now open a Demat account in 4 easy steps with the 5paisa app!
Download the 5paisa app from Apple Store or Google Playstore.
Select the 'Open Demat Account' Option.
5paisa executives will contact you and guide you through the account opening process.
Submit the required documents, verify your KYC.
Documents Required to open Demat account
In the digitalised landscape of this 21st century, the conventional process of submitting paper forms is time-consuming. Let's be frank – customers now get a chance to online Demat account open without undergoing any cumbersome filing process. They simply need to agree to the eKYC from the digital brokerages. Later on, the data gets verified using the applicant's Aadhar card by 5paisa. So, the entire process is paperless. If you want to opt for a Demat account, you need important documents.
For Individuals, documents required include:
PAN Card
Address Proof (Aadhaar Card preferred)
Proof of Bank Details
Income Proof (For derivatives & currency segment)
Signature (on blank white paper)
Get the entire list of account opening documents with 5paisa.
Note: If bank verification fails, bank proof is mandatory to submit.
As a shareholder or investor, you can hold shares electronically. There are governments who have already approved the documents you need for a Demat account. Remember, you may select from various options as ID proof or address proof. You may upload scanned copies of the documents with a few brokers to the account opening portal.
Why open Demat Account with 5paisa?
With the 5paisa app, you can now open a free Demat Account from the comforts of your home. 5paisa takes 0% brokerage fee. Besides being the best free Demat Account in the market, it has a simple interface that is very easy to use. All transactions are paperless. You also get regular updates on the hottest investment opportunities available in the market.
At 5paisa, we help you with online Demat account opening with single accounts for all your trading and investment requirements. Here are a few offers we bring on offer:
● Seamless and smooth orders with an easy switch
● A speedy onboarding process to set up your Demat account with your Aadhaar, eKYC, and PAN
● Search stocks using filters with the most current updates and news to make an informed decision
● Speedy and easy accessibility with a mobile number from Android, iOS, or web platforms
Our users say that we are a pioneer in trading applications. We manage to provide them with an intuitive and excellent user interface. Our clients are happy with our reliable application for effective trading.
We follow a simple Demat account opening online process. You simply have to follow these intricacies:
● Submit your PAN & Aadhar card
● Verify your bank details
● Give your electronic signature
Want to opt for a Demat account open online process? Our speedy approach takes only a few hours. We let you track the market movements in real time. If you choose us, you can easily track market volatility live. You do not need any other software solution to monitor your losses and profits. 5paisa offers a tech-driven software solution. We understand the importance of continuous innovation & improvement in advancing technologies, so we make your process user-friendly.
With a single Demat account, we allow you to hold each investment in a safe place. Manage your funds & monitor your stocks accordingly. We also let you buy & sell investments within a fraction of a second.
Our main USP is that we provide different investing options. So, you can access different digital trading opportunities such as IPOs, stocks, mutual funds, and more. Avail all of them through the Demat account. Lastly, we have pocket-friendly and transparent pricing.
We don't charge you anything for creating a 5paisa Demat account. A few brokerages might charge an annual fee, but there aren't any annual fees charged. So, you can easily opt for a free Demat account opening with us at your earliest. Considering the brokerage charges, 5paisa wants 20 rupees / executed order brokerage for the stock trading.
For mutual funds, it needs 10 rupees / executed order brokerage. And lastly, 5paisa charges Rs 300 yearly for Demat transaction fees. So, the entire process is pretty budget-friendly.

Open a free Demat Account with the 5paisa app today to start trading and generating wealth!
Frequently Asked Questions