Hinduja Shares
Check out the complete list of shares/stocks of Hinduja listed on NSE & BSE.
Company Name
₹ LTP (Change %)
Volume
Market Cap
52 Week High
52 Week Low
ASHOKLEY

Ashok Leyland Ltd

149

(-0.3%)

2.5M
43880.42
169.45
93.2
GULFOILLUB

Gulf Oil Lubricants India Ltd

432

(1.2%)

6.4k
2092.05
522
377.6
HGS

Hinduja Global Solutions Ltd

1296.1

(0.2%)

11.7k
6790.87
1698.6
846
INDUSINDBK

IndusInd Bank Ltd

1144.7

(0.2%)

758.1k
88664.31
1275.8
763.2
NXTDIGITAL

NxtDigital Ltd

124

(-2.8%)

2k
429.48
141.75
48.26
Hinduja Group shines as a leading business house comprising several top-rated companies. The conglomerate expands its operations to various industrial fields. Investors can allot their funds in the shares of Hinduja Group companies to earn a steady income flow despite market fluctuations. It is an ideal investment option for those seeking a profitable stock market experience.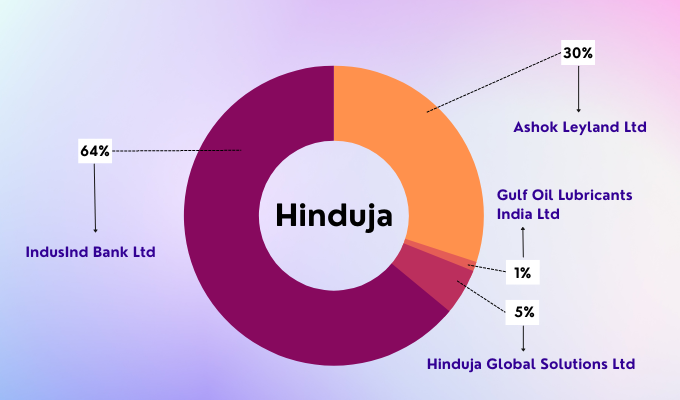 About Hinduja Group of Companies
Hinduja Group is a globally-acclaimed business conglomerate founded in 1914 to work around merchant banking and trading. The company foundation resulted from entrepreneur, philanthropist, and visionary Parmanand Deepchand Hinduja (P.D. Hinduja). With its first international office in Iran, the Hinduja Group has expanded its cluster to over 100 countries and millions of customers.
Srichand Paramanand Hinduja, Gopichand Hinduja, Prakash Hinduja, and Ashok P. Hinduja currently hold the top management of Hinduja Group. Under the guidance of the four Hinduja brothers, the conglomerate has expanded its services in core industrial domains like automobile, oil, healthcare, trade, speciality chemicals, infrastructure development, media and entertainment, power, cyber security, IT, banking and finance, and real estate.
The umbrella organisation includes IndusInd Bank, Ashok Leyland, Gulf Oil, Hinduja Global Solutions, NXT Digital, etc. The current market cap of IndusInd Bank stands at INR 92,633.45 crores. For the quarter ending September 2022, IndusInd Bank recorded a net profit of INR 1,805 crores, whereas the Net Interest Income reached INR 4,302 crore.
Investing in trusted business conglomerates like Hinduja Group can help you strengthen your stock market portfolio quickly. You can view the complete stock list of Hinduja Group companies below.

Frequently Asked Questions
You will need a Demat and trading account to buy Hinduja Group shares. You can open a free Demat and trading account with 5paisa and buy the Hinduja Group shares by logging into your Demat account, choosing a Hinduja Group company, and placing a "Buy Order."
Hinduja Group is India's largest conglomerate and includes numerous companies to diversify and invest for the long term. However, it is wise that you do extensive research on all the Hinduja Group companies to analyse their fundamentals before choosing Hinduja stocks for the long term. You can use the smart research tools with 5paisa's Demat account to do fundamental and technical analysis before choosing Hinduja stocks.