Tata Shares
Check out the complete list of shares/stocks of Tata Group listed on NSE & BSE.
Company Name
₹ LTP (Change %)
Volume
Market Cap
52 Week High
52 Week Low
TCS

Tata Consultancy Services Ltd

3520

(1.4%)

1M
1270623.88
3854.1
2926.1
TATAMOTORS

Tata Motors Ltd

436.9

(0.3%)

4.8M
155900.44
511.5
366.2
TATAMTRDVR

Tata Motors-DVR

220.85

(-0.4%)

612.8k
11273.51
260.4
179.85
TATACHEM

Tata Chemicals Ltd

1026.3

(-0.5%)

612.1k
26264.48
1214.9
773.35
TATACOFFEE

Tata Coffee Ltd

210.6

(0.1%)

155.5k
3930.58
251.7
181.65
TATACOMM

Tata Communications Ltd

1238.8

(0.4%)

100.5k
35156.18
1430.6
856.25
TATAELXSI

Tata Elxsi Ltd

6740

(0.7%)

103.6k
41678.51
10760
5709.05
TATAINVEST

Tata Investment Corporation Ltd

2233.7

(0.7%)

18.7k
11227.86
2883.4
1215.95
TATAMETALI

Tata Metaliks Ltd

769.05

(0.0%)

66.5k
2428.15
922
617.35
TATAPOWER

Tata Power Company Ltd

205.7

(-0.3%)

4.8M
65919.85
298.05
190
VOLTAS

Voltas Ltd

816.95

(0.2%)

335.4k
26973.72
1347.65
737.2
TATASTEEL

Tata Steel Ltd

111.65

(0.2%)

40.5M
136114.52
138.67
82.7
TRENT

Trent Ltd

1223.75

(0.9%)

153.3k
43125.96
1566
980
TITAN

Titan Company Ltd

2471.85

(1.0%)

348.5k
217232.4
2791
1825.05
INDHOTEL

Indian Hotels Co Ltd

314.8

(-0.5%)

1.5M
44948.57
349
180.6
NELCO

NELCO Ltd

603.15

(0.9%)

33.8k
1363.5
1090
515.05
Companies belonging to the Tata Group have become household names as they have a diversified range of products and services. The Tata Group has 29 listed companies which have delivered enormous returns to investors over time. For anyone who wants to invest systematically and build wealth over time, the shares of Tata Group companies can prove to be an ideal investment.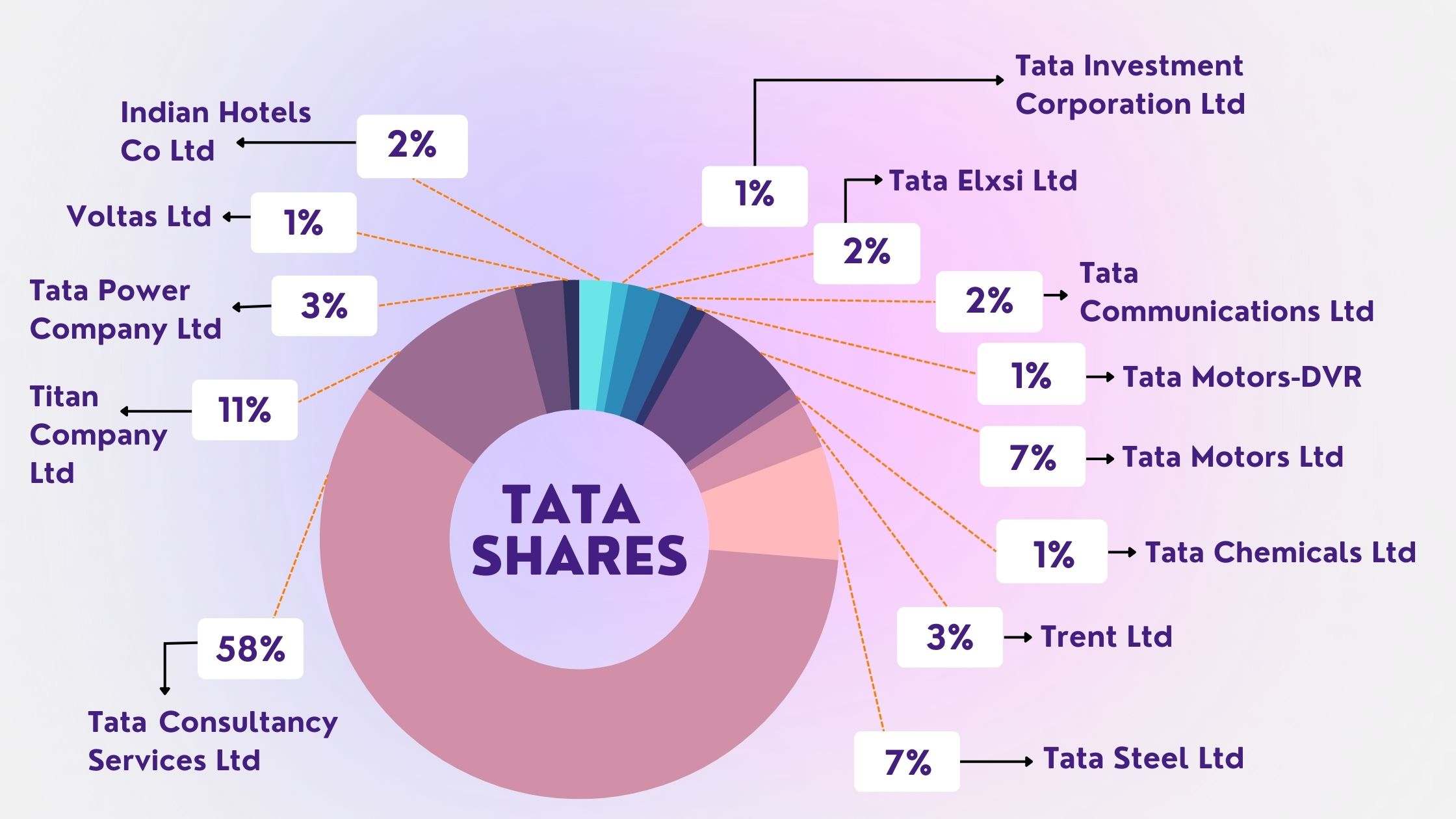 About Tata Group of Companies
The Tata Group of Companies is a multinational conglomerate with its headquarters in Mumbai. In 1868, Jamsetji Tata established the Tata Group, which currently sells its products and services in more than 150 countries, India being the largest contributor to the revenue of its included companies.
Tata group has a diversified range of companies with operations in FMCG, Jewellery, Chemicals, Communications, Hotels, Airlines, etc. Although the Tata Group has more than 100 subsidiaries, there are 19 publicly listed companies of the Tata Group on the NSE and the BSE. Each of these companies operates independently under the supervision and management of its executives, directors, and shareholders. Tata Sons have the most ownership of the group companies at 66%, while the Tata family is a minor shareholder in all the publicly listed companies and subsidiaries.
The combined market capitalisation of all 19 publicly-listed Tata Group Companies was $311 billion (INR 23.6 trillion) as of March 31st, 2022, with annual revenue for the fiscal year 2021-2022 of $128 billion (INR 10.4 trillion). Tata Consultancy Services (TCS) was the most valuable AT $153.19 (INR 12.4 trillion) among the companies.
If you want to diversify your investments and invest within the Tata Group, you can check out the complete list of shares/stocks of Tata Group listed on NSE & BSE below.
Frequently Asked Questions
You will need a Demat and trading account to buy Tata Group shares. You can open a free Demat and trading account with 5paisa and buy the Tata Group shares by logging into your Demat account, choosing a Tata Group company, and placing a "Buy Order."

Tata Group is India's largest conglomerate and includes numerous companies to diversify and invest for the long term. However, it is wise that you do extensive research on all the Tata Group companies to analyse their fundamentals before choosing Tata stocks for the long term. You can use the smart research tools with 5paisa's Demat account to do fundamental and technical analysis before choosing Tata stocks.