ICICI Shares
Check out the complete list of shares/stocks of ICICI Shares listed on NSE & BSE.
Company Name
₹ LTP (Change %)
Volume
Market Cap
52 Week High
52 Week Low
ICICIBANK

ICICI Bank Ltd

938.05

(0.0%)

12.2M
655897.15
958.85
669.95
ICICIPRULI

ICICI Prudential Life Insurance Company Ltd

495.05

(-3.5%)

2.2M
71216.84
608.75
380.7
ISEC

ICICI Securities Ltd

525

(0.1%)

124.8k
16936.97
578
411
ICICIGI

ICICI Lombard General Insurance Company Ltd

1215.5

(-3.0%)

635.4k
59700.3
1369
1049.05
Known for its exemplary banking and financial services, the ICICI Group is an ideal option for stock market investors. The company has a powerful presence in the global banking sector. Investment in ICICI Group companies' stock offers a reliable solution for reaping the benefits of the fast-pacing universal banking domain. Adding this conglomerate's stock to your investment portfolio can provide the necessary balance.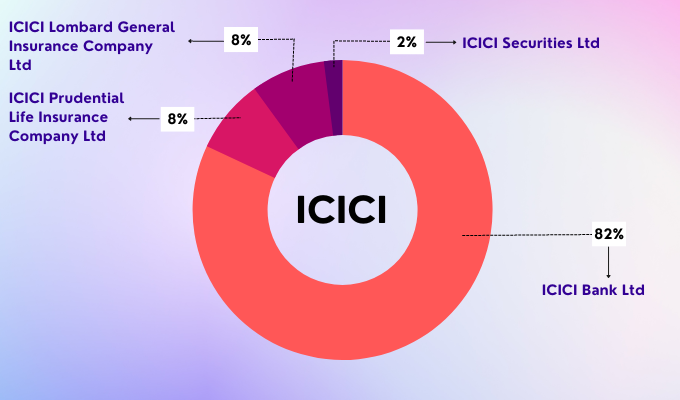 About ICICI Group of Companies
Industrial Credit and Investment Corporation of India is a globally-acclaimed banking and financial service provider. Founded in 1955 to leverage financial aid to Indian industries, the ICICI Group owns a sprawled network of users from all work fronts. Additionally, the entity is known for offering a dedicated portfolio of financial services across India.
In 1994, the ICICI Group incorporated ICICI Bank to promote universal banking in the country. Later, the top management of ICICI Group and ICICI Bank merged their operations to form a unified financial institution. As a result, the banking conglomerate has a strong presence across various economic realms. Some of the group's companies are ICICI Bank, ICICI Securities, ICICI Prudential Life Insurance Company, ICICI Lombard General Insurance Company, ICICI Home Finance Company, etc.
Per the December 2022 data, ICICI Bank stands tall with a market cap of $80.90B. The firm's current revenue peaked at $15.84B. Further, the earnings reached $5.29B in 2022 against $4.24B collected in 2021 by the company.
Investing in the stock of ICICI Group companies can be a good option for new and experienced stock market investors. You can see the complete list of ICICI Group company shares listed in NSE and BSE below.
Frequently Asked Questions
You will need a Demat and trading account to buy ICICI Group shares. You can open a free Demat and trading account with 5paisa and buy the ICICI Group shares by logging into your Demat account, choosing a ICICI Group company, and placing a "Buy Order."

ICICI Group is India's largest conglomerate and includes numerous companies to diversify and invest for the long term. However, it is wise that you do extensive research on all the ICICI Group companies to analyse their fundamentals before choosing ICICI stocks for the long term. You can use the smart research tools with 5paisa's Demat account to do fundamental and technical analysis before choosing ICICI stocks.
Start Investing Now!
Open Free Demat Account in 5 mins