Godrej Shares
Check out the complete list of shares/stocks of Godrej Shares listed on NSE & BSE.
Company Name
₹ LTP (Change %)
Volume
Market Cap
52 Week High
52 Week Low
GODREJCP

Godrej Consumer Products Ltd

1065.35

(1.0%)

452.3k
107910.52
1069
708.5
GODREJIND

Godrej Industries Ltd

473

(0.6%)

53.1k
15825.36
504
395
GODREJPROP

Godrej Properties Ltd

1446.45

(1.8%)

419.5k
39517.97
1529.95
1005
ASTEC

Astec Lifesciences Ltd

1463.9

(3.9%)

229.5k
2761.95
2288.8
1045
GODREJAGRO

Godrej Agrovet Ltd

439.15

(0.7%)

52.6k
8385.03
557.7
390.85
In India, the stock market gives investors a wide range of lucrative investment options to include in their portfolios. Multinational conglomerates like the Godrej Group are one of the most popular choices for investors. The business cluster includes various reputed companies under its pursuit. Each firm offers a diverse range of products and services.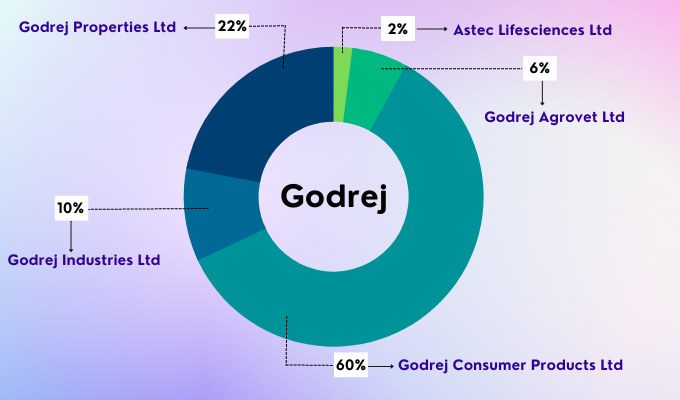 About Godrej Group of Companies
Established in 1897 by Ardeshir and Pirojsha Burjorji, Godrej is a leading business brand in India and internationally. With its "shared value" motto, the group focuses on curating sustainable products and preaching customer-friendly values. The business giant currently serves more than 80 countries worldwide.
Currently, the Godrej group works across various core industrial domains such as agro, consumer goods, engineering, electrical appliances, furniture, and security. The main corporate entities forming the Godrej cluster are Godrej & Boyce Mfg. Co. Ltd., Godrej Consumer Products, Godrej Agrovet, and Godrej Properties. Godrej engines now power many of India's space missions, thus showcasing the geographic influence of the group that goes beyond Earth.
Per the data released for the quarter ending September 2022, the group's total income stood at INR 4275.92 crore, while its PAT was INR 156.18 crore. The conglomerate's current market cap is INR 156.86 billion, making it one of the top business houses in the country.
You can view and analyse the complete stock list of Godrej group companies from the list below. The list has shares listed on NSE and BSE.
Frequently Asked Questions
You will need a Demat and trading account to buy Godrej Group shares. You can open a free Demat and trading account with 5paisa and buy the Godrej Group shares by logging into your Demat account, choosing a Godrej Group company, and placing a "Buy Order."
Godrej Group is India's largest conglomerate and includes numerous companies to diversify and invest for the long term. However, it is wise that you do extensive research on all the Godrej Group companies to analyse their fundamentals before choosing Godrej stocks for the long term. You can use the smart research tools with 5paisa's Demat account to do fundamental and technical analysis before choosing Godrej stocks.
Start Investing Now!
Open Free Demat Account in 5 mins