Murugappa Shares
Check out the complete list of shares/stocks of Murugappa listed on NSE & BSE.
Company Name
₹ LTP (Change %)
Volume
Market Cap
52 Week High
52 Week Low
CARBORUNIV

Carborundum Universal Ltd

1165

(0.7%)

340.7k
22114.23
1235
652
CHOLAHLDNG

Cholamandalam Financial Holdings Ltd

810

(-0.5%)

286.7k
15232.51
861.4
511.3
CHOLAFIN

Cholamandalam Investment & Finance Company Ltd

1039.3

(-0.4%)

1.4M
85422.31
1069.8
600
COROMANDEL

Coromandel International Ltd

953.05

(0.7%)

419.6k
28020.98
1094
838
EIDPARRY

EID Parry (India) Ltd

486.3

(-0.1%)

91.3k
8632.68
670
433.2
SHANTIGEAR

Shanthi Gears Ltd

432.5

(-1.9%)

107.1k
3317.96
448
182.65
TIINDIA

Tube Investments of India Ltd

2884.2

(-0.1%)

136.4k
55740.28
3046.2
1457.6
WENDT

Wendt India Ltd

9220.15

(-0.6%)

1848.79
9725
7017
Investing in the stock market requires proper planning and strategy. Putting your funds in risky companies to earn quick profits can leave you empty-handed. Murugappa Group is an ideal investment option for making steady profits. Along with its sister concerns, the group has a worthy market presence across multiple domains. Thus, you can choose your favourite niche and invest in the company that comes under the Murugappa Group.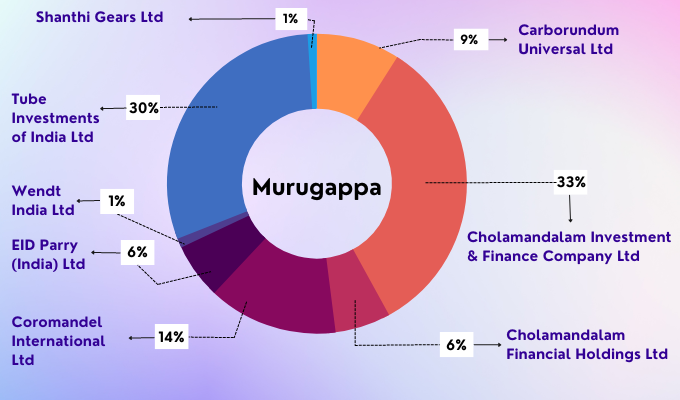 About Murugappa Group of Companies
Founded in 1900, Murugappa Group is a top-tier business conglomerate headquartered in Chennai, India. The company started as a banking institution in Myanmar (then Burma) during the pre-WW1 period but soon moved to Southern India. With dedicated efforts, the firm expanded its services to 28 core industrial realms, of which nine are publicly listed entities.
The Murugappa Group is a popular name within the financial domain. However, its services are available in other core fields such as agriculture, engineering, automobile, etc. Renowned brands owned by the group include Hercules, Montra, Parry's, Chola, Paramfos, Shanthi Gears, BSA, and Gromor. Cholamandalam Financial Holdings Ltd., Parry Agro Industries Ltd., Cholamandalam MS General Insurance Company Ltd., Shanthi Gears Ltd., and EID Parry (India) Ltd. are some of the leading companies comprising the group.
The total market cap in 2022 of the publicly listed companies of the conglomerate was INR 1,78,412 crores. For FY22, Murugappa Group revealed a turnover of INR 54,722 crore, a surge of 31.2% from the previous year's records. The net profit rose by 23.2% to reach INR 5,520 crore for the same period.
You can build a profitable investment portfolio by including the shares of Murugappa Group in your portfolio. The list here shows the total stock/shares of the companies forming a part of the conglomerate and listed in BSE and NSE.

Frequently Asked Questions
You will need a Demat and trading account to buy Murugappa Group shares. You can open a free Demat and trading account with 5paisa and buy the Murugappa Group shares by logging into your Demat account, choosing a Murugappa Group company, and placing a "Buy Order."
Murugappa Group is India's largest conglomerate and includes numerous companies to diversify and invest for the long term. However, it is wise that you do extensive research on all the Murugappa Group companies to analyse their fundamentals before choosing Murugappa stocks for the long term. You can use the smart research tools with 5paisa's Demat account to do fundamental and technical analysis before choosing Murugappa stocks.
Start Investing Now!
Open Free Demat Account in 5 mins