Ambani Shares
Check out the complete list of shares/stocks of Ambani Group listed on NSE & BSE.
Company Name
₹ LTP (Change %)
Volume
Market Cap
52 Week High
52 Week Low
RELIANCE

Reliance Industries Ltd

2455.2

(-0.3%)

7.2M
1661091.57
2817.35
2180
NETWORK18

Network 18 Media & Investments Ltd

66.2

(1.6%)

6.3M
6930.8
82.55
45
JUSTDIAL

Just Dial Ltd

720.6

(1.8%)

337.9k
6122.23
725
520
HATHWAY

Hathway Cable & Datacom Ltd

14.55

(4.3%)

8.4M
2575.5
19.65
12.25
DEN

Den Networks Ltd

33.9

(4.6%)

2.6M
1617.79
40.4
25.2
RIIL

Reliance Industrial Infrastructure Ltd

945.45

(2.9%)

1M
1427.63
1257
716
The position of Reliance Industries is undisputably a leader in the stock market. The conglomerate boasts a robust cluster of top-performing companies known for innovative products and customer service. Moreover, the firms have shown consistently good results and steady performance over the years for the investors. Therefore, the Reliance Industries group companies are ideal for investors willing to invest funds in a growing economy.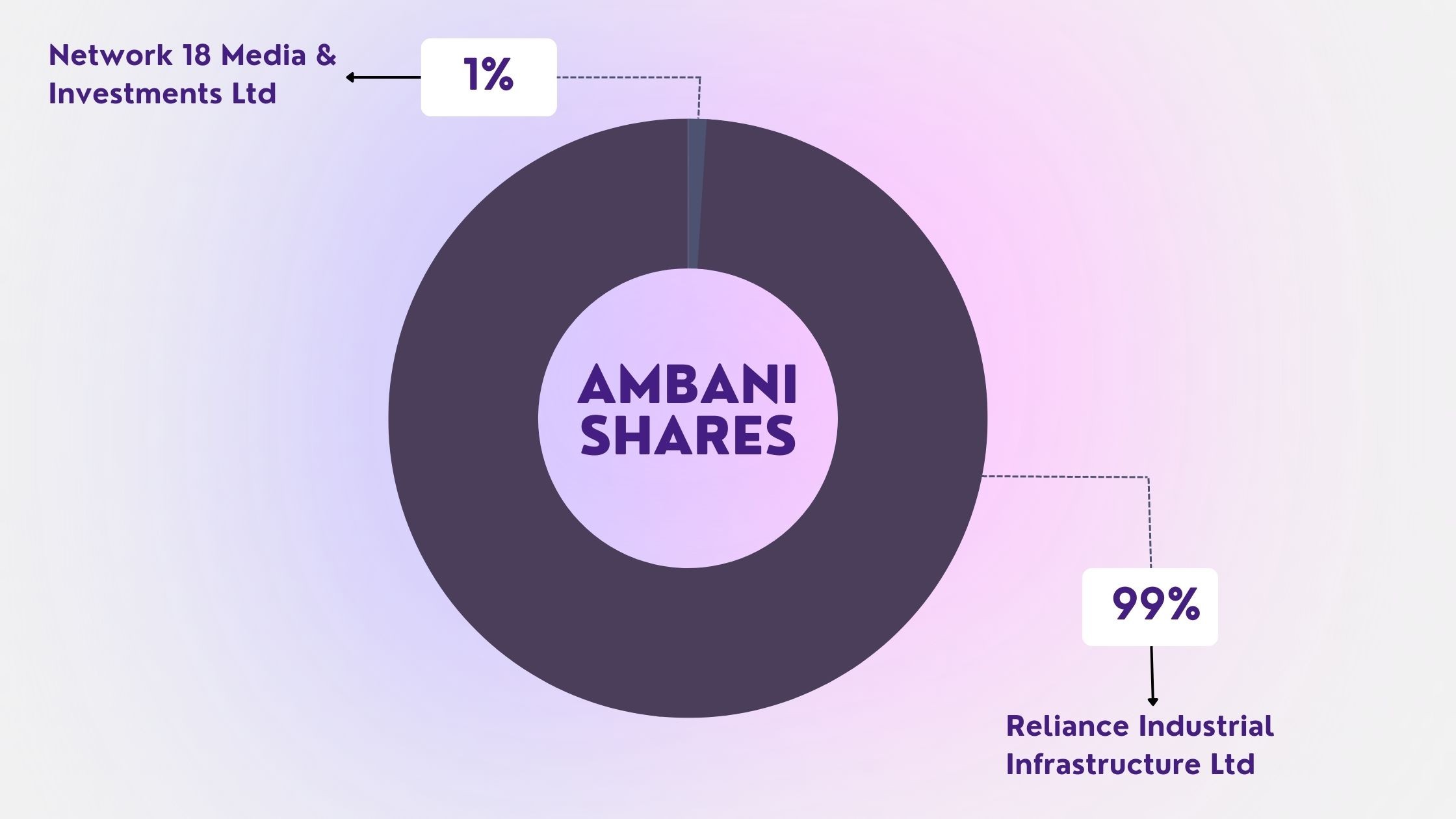 About Ambani Group of Companies
Founded by visionary Dhirubhai Ambani, Reliance Industries Limited is one of India's most acclaimed business conglomerates. Since its inception in 1973, the company expanded across many industrial domains. However, in 2005, the group split into two business clusters owned by Mukesh Ambani and Anil Ambani separately.
The multinational conglomerate has a market presence in over 100 countries and is also one of the most profitable Indian business houses. As of 2022, the entity grabbed the 100th spot on the Fortune Global 500 list of the world's largest entities. The group serves various fields, including telecom, energy, retail, mass media, natural gas, and textiles. Jio Platforms, Network18 Group, Reliance Petroleum, Hathway Cable & Datacom, DEN Network, etc., are some of the principal subsidiaries of the conglomerate.
As of the FY22 reports, the group's net income stood at INR 67,845 crore, while the total assets were INR 1,770,665 crore. The revenue of Reliance Industries was INR 792,756 crore for the same period.
You can view the complete stock range of Reliance Industries subsidiaries listed on the NSE and BSE from the list below.
Frequently Asked Questions
You will need a Demat and trading account to buy Ambani Group shares. You can open a free Demat and trading account with 5paisa and buy the Ambani Group shares by logging into your Demat account, choosing a Ambani Group company, and placing a "Buy Order."
Ambani Group is India's largest conglomerate and includes numerous companies to diversify and invest for the long term. However, it is wise that you do extensive research on all the Ambani Group companies to analyse their fundamentals before choosing Ambani stocks for the long term. You can use the smart research tools with 5paisa's Demat account to do fundamental and technical analysis before choosing Ambani stocks.
Start Investing Now!
Open Free Demat Account in 5 mins