WADIA Shares
Check out the complete list of shares/stocks of WADIA Shares listed on NSE & BSE.
Company Name
₹ LTP (Change %)
Volume
Market Cap
52 Week High
52 Week Low
BRITANNIA

Britannia Industries Ltd

4945

(1.4%)

117k
117424.5
4914.75
3270.95
BBTC

Bombay Burmah Trading Corporation Ltd

973.25

(0.9%)

2.7k
6729.15
1073.5
781.05
BOMDYEING

Bombay Dyeing & Manufacturing Company Ltd

87.8

(-0.7%)

123.1k
1826.8
118.45
53.25
The Wadia Group comprises one of the most robust networks of companies under its umbrella organisation. Each company offers a diverse spectrum of products and superior-quality services. By investing in the Wadia Group companies' stock, you can easily share some of the profits earned by these coveted entities. The shares of the Wadia group companies offer a reliable source of passive income for small-scale and big investors.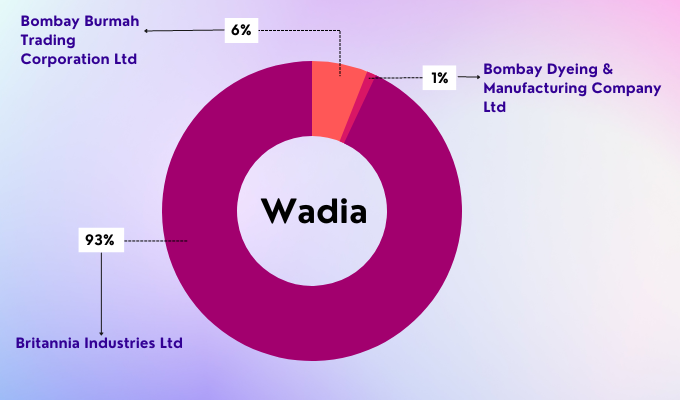 About Wadia Group of Companies
Thriving as one of the oldest conglomerates in India, the Wadia Group expands its coverage to many industries. The company began its operations in 1736, centred around the marine construction niche. Headquartered in Mumbai, the business house is the brainchild of Loeji Nusserwanjee Wadia, a visionary from a Parsi family in Surat, Gujarat.
Since its inception, the Wadia Group has explored many industrial domains, including FMCG, textiles, food manufacturing, aviation, healthcare, and real estate. The cluster comprises India's most popular food processing chain, Britannia Industries Ltd. Other companies forming a part of the Wadia Group are Bombay Burmah Trading Corporation Ltd (BBTCL), Bombay Dyeing, National Peroxide Ltd, Go Airlines (India) Ltd., Bombay Realty, and Wadia Techno-Engineering Services.
In Q2 of FY23, Britannia Industries Ltd. recorded a revenue collection of INR 4,379 crore, a 21.4% rise compared to last year's value. The stock worth witnessed a 28.4% YoY in its profit and reached INR 490.58 crore. The total equity worth of the group is INR 51,400 crores, and the total revenue is INR 28,000 crores per the latest information.
If you are an avid stock market investor, you must consider the Wadia Group company shares as your next investment. You can find the complete list of Wadia Group company shares listed in NSE and BSE below.

Frequently Asked Questions
You will need a Demat and trading account to buy Wadia Group shares. You can open a free Demat and trading account with 5paisa and buy the Wadia Group shares by logging into your Demat account, choosing a Wadia Group company, and placing a "Buy Order."
Wadia Group is India's largest conglomerate and includes numerous companies to diversify and invest for the long term. However, it is wise that you do extensive research on all the Wadia Group companies to analyse their fundamentals before choosing Wadia stocks for the long term. You can use the smart research tools with 5paisa's Demat account to do fundamental and technical analysis before choosing Wadia stocks.
Start Investing Now!
Open Free Demat Account in 5 mins