Bajaj Shares
Check out the complete list of shares/stocks of Bajaj Shares listed on NSE & BSE.
Bajaj Group Stocks
Company Name
₹ LTP (Change %)
Volume
Market Cap
52 Week High
52 Week Low
BAJAJ-AUTO

Bajaj Auto Ltd

5063.7

(1.1%)

248k
143281.12
5274.9
3461.25
BAJFINANCE

Bajaj Finance Ltd

7810.75

(0.9%)

573k
473267.82
7999.9
5485.7
BAJAJFINSV

Bajaj Finserv Ltd

1540.25

(0.0%)

1.1M
245745.16
1817.9
1215
BAJAJHLDNG

Bajaj Holdings & Investment Ltd

7106.45

(0.7%)

33.2k
79110.5
7640
5560.15
BAJAJCON

Bajaj Consumer Care Ltd

224.6

(0.3%)

210.2k
3256.51
262.4
145.55
BAJAJHIND

Bajaj Hindusthan Sugar Ltd

26.25

(-0.6%)

12.3M
3353.07
29.85
10.05
BAJAJELEC

Bajaj Electricals Ltd

1098

(-0.8%)

17.5k
12688.84
1177.3
850.76
MAHSCOOTER

Maharashtra Scooters Ltd

7613.15

(1.5%)

6.8k
8701.83
8140
4072
MUKANDLTD

Mukand Ltd

169.35

(1.7%)

128.9k
2447.03
198
98.4
HERCULES

Hercules Hoists Ltd

323

(3.9%)

53.6k
1031.68
369.8
170.5
Investors willingly allot their funds in the shares of prominent business clusters such as Bajaj Group. The Mumbai-based conglomerate has a diverse portfolio managed through various companies that form the group. Purchasing shares of companies under the Bajaj Group can help you quickly build a healthy investment portfolio.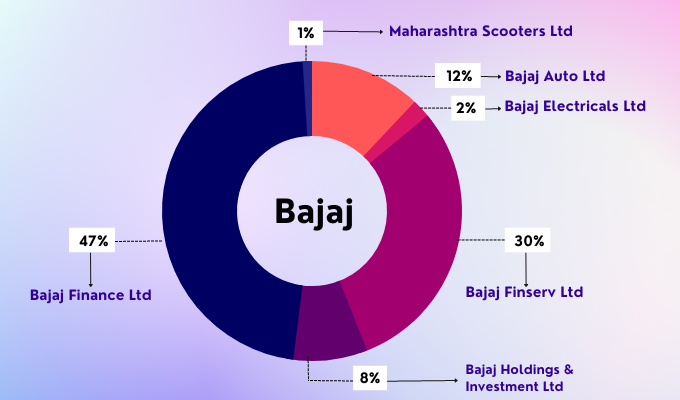 About Bajaj Group of Companies
The Bajaj Group thrives as one of India's most prominent business groups recognised for its superior quality products. Founded in 1926 by philanthropist Mr Jamnalal Bajaj, the conglomerate includes 40 companies curating a diverse portfolio. With its tagline "Hamara Bajaj,' the multinational firm aspires to bring smiles and satisfaction to its customers.
Regarding diversity, Mumbai-based Bajaj Group has a distinct market presence. The brand is renowned for offering a best-in-class product range in many fields. The list includes automobile, finance, home appliances, insurance, iron and steel, and electronics. Some of the most coveted names in the conglomerate are Bajaj Auto, Bajaj Finance, Bajaj Consumer Care, Bajaj Finserv, Bajaj Energy, Bajaj Holdings and Investments, Mukand, Bajaj Healthcare, and Bajaj Hindusthan.
Recognised as the third-largest business group in India, Bajaj stands tall with a consolidated market capitalisation of $120 billion in 2022. The entity pooled a net profit of $2.5 billion and total assets worth $70 billion to its credit. In FY22, Bajaj Auto recorded a revenue of INR 33,203 crore, Bajaj Finance collected revenue of INR 31,632 crore, and Bajaj Holdings and Investments made a revenue of INR 430 crore.
Therefore, if you plan to make good profits from stock investments, include shares of companies forming a part of the Bajaj Group. Look at the complete stock list of Bajaj Group in BSE and NSE below.
Frequently Asked Questions