Jindal Shares
Check out the complete list of shares/stocks of Jindal Shares listed on NSE & BSE.
Company Name
₹ LTP (Change %)
Volume
Market Cap
52 Week High
52 Week Low
JSWSTEEL

JSW Steel Ltd

701.7

(0.7%)

1.4M
169616.36
783.5
520.05
JSWENERGY

JSW Energy Ltd

255.9

(-1.1%)

777.9k
42087.25
369
182.05
JINDALSTEL

Jindal Steel & Power Ltd

520.35

(1.9%)

2.5M
53080.28
622.75
304.2
JINDALSAW

Jindal Saw Ltd

196.7

(0.7%)

2.6M
6289.56
204.8
75.05
JSWHL

JSW Holdings Ltd

4159.6

(-0.5%)

1k
4617.16
5242
2820.9
NSIL

Nalwa Sons Investments Ltd

2211.5

(0.9%)

1136.38
2780
1230
SHALPAINTS

Shalimar Paints Ltd

153.7

(-0.1%)

58k
1112.14
184.4
114.65
HEXATRADEX

Hexa Tradex Ltd

144

(0.0%)

809.14
184.7
142.1
JSL

Jindal Stainless Ltd

290.2

(0.5%)

400.5k
23896.07
329
95.05
JITFINFRA

JITF Infra Logistics Ltd

185

(3.7%)

136.5k
476.42
187.35
77.5
The Indian stock market is home to various billion-dollar firms offering investors a secure income source. One such coveted organisation is the Jindal Group. Established in 1952, the group works on a broad spectrum of domains and offers a solid investment solution for customers. Investing in the shares of the Jindal Group companies can help you build a reliable portfolio promising easy returns in the long run.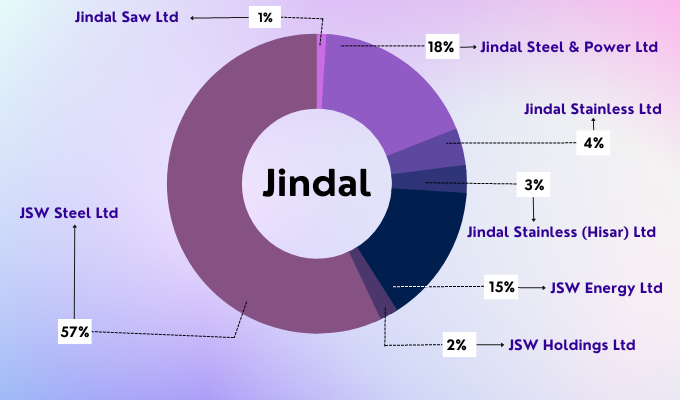 About Jindal Group of Companies
Recognised as one of India's most prominent business houses, the Jindal Group offers a diverse portfolio of products and services. The three main pillars of the Jindal group are B.C Jindal Group, O P Jindal Group, and D.P Jindal Group. Founded in 1952, the group has a strong presence across the US, UK, Middle East, and Indonesia.
The business cluster operates in mining, power, steel manufacturing, industrial gases, and port services. Additionally, the group offers diversified services through its sister concerns like Jindal Saw Ltd, JSW, JSL, Jindal Steel and Power, Jindal Poly Films, Jindal India Thermal Power, Jindal Pipes, Maharashtra Seamless Ltd., etc. The group's main activities include iron ore and coal mining, precious metals and mineral exploration, production of ferroalloys, high-grade pipes, stainless steel products, etc.
The consolidated quarter-one reports for Jindal Steel & Power revealed net sales of INR 13,045.41 crore in June 2022, a sharp 22.96% surge. As of September 2022, the OP Jindal Group stood with a market worth USD 18 billion.
You can find the complete list of stocks and shares of all the companies forming a part of the Jindal Group, and listed in BSE and NSE below.

Frequently Asked Questions
You will need a Demat and trading account to buy Jindal Group shares. You can open a free Demat and trading account with 5paisa and buy the Jindal Group shares by logging into your Demat account, choosing a Jindal Group company, and placing a "Buy Order."

Jindal Group is India's largest conglomerate and includes numerous companies to diversify and invest for the long term. However, it is wise that you do extensive research on all the Jindal Group companies to analyse their fundamentals before choosing Jindal stocks for the long term. You can use the smart research tools with 5paisa's Demat account to do fundamental and technical analysis before choosing Jindal stocks.
Start Investing Now!
Open Free Demat Account in 5 mins