Birla Shares
Check out the complete list of shares/stocks of Birla Shares listed on NSE & BSE.
Company Name
₹ LTP (Change %)
Volume
Market Cap
52 Week High
52 Week Low
ULTRACEMCO

UltraTech Cement Ltd

7210

(2.0%)

307.4k
204150.55
7548.95
5157.05
IDEA

Vodafone Idea Ltd

7.8

(-1.9%)

84.7M
25534.48
11.65
6.3
HINDALCO

Hindalco Industries Ltd

435.1

(1.3%)

4.1M
96528.24
636
308.95
GRASIM

Grasim Industries Ltd

1624.1

(0.5%)

288.4k
106417.46
1839.5
1276.6
ABFRL

Aditya Birla Fashion & Retail Ltd

247.5

(-1.6%)

2.3M
23874.52
359.5
221.3
CENTURYTEX

Century Textiles & Industries Ltd

648.05

(1.8%)

43.7k
7112.78
949.9
635.05
BIRLACORPN

Birla Corporation Ltd

904.8

(0.2%)

103.3k
6950.92
1351
823
CHAMBLFERT

Chambal Fertilisers & Chemicals Ltd

294.2

(1.5%)

1.2M
12065.87
516
260.8
BSOFT

Birlasoft Ltd

284.95

(2.6%)

1.8M
7592.89
501.6
250.25
The Indian stock market holds stocks/shares of various multinational firms. One such coveted group leading the share market is the Aditya Birla Group. Known for serving a gamut of industrial domains, the conglomerate comprises several top-performing companies. The group has shown satisfactory performance in the stock market over the years and is quite popular amongst investors. You can trade in Aditya Birla Group company shares to enjoy consistent returns on your funds.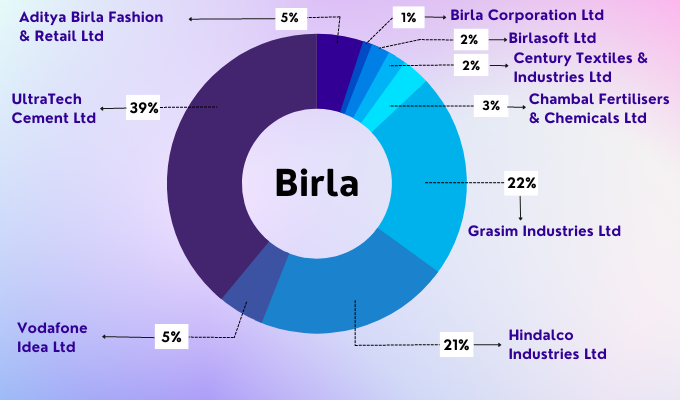 About Birla Group of Companies
The Aditya Birla Group thrives as one of the largest industrial multinational conglomerates. In 1857, Seth Shiv Narayan Birla laid the foundation of the Aditya Birla Group and gave India a strong business empire. The renowned Fortune 500-listed corporate house presently has a global market presence across 100 countries.
Headquartered in Mumbai, the Birla Group is the undisputed market leader in the cement industry. The business giant operates across many realms, including textile, telecom, finance, retail fashion, chemicals and fertilisers, viscose filament yarn, non-ferrous metals, sponge iron, carbon black, BPO, wind power, and viscose staple fibre. Some of the principal subsidiaries of the group are Vodafone Idea Network, Aditya Birla Capital, Hindalco Industries, Applause Entertainment, and Essel Mining & Industries Limited.
The total market cap of Aditya Birla Group as of December 2022 stood at $4.68B, while its total assets touched the $100B mark in the same period. The conglomerate's revenue was $60B in 2022, pooled from all its group companies. The net profit touched the $4B mark this year, indicating the group's strong presence in the business world.
To build an investment portfolio, you must consider investing in the Aditya Birla Group company stock. Look at the shares listed in NSE and BSE mentioned below for the conglomerate.

Frequently Asked Questions
You will need a Demat and trading account to buy Aditya Birla Group shares. You can open a free Demat and trading account with 5paisa and buy the Aditya Birla Group shares by logging into your Demat account, choosing a Birla Group company, and placing a "Buy Order."

Aditya Birla Group is India's largest conglomerate and includes numerous companies to diversify and invest for the long term. However, it is wise that you do extensive research on all the Aditya Birla Group companies to analyse their fundamentals before choosing Aditya Birla stocks for the long term. You can use the smart research tools with 5paisa's Demat account to do fundamental and technical analysis before choosing Birla stocks.