HDFC Shares
Check out the complete list of shares/stocks of HDFC Shares listed on NSE & BSE.
Company Name
₹ LTP (Change %)
Volume
Market Cap
52 Week High
52 Week Low
HDFCBANK

HDFC Bank Ltd

1599.4

(-0.3%)

16M
893949.47
1734.45
1271.6
HDFC

Housing Development Finance Corporation Ltd

2635.35

(-0.4%)

4.8M
486134.22
2867
2026
HDFCAMC

HDFC Asset Management Company Ltd

1971.9

(0.4%)

160.9k
42088.31
2314.65
1589.5
HDFCLIFE

HDFC Life Insurance Company Ltd

579.7

(1.0%)

3.3M
124614.88
620.6
457.8
With private banking, HDFC is a renowned and trusted brand by thousands of Indians. The financial institution offers innovative services for the core banking procedures such as lending and investment. Strong market presence and customer support have helped HDFC Group become a robust stock market investment venture for customers. Investing in the shares of HDFC group companies can ensure positive returns on your funds and stability during market fluctuations.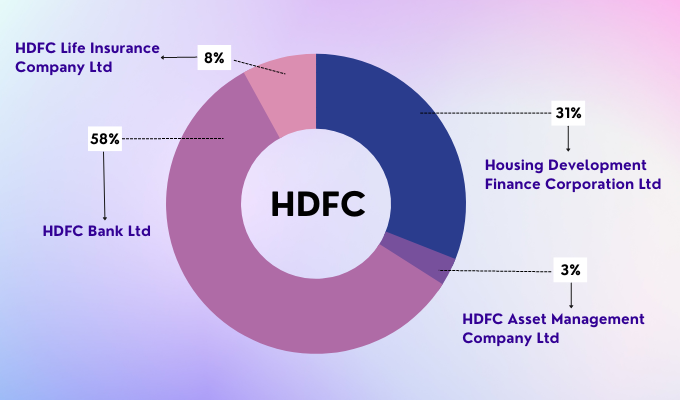 About HDFC Group of Companies
Housing Development Finance Corporation Limited (HDFC) is one of India's most renowned financial service providers within the private sector. Established by Hasmukhbhai Parekh, HDFC has diversified its business portfolio across multiple domains since its inception in 1977. This Mumbai-based financial institution offers various customised lending and finance solutions for home buyers.
One of the strongest pillars of the conglomerate is HDFC Bank which thrives as the largest private-sector bank in India. The banking entity has an interconnected network of 5,608 branch offices and 16,087 ATMs across the country. Other units of the HDFC Group are HDFC Life, HDFC Pension, HDFC Sales, HDFC Mutual Funds, HDFC Ergo General Insurance, HDFC CREDiLA, HDFC EDU, HDFC Property Fund, and HT Parekh Foundation.
The HDFC Group has a total market cap of INR 4.85 trillion per the latest financial records. The financial giant collected a net profit of INR 4,454.24 crore for Q2FY23. The PAT increased by 21.4%, while the Net Interest Income rose by 12.9% to reach INR 4,639 crore during the same period.
Investing in the shares of HDFC Group companies can be a profitable solution for those looking for trusted stock options. You can view the stock list of HDFC Group companies in NSE and BSE in the table below.

Frequently Asked Questions
You will need a Demat and trading account to buy HDFC Group shares. You can open a free Demat and trading account with 5paisa and buy the HDFC Group shares by logging into your Demat account, choosing a HDFC Group company, and placing a "Buy Order."
HDFC Group is India's largest conglomerate and includes numerous companies to diversify and invest for the long term. However, it is wise that you do extensive research on all the HDFC Group companies to analyse their fundamentals before choosing HDFC stocks for the long term. You can use the smart research tools with 5paisa's Demat account to do fundamental and technical analysis before choosing HDFC stocks.
Start Investing Now!
Open Free Demat Account in 5 mins