Hero Shares
Check out the complete list of shares/stocks of Hero Shares listed on NSE & BSE.
Company Name
₹ LTP (Change %)
Volume
Market Cap
52 Week High
52 Week Low
HEROMOTOCO

Hero MotoCorp Ltd

2599.15

(-2.0%)

473.6k
53009.48
2938.6
2146.85
HITECHGEAR

The Hi-Tech Gears Ltd

268.95

(0.7%)

2.9k
501.53
293.5
155.1
MUNJALAU

Munjal Auto Industries Ltd

46.3

(-0.1%)

30.5k
463.5
57.3
36
MUNJALSHOW

Munjal Showa Ltd

92.7

(-0.3%)

8.1k
371.75
122.6
92.45
Hero Group is one of the oldest conglomerates in India. The group specialises in manufacturing a premium range of two-wheelers, such as motorcycles and scooters, for its customers. Several top-rated business corporations form an essential part of the Hero Group. The shares of these companies are an ideal investment option for a steady income flow and profit generation. You can purchase and sell Hero group company shares to unlock the benefits of the fast-growing automobile industry.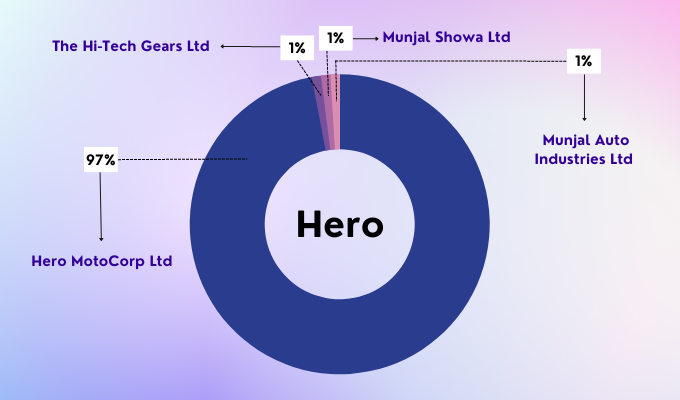 About Hero Group of Companies
Founded in 1956, the Hero Group began its operations with the launch of Hero Cycles. The entity was the brainchild of Dayanand Munjal, Satyanand Munjal, Brijmohan Lall Munjal and O. P. Munjal. In 2011, Honda and Hero split the Hero Honda group to establish two individual two-wheeler business clusters. The Hero Group currently grabs one of the spots in India's top 10 business entities.
The flagship unit of the Hero Group is Hero MotoCorp. The motorcycle and scooter manufacturer is one of the largest entities in the two-wheeler industry. The group is involved in automobile manufacturing, finance, renewable energy, electronics production, and education. The company is a trusted brand for millions of users worldwide, offering customers various innovative automobile options. Hero FinCorp, Hero Future Energies, Hero Electronix, and BML Munjal University are other important companies of the Hero Group.
The current market capitalisation of Hero MotoCorp is INR 559.03 billion. As of March 2022, the firm's total income stood at INR 7,627.99 crore, while its PAT reached INR 611.34 crore.
You can find the complete list of stocks and shares of the Hero Group listed on BSE and NSE below. The analysis of the stock list will help you make informed investment choices.
Frequently Asked Questions
You will need a Demat and trading account to buy Ambani Group shares. You can open a free Demat and trading account with 5paisa and buy the Ambani Group shares by logging into your Demat account, choosing a Ambani Group company, and placing a "Buy Orde
Ambani Group is India's largest conglomerate and includes numerous companies to diversify and invest for the long term. However, it is wise that you do extensive research on all the Ambani Group companies to analyse their fundamentals before choosing Ambani stocks for the long term. You can use the smart research tools with 5paisa's Demat account to do fundamental and technical analysis before choosing Ambani stocks.