TVS Shares
Check out the complete list of shares/stocks of TVS listed on NSE & BSE.
Company Name
₹ LTP (Change %)
Volume
Market Cap
52 Week High
52 Week Low
INDNIPPON

India Nippon Electricals Ltd

355.1

(-0.8%)

2.1k
810.07
559
319.7
SUNDRMBRAK

Sundaram Brake Linings Ltd

310.7

(1.7%)

120.08
420.5
295
SUNCLAYLTD

Sundaram Clayton Ltd

4720.05

(-1.4%)

3.4k
9681.25
5800
3500
SUNDARMFIN

Sundaram Finance Ltd

2311.15

(-0.5%)

2.3k
25794.09
2530.9
1555
SUNDRMFAST

Sundram Fasteners Ltd

987.9

(1.9%)

51.8k
20378.25
1030
673.05
TVSELECT

TVS Electronics Ltd

394.15

(0.9%)

169.3k
728.29
448
166.2
TVSMOTOR

TVS Motor Company Ltd

1044.55

(-0.6%)

285.4k
49916.38
1176.9
513
TVSSRICHAK

TVS Srichakra Ltd

3177.05

(1.7%)

2.8k
2392.49
3699
1451
WHEELS

Wheels India Ltd

523.65

(-0.6%)

6.1k
1268.08
756.65
510
The TVS Group is a renowned brand in the two-wheeler vehicle sector. With its dedicated customer service, the brand has earned a prominent place in the industry and stock market. Investors willingly lock their funds in TVS Group companies' stock to expand their earnings. You can purchase TVS shares to strengthen your investment portfolio, balance short-term and long-term investments, and manage market fluctuations conveniently.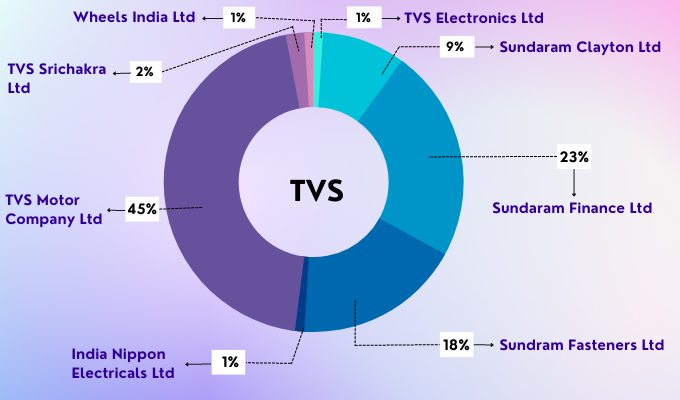 About TVS Group of Companies
Established in 1911 by Shri. T V Sundaram Iyengar, the TVS Group shines as one of the most significant industrial clusters trusted by millions of happy customers. The main headquarter of the conglomerate is in Madurai, whereas the international headquarter is in Chennai, Tamil Nadu. In February 2022, the TVS group branched into four distinct entities led by T S Rajam, T S Krishna, T S Srinivasan, and T S Santhanam.
The group has over 50 subsidiaries managed by TVS & Sons, Sundaram Industries, and TVS Holding Companies. Amongst the subsidiaries, the business house has nine publicly listed firms. The list includes prominent names such as TVS Motor Company, Sundaram Clayton, TVS Electronics, India Nippon Electricals, TVS Emerald, etc. The product range of TVS Group includes automobiles, auto parts, real estate, insurance, electronics, energy, finance, and textiles.
Per December 2022 reports, TVS Motor's market capitalisation stood at $6.01 billion. During FY22, the company's net worth rose to more than INR 48 billion, making it a leading brand for two-wheelers across the country.
You can view the complete list of stock/shares of the TVS Group listed in NSE and BSE from the list below. It will help you analyse the market position of the group companies.
Frequently Asked Questions
You will need a Demat and trading account to buy TVS Group shares. You can open a free Demat and trading account with 5paisa and buy the TVS Group shares by logging into your Demat account, choosing a TVS Group company, and placing a "Buy Order."

TVS Group is India's largest conglomerate and includes numerous companies to diversify and invest for the long term. However, it is wise that you do extensive research on all the TVS Group companies to analyse their fundamentals before choosing TVS stocks for the long term. You can use the smart research tools with 5paisa's Demat account to do fundamental and technical analysis before choosing TVS stocks.