10 Jan 2022
Everything you can do with 5paisa's Developer APIs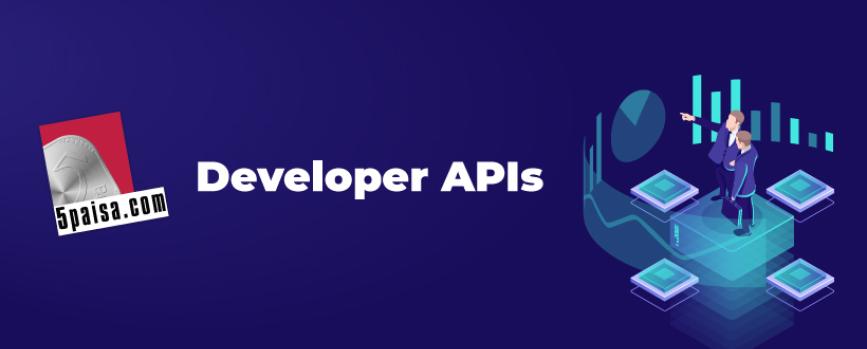 APIs or Application Programming Interfaces have been enabling businesses across several sectors to create more value for the end users. The trend in brokerage industry is no different. In this article, we decipher APIs for you – what they are, what are their benefits and how team 5paisa helps you deploy this tool efficiently.
What are APIs?
An API is a collection of programming codes which query data, compute responses and send instructions from one software platform and another. APIs are used extensively in providing data services across a range of fields and contexts. In the brokerage industry, APIs are used in algo trading. Algo trading refers to trades made based on a set of predetermined rules.
Under this mechanism, trading instructions are stored in the trading software as algorithms, with variables such as time, volume, and price reference. The computer, on the other hand, executes the deal following the instructions supplied to it. Simply put, algo trading monitors live stock prices and executes a trade upon fulfillment of a specific criteria. 
What are the benefits of developer APIs?
It's hardly surprising that algo trading is extremely accurate, well-executed, well-timed, and free of most human mistakes. This method frees the traders from having to monitor stock prices on the go and initiate an order. Other benefits of algo trading include enhanced liquidity in markets and adoption of more systematic approach to trading.
Manual Trading versus Algorithmic Trading
 
| | |
| --- | --- |
| Algorithmic Trading – Systematic | Discretionary Trading - Manual |
| Completely automated | Emotional and Inconsistent |
| Consistent and rule-based | Timing and luck-based |
| Depends on the trader's coding | Depends only on the trader |
| Leverages technology | Still not exposed to technology and its merits |
Who should use developer APIs?
Historically, developer API based trading platforms was only the privilege of a few set of investors. These included institutional investors and large brokerage firms as algorithmic trading enabled them to reduce their trading expenses. Algorithmic trading is especially helpful for high order sizes, accounting for up to 10% of global trading activity. Other institutions that use algorithmic trading include investment funds, pension funds, credit unions, investment banks, insurance companies and trusts. 
Thanks to the rapid pace of digital adoption by individuals and institutions alike, more and more retail investors (particularly traders) have started using algo trading. In fact, several Do-It-Yourself of DIY investors too are leveraging this tool to derive most benefits from their trades. Developer APIs can be used by anyone having niche investment offering like portfolio advisory, basket trading, derivative strategy, technical advisory, etc. and want to use APIs for executing trades on a broker's platform. 
Why should you use 5paisa's developer APIs?
 
| | | | | | | |
| --- | --- | --- | --- | --- | --- | --- |
| Free of cost | Robust, proficient and secured | Easy to integrate with other platforms | Simple and updated SDKs | 600 requests made every minute for order placement | WebSocket for Live data and real-time order updates | In-built options strategy module |
How can you use developer APIs?

As a starting point, individual traders and developers must have an active 5paisa account to start trading through our developer APIs. You can start your API journey with 5paisa in 2 simple ways:

1) Use our existing integrations to fulfill your requirements. Follow along to know more  :- https://www.5paisa.com/market-place

2) Get started with our easy-to-use SDKs which are available in 6 languages (Python, NodeJS, GoLang, PHP, Java, C#)
In case you are a fintech startup or technology provider and want to integrate our developer APIs directly into your native product and services, take a look at all the developer APIs that we offer for integration. Read more about developer API documentation
Please note, APIs like all technological tools can create significant damage if any errors are made. Thus, it is advised to monitor these trades closely and make full use of this futuristic tool.
Start Investing in 5 mins*
Rs. 20 Flat Per Order | 0% Brokerage