What is Commodity Trading?
Commodity trading is a commodity market where buying and selling of various commodities and their derivative products take place. These commodities are primarily categorized into metal, energy, livestock and meat, and agriculture.
For investors, the mcx commodity market from MCX (Multi Commodity Exchange of India Ltd), one of India's leading national commodity exchanges, is a way to diversify their portfolios beyond traditional securities.
Commodity market timings are unpredictable as they are affected by natural and manmade calamities. There are various ways to invest in commodities, such as commodity futures contracts, options, and extended traded funds (ETFs).
Commodity Trading in India
| Commodity | INR Price | Change | Change(%) |
| --- | --- | --- | --- |
| Gold | 62,651.00 | -7.00 | -0.01% |
| Crude oil | 6,171.00 | -190.00 | -2.96% |
| Natural Gas | 213.20 | 0.70 | 0.33% |
| Silver | 77,101.00 | -62.00 | -0.08% |
| Zinc | 221.90 | 0.00 | 0.00% |
Why invest in commodity market with 5paisa?

Diversification
Diversify & reduce your portfolio risk by investing with commodities

Trade from anywhere
Use web or mobile platform to invest in commodities from your couch

Make fast & precise decisions
Study charts, understand market and place quick orders in commodity segment in real time

Learn
Learn about commodities at 5paisa school

Low Cost
Execute all orders at Flat fees of ₹20/order
Enjoy best pricing with our Super Saver Packs
Get high exposure & lower brokerage charges
100

Free trades per month

10 flat ₹

Per order for other segments
Get high exposure & lower brokerage charges
know more
FREE

Research & Trading Ideas
Open your commodity trading account
in 3 easy steps
Fill in details
Fill in your personal details required for account opening & select Derivatives segment while proceeding with your account opening journey
Upload documents
In addition to the below mentioned list of documents, submit your income proof that is required for trading in Derivatives segment
Start trading
Post verification, your trading account will be activated and you can start investing in commodities
List of Documents to be uploaded
ID Proof

PAN Card

Aadhaar Card

Address Proof

Aadhaar Card / Passport

Bank Details

Bank statement / Cheque / Passbook

Signature Proof

Signature on blank white paper
Learn about Commodity Trading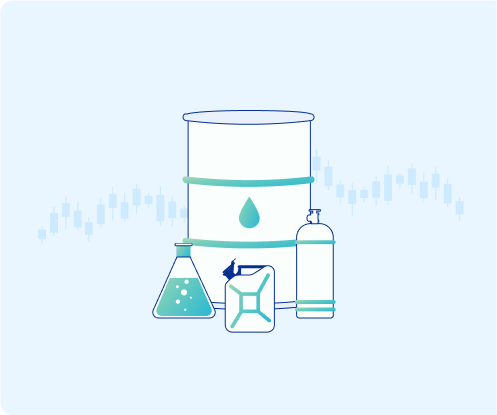 Commodity Basics
Brief about the chapter on equity market, covering topics on equity, averaging, understanding trading psychology.
Frequently Asked Questions