We have partnered with Vested to provide Zero Commission investing in the US markets for all our customers.Experience the smooth way of investing in Global Market with advanced technology.
Why US Investing
Invest in global brands
Diversify your portfolio

You can diversify your wealth by investing in the deepest and widest stock market in the world.

Risk diversification

US stocks are truly global corporations, thereby giving you a more diversified and risk adjusted exposure.

Better performance

US stock market has outperformed the Indian stock market over the last 10 years in dollar terms.

Invest in innovative companies

You can own shares in known companies like Google, Amazon, Apple, Microsoft, Netflix, etc.
Who is Vested?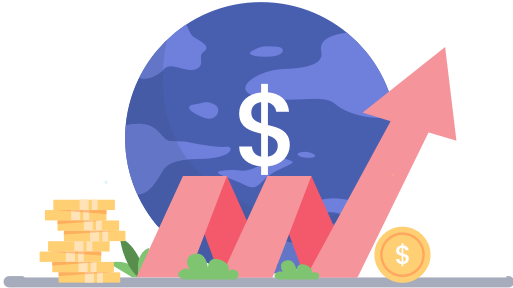 Why Invest in US Stocks With 5paisa?
Create account in minutes

Sign-up for your Vested account in minutes. No long procedures.

No minimum balance

No need to maintain balance in your account. Enjoy ZERO balance account.

Fractional Share Investing

Not necessary to buy complete shares. You can invest in a fractional share.

Pre-built curated baskets of stocks and ETFs

Now easily invest in researched portfolios in multiple themes and strategies as per your risk profile

Withdraw anytime

You can withdraw your money anytime. No lock-in.

Zero commissioni

We won't charge any commissions for any of your trades
Online Account Opening Process

Open a Demat and Trading account with 5paisa

Link your Vested Account with 5paisa

Provide basic details

Create your risk profile

Upload documents

Choose the plan

Agree and accept

Start Investing!
Frequently Asked Questions
On the Vested platform you can invest in either full or fractional shares. When your investment is in full shares, our broker partner (DriveWealth) will route the orders to market centers on an Agency basis. When the investment is fractional shares, our broker partner will satisfy the order from its own account, on a Principal basis, at the National Best Bid or Offer (NBBO). NBBO means that DriveWealth cannot add margin to the price. So, if the market price of 1 share of Amazon is $1000, and you purchase 0.1 share of Amazon, you will pay $100 for the 0.1 share. Any orders for both full or fractional shares will be executed via both methods, part as Agent and part as Principal.
5paisa has partnered with Vested to provide Zero Commission investing in the US markets for it's customers.
Just follow the simple steps below:

1. Go to 5paisa.com/invest-in-us-markets
2. Login with your 5paisa account
3. Complete the Vested sign up process
4. Fund your account
5. Start Investing!
Can I use my 5paisa ledger balance to invest in US markets?
Sorry, but you cannot use your 5paisa ledger balance to invest on Vested. It has a separate fund transfer process as the funds are held with a different custodian.
YES! Under the Liberalised Remittance Scheme (LRS), the Reserve Bank of India (RBI) allows an Indian resident to invest up to USD $250,000 per year in overseas markets.
In order to open an account, you will need an image of your PAN card, and proof of address (Aadhar card or latest bank statement). The whole process is paperless and can be completed in minutes.