Open
Free

Demat Accounts in 5 minutes

Resend OTP

OTP sent successfully on your mobile no

By proceeding, you agree to the T&C.
5paisa analysts bring the best intraday ideas, short-term ideas and long-term ideas for you. In the morning we provide best momentum stocks to buy today, while in the last trading hour we provide Buy Today Sell Tomorrow (BTST) and Sell Today Buy Tomorrow (STBT) ideas.
Buy Today Sell Tomorrow(BTST) is a type of trading that offers stock traders a different kind of advantage that the general T+2 trading cycle cannot. BTST trading allows traders to sell their shares even before the settlement day if necessary.

BTST not only helps in the optimisation of liquidity but also plays a significant role in reducing probable loss from any share that one owns, making it a profitable trading method.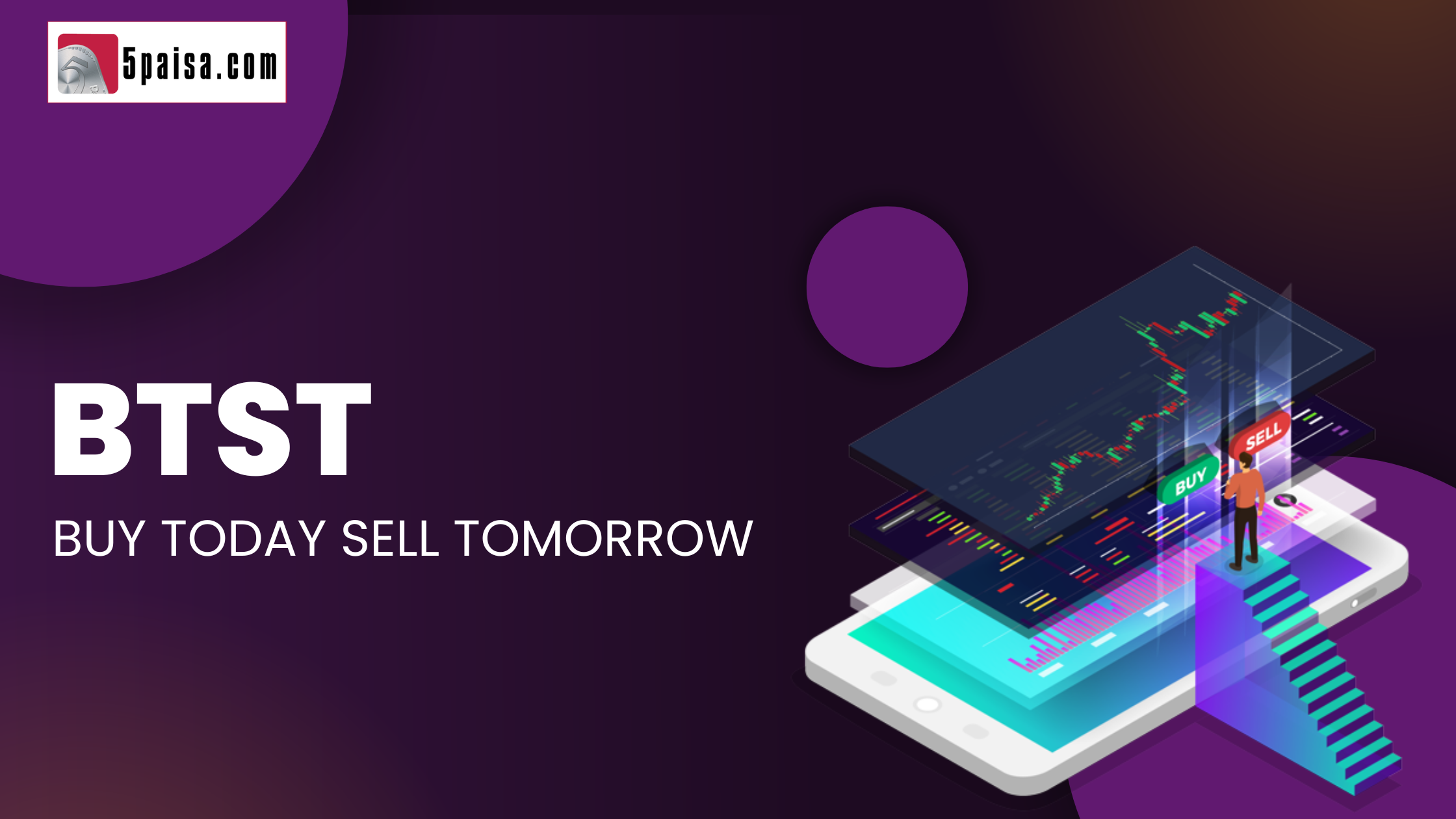 Stocks to Buy Today & Sell Tomorrow: 29th March 2023
1. BTST: GRASIM

- Current Market Price: Rs. 1630
- Stop Loss: Rs. 1597
- Target 1: Rs. 1665
- Target 2: Rs. 1698
2. BTST: JSWENERGY

- Current Market Price: Rs. 233
- Stop Loss: Rs. 223
- Target 1: Rs. 243
- Target 2: Rs. 255
3. BTST: CUMMINSIND

- Current Market Price: Rs. 1633
- Stop Loss: Rs. 1600
- Target 1: Rs. 1668
- Target 2: Rs. 1695
BTST trading is common among experienced investors. Often known as "buy today, sell tomorrow" deals, these trades are extremely short term where investors buy stocks today and sell them the next day to take advantage of a possible price rise in the stock. However, many investors remain wary of this trading technique as the risk involved is high.

What is BTST Trading?
BTST Trading is an unconventional procedure that helps traders deal with BTST shares in the stock market and take advantage of their short-term volatility. BTST in the stock market allows traders to sell out shares bought but not yet received in the traders' Demat account.
The conventional trading procedure or the T+2 process ensures that the shares are credited to the traders' Demat account after T+2 days, where T signifies the day of trading, which means that there is a time gap between the trading and the actual arrival of the shares to the trader. Due to this significant difference, many traders find BTST trading better than intraday trading.
How does BTST Trade work?
Indian financial markets operate on a T+2 settlement cycle. If you purchase a stock on Monday, it will arrive in your Demat account on Wednesday. You can, however, sell your shares before they arrive in your Demat account.
Suppose you have Rs. 20,000 in your trading account. You purchased 5 L&T shares on Monday for Rs. 4000 and sold them on Tuesday for Rs. 4100 apiece.
Rs. 20,000/- Purchase Price
Rs. 20,500/- as a selling price
The Rs. 20,000 in your account will be restricted on Monday for purchasing L&T shares. (Resolves with the exchange on Wednesday (T+2)).
You sell the shares on Tuesday that you would have ideally delivered on Thursday. You are allowed to sell the shares on the trading platform because the delivery of L&T shares is on Wednesday, per plan. The stockbroker receives these shares on Wednesday, deducts them from your upcoming delivery obligation, and finalizes the deal on Thursday.
You are still permitted to use 80% of the sale proceeds to buy new stocks on the day of the sale, even though you do not receive the credit for the money made from selling your stock for another two days (in this example, Friday). On T+1, the remaining 20% becomes accessible for purchasing additional stocks (in this case, Thursday).


Is there a risk to executing BTST trades?
Several traders are apprehensive of short-term trading since it may involve risk. The desire to make a quick profit is always present, but whether this is possible, given how volatile markets can be, remains to be seen.
There is a remote possibility that the investor from whom you acquired the shares may fail to deliver the stock to you by the end of market hours the following day. You do not influence this; nobody can predict how transactions will proceed due to certain delays.
If this happens to you, be aware that the penalty for late delivery is not fixed and is calculated individually.
In such a case, keep in mind that price movement and liquidity determine the short delivery penalty. You will be required to pay the difference in price between when you sold your shares and when the exchange acquired them at the auction. If you're lucky, the cost will be only 1 or 2 per cent, but it could be as high as 20%.

What are the advantages of BTST trading?
BTST buy-sell trading has many benefits.
● BTST buy-sell increase your profit when you anticipate a rise in the stock price.
● Before the Demat account settlement, you have two days to finalise the agreement.
● You won't be charged for Demat transaction fees because it doesn't include Demat delivery.
● BTST buy enables you to benefit from short volatility.
● BTST buy-sell Transaction fees are lower than for typical buy-sell trades.
● Many brokers may use almost 80% of the selling profits to make additional trades on the very day of the sale.
● In BTST buy-sell trading, you have an extra day to profit from the market compared to intraday trading.
BTST stock market trading may be profitable if done correctly. It is important to note that the trader must be alert to any unexpected price changes in the equities they have picked.
BTST may be the best option to capitalise on a potential increase in the stock price in only one day if the chance arises. Investors employ BTST when they anticipate a price breakout in favour of the investment on the next trading day.

BTST trading formula
The BTST buy-sell (Buy Today & Sell Tomorrow) strategy's justification comes from intraday trading.
Open=Low
Open=High strategy.
Open High Low Trading Approach
The open = high, open = low intraday method is popular and simple.
Find the stocks with an open value of less than one and buy those.
Find the stocks with open = high; these are the stocks you should short-sell.
If the initial low does not break, enter the trade after 15 to 30 minutes of trading.
However, due to the high failure rate, traders only use it at the beginning or beginner stages before abandoning it. These stocks with open highs and lows are likely to reverse and hit our stop-loss levels or break lows and highs after a short period. Breakout failures occur if you initiate a trade after 15 minutes, 30 minutes, or even an hour.
The outcome under identical BTST conditions Buy now and sell later.
The criterion would be to check the list of stock that meets the condition after 3:25 PM. Buy these stocks when open=low and sell them at the close the next day.
When a company remains Open=Low throughout the day, it demonstrates strong purchasing power and the additional upside anticipated in the days ahead. However, because you entered the market after 3:25 PM, you are practically at day close, making it difficult for the stock to exceed its day low in 5 minutes.
To avoid getting caught in cheap stocks with circuit filters, consider FnO stocks for the backtest. 11 years of data, from 2007 to 2018, make up the backtest period. Compared to the intraday method, the outcomes are substantially better.
FnO stocks have produced extraordinary returns during periods of high volatility, such as in 2007 and 2008. The number of trades is bigger in the case of these stocks. With an average of 28 transactions per day, the total amount of returns over the past 11 years is 22,350%, making implementation virtually unfeasible.
However, it demonstrates that the strategy's reasoning has a benefit and is simpler to apply and follow if we only have a basket of 10 to 15 stocks.
Remember that this is a basic technique with a risk-reward ratio of 1.3 and not necessarily high winning accuracy. Traders who wish to improve the strategy's accuracy can apply filters such as selecting companies that trade above the 200-day moving average, stocks that trade around the 52-week high, only uptrend stocks, etc., which will boost the system's deficiency.
Conclusion
Stock trading in itself is like a game of chess where traders speculate and bid on their moves very efficiently. One of the many kinds of stock trading that are out in the market, the one that attracts the attention of many traders, is BTST Trading. It is not only popular for its profit-earning abilities but also for other benefits like not getting charged for the Demat account.
Just how BTST trading has its benefits and profits, it also does come with some undeniable risks. Hence, if a trader is new to the market, they should thoroughly study and analyze the stocks and their movement first and then decide whether it is a suitable time for them to start BTST trading. One can also seek help from a professional or someone experienced with stock trading.
About the Author
Investment/Trading in securities Market is subject to market risk, past performance is not a guarantee of future performance. The risk of loss in trading and investment in Securities markets including Equites and Derivatives can be substantial.
Frequently Asked Questions
Stocks To Buy Today Related Articles