Stock Market Timings in India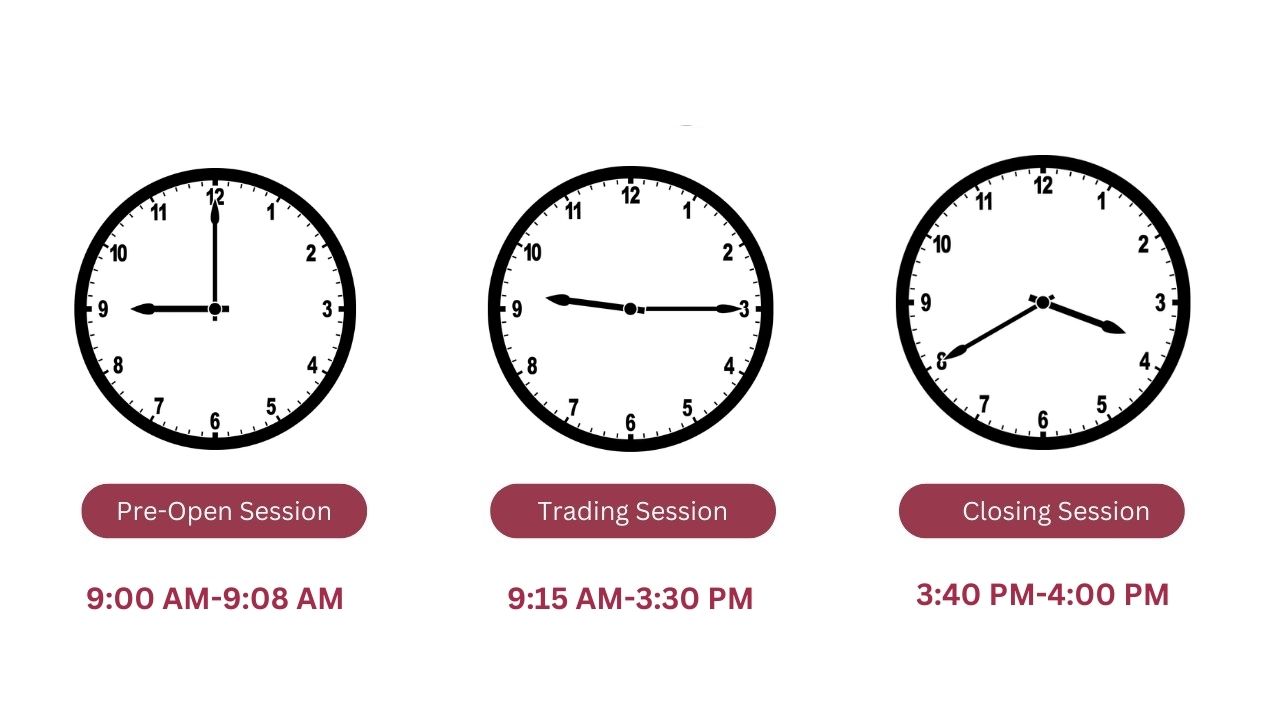 ---

Introduction 
The stock market in India operates during a specific time window. On weekdays from 9.15 am to 3.30 pm, retail customers must conduct these transactions through a brokerage firm. Most investors buy and sell securities listed on the Bombay Stock Exchange (BSE) and National Stock Exchange (NSE), two of India's major stock exchanges. These major stock exchanges in India follow the same stock market timings. 
Overall Stock Market Timings in India - Opening and Closing Hours
| | |
| --- | --- |
| Sessions | Times |
| Pre-opening session | 9.00 a.m. – 9.08 a.m. |
| Trading session | 9.15 a.m. – 3.30 p.m. |
| Closing session | 3.40 p.m. – 4.00 p.m. |

Trading in the equities segment takes place on all days of the week except Saturdays and Sundays and trading holidays declared by the Exchange in advance. The stock market timings are mainly divided into three sessions. They are Pre-opening, Regular trading and Post closing session. The timings of the equities segment are:
Pre-open session: 
 

Order entry & modification Opens: 09:00 hours
Order entry & modification Closes: 09:08 hours*
*with random closure in last 1 minute. 
Watch What is Pre Open Market Session?
One can start placing the order for any transactions during this period. Pre-open order matching starts immediately after close of pre-open order entry. Which means these orders are given preference as soon as the market hours starts as they are cleared of in the beginning. 

 

Regular trading session:
 

Normal/Limited Physical Market Opens: 09:15 hours
Normal/Limited Physical Market Close: 15:30 hours
 

During these hours any transactions made follows bilateral order matching system, which means the demand and supply forces determine the prices. Since the Bilateral order matching system is volatile and includes several market fluctuations that create an impact on the security prices in the end, the multi-order system was formulated for the pre-opening session.




The Post Closing session:

 

It is held between 15:40 hours and 16:00 hours. During this period, you can bid for the following day's trade as this is post market closing session. If there are adequate number of buyers and sellers, bids placed during this period are confirmed. The transaction conducted for the bids placed during the period are not affected by the opening price of the market. Hence, even if the closing price exceeds opening share price, bids can be cancelled by investors, likewise if the opening price exceeds the closing price then an investor can release the capital gains. But this has to be done in the narrow window of per-opening session in between 9.00 am to 9.08 am.  


Note: The Exchange may however close the market on days other than the schedule holidays or may open the market on days originally declared as holidays. The Exchange may also extend, advance or reduce trading hours when its deems fit and necessary.



After Market Order (AMO)

 

AMO refers to the facility using which you can place orders to buy or sell stocks for the next day's trading before commencement of trading. This is useful for people who are unable to monitor the market at opening or during the trading session. AMO timings are 4:30 PM to 8:50 AM.
Muhurat Trading
Indian stock markets are generally not functional for any transactions on Diwali - it being a public holiday owing to the religious celebration across the country. However, since purchase of new products and investments are considered auspicious during the festival, Muhurat Trading has its own importance.

Although, there is no fix timing (5.30 p.m. to 6.40 pm.), it depends on the Muhurat (auspicious time) decided by exchange which may vary every year.
How can you invest in the stock market?
Investing in stocks is simple. Follow these steps to begin your investing journey immediately. 
●    Open a Demat and Trading Account. 
You need trading and Demat accounts to buy and sell shares. Any SEBI-registered broker will allow you to open trading and Demat accounts. Although you are not required to open both with the same broker, having a trading account and a Demat account with the same brokerage firm will simplify your trading process. As part of their 3-in-1 account offerings, some brokers will also open a bank account.
●    Determine your investment strategy. 
You have two choices: purchase stocks on the open market or use stock selection services. People prefer to make investments in the stocks of a professionally built portfolio. Then, you can use your trading account to purchase these shares. Alternatively, you could invest in equity mutual funds. 
●    Keep an eye on your portfolio. 
Spend some time periodically checking on your portfolio. Ensure the stock performance matches your expectations by observing it. Consider choosing a different company to replace any that consistently performs poorly. 
 
Start Investing in 5 mins*
Rs. 20 Flat Per Order | 0% Brokerage
Open Free Demat Account
Account belongs to
By proceeding, you agree to the T&C.