5 Myths Of Stock Market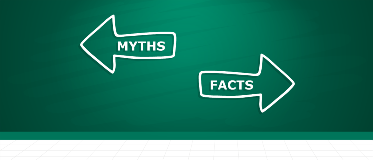 ---

One can make a great amount of wealth in the stock market by being a little mature and handling situations with patience; and at the same time by investing their time not only in the market but also in the gathering of knowledge or self awareness regarding the same. Especially in today's world, due to the availability of information at the very tip of the finger, one only needs to dedicate a few hours every day in order to learn and understand the difference between the truth and the myths of the stock market.
"STOCK MARKET, 'SATTAA BAZAAR' HAIN"; Investing in stock market is similar to gambling…
Many people in the world believe in the understanding that stock market is like a roller coaster ride with it's ups and downs that an aam aadmi would not understand and therefore referring to it as 'Gambling'. However, that is not the case. Stock market is a reflection of the country's economy and it is also believed by the learned economists that Stock Market is the barometer of the economy.
However, if one gets into the stock market without any proper knowledge or an expert's advice, it would definitely be like trying one's luck, which is again similar to gambling. In the language of behavioral finance, there is a term called 'Herd mentality'; which means that everybody is buying and selling stocks depending on the other person.
Assessing the value of a company is not an easy task. There are a lot of variables that are involved in such tasks, such as climatic changes, which includes monsoon; political scenario, changes in the management of the company, natural calamity and many more. However, in the long term, a company should be able to make as much profit as possible in order to meet the present demands. In the short term, a company can survive without any profit if only they can have expectations of future earnings. Also, a company can never consider the investors to be ignorant. Eventually, the stock price of the company shows the true value of the firm.
Gambling, on the contrary, is a zero-sum game. One can only pass the money from the loser to the winner. There is no value that is created in gambling. However by investing in stock market, one can increase the overall wealth of the economy. A company can increase its productivity by competing with other companies and also by developing their products, one can make their life better. Thus, one cannot confuse investing and creating wealth in Stock market with gambling. 
"YEH MERI BAS KE NAHI"; Investing in Shares require extensive financial knowledge and experience…
Whenever I speak to somebody who is not investing in stock market, they often reply saying that they find it very complicated and at the same time difficult to understand. Ironically, whenever I speak to somebody who has been investing in markets also give me a similar feeling. With my understanding of human behavior, I feel that one who assumes that they know a lot about the investment world, they tend to make it sound more complicated. It might be a possibility that people who are in the field of 'Personal Finance', tries to make their own importance felt, thus, projecting it in such a way which seems even more difficult for others.
I agree that it is not easy; however, it is not as difficult as it is projected to be.
One needs to:
A) Dedicate some time to their work,
B) Gather proper information from various authenticated sources,
C) Meet people who can guide them well (Nobody in the world can predict the market accurately everyday),
D) If required, one can hire professional services,
E) One can also subscribe to relevant sites

The list can go on and on; however, one needs to start the circle somewhere and then the circle keeps widening. Once an individual starts, it is not as difficult as it sounds to be; rather people make it sound difficult.
'Mera number aayegaa …'; One or the other day my stocks will surely perform…
Many a times human beings do have a tendency of living with a hope. However, it is also important to consider the facts, analyze the same and then decide on the level of hope. I know it is easy to say rather than practice the same. In the name of stock market, sometimes it so happens that a person do buy the shares of some companies based on some hearsay or with a very little understanding. But they end up sitting and hoping for some positive result which does not really turn up.
Infact, I have come across a few cases where people go to an extent of saying, Maine zindagi mein kisi ka bura nahi kiya, bhagwaan mere saath bhi bura hone nahi dega. And hence I will not make any loss and I will try my best so that my stocks perform well. 'Mera number aayegaa…'. One really does not know how to encounter this, but; this kind of philosophical thinking will not work in the stock market.
One needs to realize that stock market in the long run is the reflection of the economy and the profit of the share is the reflection of the company's present performance along with the track record of the past and the future growth potential. One might also find many opportunities in other companies; however there is no point sticking to an investment which does not provide any good and thus losing out bright opportunities in the market.
'Paisa toh IPO mein heee banthay hain…' One should invest in IPOs only…
I have seen a lot of people who take themselves to be very smart (at least they believe they are) and one can often hear them saying, 'I have made great money in IPOs'. With such comments, many people tend to believe in the magic of IPOs. However, IPOs are not bad , but, one needs to understand the science behind the company rather just jumping in the bandwagon like everybody else. By doing so one might just fall prey to a good marketing tactics.
The principal for investing in IPOs remains the same as for any listed stocks.
'50 rupees ka stock will give much faster appreciation than 1000 rupees ka share'… One should invest in lower price stocks…
This is one of the most common mistakes done by new investors or by people who have been in the market for a long time now. As one knows that Rs.50 is cheaper than Rs. 1000, they tend to apply the same logic while buying shares. But it does not work that way in the stock market. Irrespective of the absolute price, one also needs to look at the various factors like the growth prospects of the company, management of the organization, their market position, Debt position (leverage), current and projected profits and many more. 
In simple words, one should avoid buying stocks that looks like bargaining. In many instances, there is a strong fundamental reason for a price decline. One can do their own homework and analyse the outlook of the stock market before investing. One also needs to learn to invest in companies that will sustain their growth in the future.
Start Investing in 5 mins*
Rs. 20 Flat Per Order | 0% Brokerage
Open Free Demat Account
Mobile No. belongs to
By proceeding, you agree to the T&C.