Best Stocks to Invest Under Rs 20 in 2023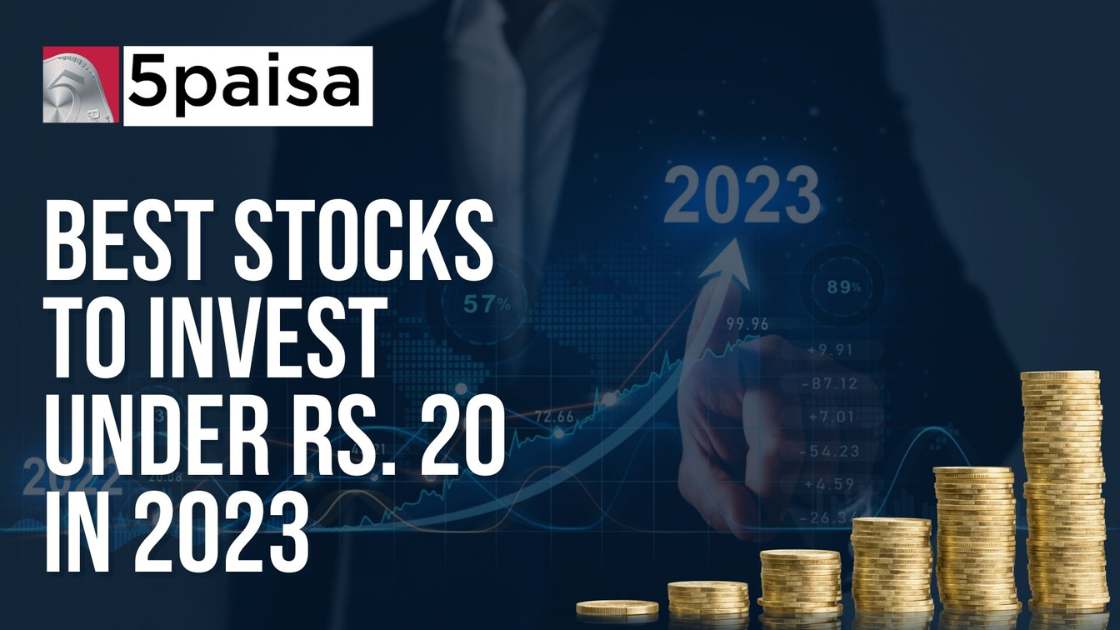 ---

Indian investors love penny stocks or stocks that are priced under Rs20 in price. So, what are these stocks under 20 Rs or shares under 20 Rs. They have several distinct advantages. They are low priced, so you can buy them with a small investment. Being a low priced stock, it has the potential to multiply in a short span of time. Many of these penny stocks offer high returns, although it comes with its own dose of risk. Retail investors generally have an affliction for these stocks trading below Rs20. These stocks, with a little bit of homework, can be a good source of multi-bagger profits for investors with patience and stock picking skills. Here we look at the stocks under 20 Rs or the shares under 20 Rs
Apart from being low priced stocks, these stocks under Rs20 bring another advantage. They are not tracked very closely and hence the rush into such stocks is not much. You stand the chance to be an early bird in this business. You can make money by investing in these companies because the prices of their stocks keep increasing over time. Many of the large caps that you see today like Lupin or Eicher Motors or Bajaj Finance were penny stocks priced under Rs20 some 15 years back. Let us look at more such stocks under 20 Rs and shares under 20 Rs.
Top stocks under Rs 20 in 2023
Here is a list of top stocks under Rs20 and for simplicity we have indexed these stocks by market cap and have selected only the top 20 stocks with market cap of over Rs1,500 crore.
Name of
Company

Market
Price

Mar Cap 
Rs crore 

Net Profit Q3
Rs crore

Net Sales Q3
Rs crore

Return on Capital
Employed (ROCE)

15.40

44,282.35

51.52

5,871.97

4.96

6.25

30,424.81

-7,990.00

10,620.60

N.A.

8.15

8,209.57

78.28

1,458.02

21.87

12.75

6,330.68

-249.83

1,705.69

4.10

11.15

4,164.75

-244.94

1,886.05

5.01

5.80

3,975.01

-217.97

1,201.05

5.59

14.20

3,802.45

35.38

414.70

3.43

18.50

3,733.16

543.93

2,865.17

29.42

15.40

3,222.82

102.75

1,898.27

4.46

18.14

2,797.06

-9.43

307.71

5.11

13.50

2,485.74

-2.85

552.09

25.37

13.65

2,416.19

28.77

478.45

4.09

10.40

2,283.77

109.08

347.50

-4.69

14.90

2,254.41

-257.85

2,034.80

60.01

18.75

1,986.59

0.35

250.73

5.29

19.15

1,893.36

12.78

58.41

9.96

7.35

1,804.13

-314.51

1,896.18

-2.93

3.35

1,798.99

-479.76

849.72

7.78

13.40

1,711.66

-58.37

1,430.84

-0.14

11.40

1,563.39

3.89

122.45

-1.74
These are just the top 20 stocks based on market with a stock price of less than Rs20. In the subsequent section, we will take a specific price view at stocks based on financials and the business model. Here are the under 20 rupees share list and the best share under 20 Rs.
Factors to consider before investing in stocks under Rs 20
Obviously, stocks below Rs20 are fraught with risks, so you need to apply your own due diligence before buying such stocks. Here are some factors to consider before buying such stocks below the price of Rs20.
•    If you are seriously looking at small stocks below Rs20 to become multi-baggers, then it is a game for the long haul. Do not enter into such stocks with a perspective of 6 months to a year. It will take longer. Here we are talking about how long you plan on holding your stock. Most of these stocks can be very volatile and can fluctuate wildly. So, if your time frame is too short, then it is most likely that you may either hit the stop loss or see depletion in the portfolio. That is normal for under 20 rupees share list and even for the best share under 20 Rs.
•    The stocks below Rs20 entail a higher degree of risk so you must ensure it syncs with your financial goals. If your financial goals dictate lower risk appetite, then you must be cautious about such priced stocks. Also, if you are a trader looking to get in and out of stocks quickly, penny stocks may not be the right place. For instance, stocks like Lupin and Eicher took 7-8 years before they could give solid outperformance in the markets. These stocks are best suited to those for long haul.
•    Volatility is a big challenge in such stocks and that adds to the risk. While returns may look quite flattering, you need to take a call whether the risk was worth it. For instance, if your penny stock is giving 16% returns when the index is giving 15% returns, then obviously you are wasting time. You are taking unnecessary risk as risk-adjusted returns are not enough. You want under 20 rupees share list and the best share under 20 Rs.
•    A logical corollary is that liquidity of the stock matters a lot. Many of these stocks are either closely held or they are being traded by just a handful of clients. Such stock prices can be very unpredictable. The problem is not with volatility or losses. The problem is that you may be dealing with a fly-by-night operator or promoter. 
How to identify the best stocks under 20 rupees
Investing in stocks below Rs20 must focus on background of the promoters, past performance, whether the company is loss making or profit making, are the numbers reliable etc. Here are some penny stocks you may find interesting.
•    Suzlon is an alternate energy company of the Tanti group but now largely owned by the promoters of Sun Pharma. The company is getting its act together and the debt reduction efforts have started. That is showing in positive ROCE.
•    Hindustan Construction Company or HCC may have had problems with its balance sheet in the past, but it has marquee projects and clients on hand. Its current order book shows good chances of a turnaround.
•    Yes Bank may not be everyone's idea of a great bank, but there is a lot of stability after SBI and a bunch of large banks bailed out Yes Bank in 2020. The company is working on its asset quality, has reduced risks in the balance sheet and may once again become an independently run bank.
•    Alok Industries is now part of the Reliance group. The company was out as part of the NCLT resolution and is now a profitable company at an operating level with positive ROCE. Alok is also a beneficiary of the PLI scheme.
•    Infibeam  Avenues had been under pressure for a different reason altogether, but still has a solid franchise in the digital space. It owns the popular CCAVENUE payment gateway and could be a very reasonably priced play on the digital space.
Of course, the investors must still apply their own judgement and talk to their financial advisor before taking a call on any of these stocks.
How to diversify your portfolio with stocks under 20 rupees
Many of these stocks under Rs20 tend to be small companies or stressed companies and some may have potential of turnaround. Also, they tend to be either stock with low Beta or low correlation to the diversified indices. This makes these stocks a good method of diversifying risk for the investor.
Advantages of investing in stocks under 20 rupees
Some of the advantages of investing in stocks under Rs20 including the potential for higher returns, the potential for identifying multi-baggers, diversification of market level risk, participation in early stage growth stories etc.
Risks involved in investing in stocks under 20 rupees
Some of the risks of investing in stocks under Rs20 are volatility risk, risk of stop losses getting triggered, risk of bad decisions, risk of elusive profits and the risk of regulatory compliance.
Tips for successful investing in stocks under 20 rupees
There are no golden rules really. It calls for discipline and due diligence. Avoid companies with trade concentration or distribution of holdings. Also, avoid low priced stocks where profit prospects are very low. That can give you a template for identifying shares below 20 rupees and for the below 20 Rs share price list. That is, you window to the best stocks under 20 Rs.
Conclusion
Penny stocks under Rs20 are not a one-way street. They have their merits and demerits. A good deal of due diligence is needed and most importantly, investors must buy these stocks with specific reference to their risk capacity and financial goals. That is the way to shares below 20 rupees and the typical below 20 Rs share price list. You can get the best stocks under 20 Rs.
FREQUENTLY ASKED QUESTIONS (FAQ)
How do I determine the best stocks under 20 rupees to invest in?
You must do due diligence and talk to trader and investors on the street. If needed, talk to the company, and also do channel checks.
Can I invest in stocks under 20 rupees through a broker or online platform?
You can do both. However, many brokers and online platforms charge higher margins for such low priced stocks due to the risks involved.
What is the long-term potential of stocks under 20 rupees?
That would entirely depend on the stock. But, long term potential can be huge for a good quality stock.
How do I monitor my investments in stocks under 20 rupees?
Keep a tab, not only on the price, but also on volumes, trading patterns, market news and exchange filings. That is the way to shares below 20 rupees as well as the below 20 Rs share price list. It can also help you monitor the best stocks under 20 Rs.
 
Start Investing in 5 mins*
Rs. 20 Flat Per Order | 0% Brokerage
Disclaimer
Investment/Trading in securities Market is subject to market risk, past performance is not a guarantee of future performance. The risk of loss in trading and investment in Securities markets including Equites and Derivatives can be substantial.
Open Free Demat Account
Account belongs to
By proceeding, you agree to the T&C.