Best Virtual Reality Stocks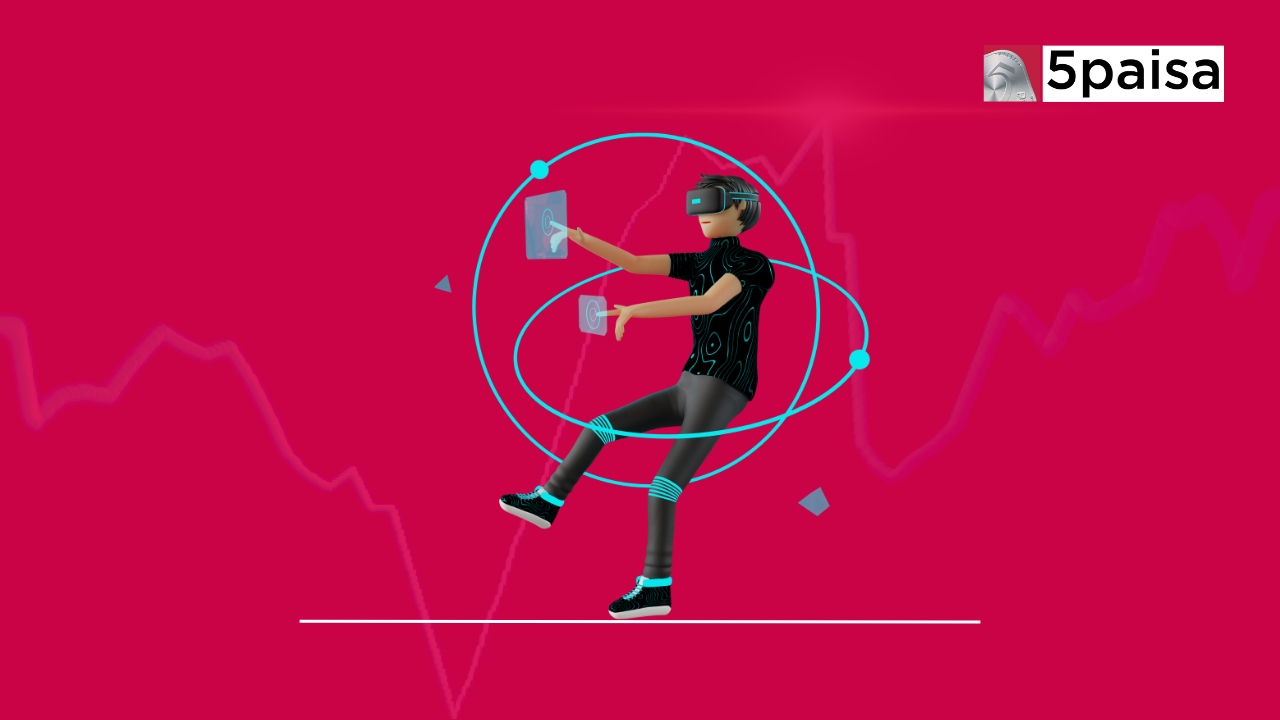 ---

The best virtual reality stocks to buy in India offer exciting investment opportunities in a rapidly evolving technology landscape. These businesses are leading the charge to transform how we interact with digital material as demand for immersive and interactive experiences rises. The virtual reality industry has significant growth potential across various industries, including gaming, entertainment, healthcare, and education. 
To ride the wave of this game-changing technology, wise investors should consider including some of the top virtual reality stocks in their portfolios, which we will discuss in this article.
What are Virtual Reality (VR) Stocks?
The best virtual reality stocks to buy encompass companies operating in the burgeoning realm of virtual reality (VR). With virtual reality technology, people can use computer-generated, realistic settings representing a simulated reality. VR hardware, software, or content developers frequently have stakes in these companies since their products are used for various purposes, from gaming and entertainment to healthcare, education, and business. 
As the adoption of VR technology continues to spread across numerous industries, investing in VR stocks entails taking a position in a market with tremendous growth potential, providing investors with the chance to ride the wave of this revolutionary tech trend.
List of Top 10 Virtual Reality Stocks to Buy
Here are the top 10 virtual reality stocks to consider in India:
    • Infosys Ltd
    • Tata Consultancy Services Ltd
    • HCL Technologies
    • Reliance Industries
    • Tech Mahindra Ltd
    • Affle (India)
    • Wipro
    • Nazara Technologies
    • Tata Elxsi
    • LTI Mindtree Ltd
Overview of the Virtual Reality Industry
Virtual reality is an experience that is entirely different from the real world. It has unique consumer experiences like touch, sense, feel, hear, taste, and smell. This industry is growing very fast, with the VR market expected to rise from 12 billion USD to 22 billion USD by 2025. Therefore, if you plan on investing, it is a good time to go for the best VR stocks.
Why Invest in Virtual Reality Stocks in India?
VR and Metaverse are growing in India, and companies are pushing their boundaries to do the impossible. Moreover, virtual reality is not only limited to gaming and entertainment. It has grown in healthcare, real estate, education, and industrial training. In addition, the Government of India is also promoting technology and innovation under the Digital India scheme. Hence, there is no denying that buying VR stocks in India can be beneficial.
Factors to Consider Before Investing in Virtual Reality Stocks in India
Investors should always consider the trends before investing in any type of stock. Therefore, once you choose to invest in the best VR stocks 2023, here are some things to remember:    
1. Industry Trends
Before investing in VR stocks, remember to check the current trends in the market, especially in the VR sector. You should also consider checking the true potential of the VR stocks and how they are performing against the others.   
2. Stocks History
Not all VR companies are performing and yielding results; hence, it becomes essential to check how the company performs before buying its stock. Do check the past performance, management, financial results, and history in the VR sector.   
3. Products
Being in the VR world doesn't mean the company is only into that sector; they can have different things under their umbrella. Therefore, always assess how they can outshine themselves in virtual reality and stand out.
Performance Overview of Virtual Reality Stocks in India
By now, you would have understood why investing in virtual reality stocks can be a good option. Below is a small overview of the top virtual reality stocks:
   
1. Infosys Limited
Infosys leads the new generation of consulting and digital services on a global scale. It was established in 1981 and is a part of the New York Stock Exchange, in addition to NSE and BSE.

2. Tata Consultancy Services Ltd
TCS is a big name in IT, consulting, and business solutions. It has been partnering with many other organizations worldwide, providing solutions. The company has been producing invaluable expertise since its inception in 1962.
   
3. HCL Technologies
HCL has made its name in the digital space with technology and innovation in hand. It is an Indian multinational company with consulting and IT services domains. It has more than 223400 employees working in over 60 countries. It is also listed under NSE and BSE.
   
4. Reliance Industries
Reliance is the largest private sector and one of the Fortune 500 companies in India. It has spread its wings in many domains, including virtual reality. It is an Indian company and one of the top virtual reality stock contenders.
   
5. Tech Mahindra Ltd
Tech Mahindra has positioned itself as one of the leading companies in Blockchain technology. The company helps in connecting the world through its technical and innovative solutions. It is a multinational company and a part of the Mahindra group. The company is listed under BSE and NSE.
   
6. Affle (India)
Affle is a worldwide technological partner that offers consumer intelligence solutions. This best virtual reality stock to buy has got its IPO in the Indian sector and is listed on NSE/BSE. Affle India stocks can be purchased at INR 1077.20. Additionally, it saw a downward trend in performance by 1.87%.
   
7. Wipro
Wipro is known to solve complex problems by offering innovative solutions to different enterprises. Wipro Limited is a recognized stock listed on the NYSE, BSE, and NSE and is seeing an upward trend in trading. It has recently agreed to sign a deal to take a stake in FPEL.
   
8. Nazara Technologies
Nazara is a gaming platform with a diversified presence in India, North America, and Africa. The company's stocks are successfully listed on the BSE and NSE and are seeing an upward trend in the stock exchange market. Nazara has offices in many other places, including Singapore and Dubai.
   
9. Tata Elxsi
Tata Elxsi, unlike TCS, is focused on design and technology across broadcast, automobile, communication, transportation, and healthcare sectors. You can find its stocks listed in BSE and NSE successfully. It is a global company with a presence in 15 countries and 35 locations.
   
10. LTI Mindtree Limited
It is a global digital solutions and technology consulting leader that helps businesses to reimagine their business models. It is an Indian multinational ITS company and a subsidiary of Lauren and Toubro. LTI MIndtree was formed after a merger in 2022 of Mindtree and LTI.
Let's compare the performance of the best VR stocks below:
| | | | | | | | | | | |
| --- | --- | --- | --- | --- | --- | --- | --- | --- | --- | --- |
| Company | Infosys Ltd | Tata Consultancy Services Ltd | HCL Technologies | Reliance Industries | Tech Mahindra Ltd | Affle (India) | Wipro | Nazara Technologies | Tata Elxsi | LTI Mindtree Ltd |
| Market Cap (Rs. CR) | 6,20,482 | 13,20,881 | 3,38,014 | 1,586,628 | 120,143 | 14,078 | 2,19,805 | 5,753 | 45,555.84 | 1,55,834.19 |
| Face Value | 5 | 1.00 | 2.00 | 10 | 5 | 2 | 2 | 4 | 10 | 1 |
| TTM EPS | 59.46 | 119.55 | 55.65 | 95.71 | 45.02 | 19.23 | 22.33 | 7.28 | 121.93 | 150.53 |
| Book Value Per Share | 155.25 | 247.12 | 241.02 | 1213.67 | 286.75 | 110.54 | 148.64 | 166.96 | 334.92 | 560.71 |
| ROE (%) | 33.15 | 46.61 | 22.70 | 9.31 | 17.30 | 16.69 | 14.61 | 3.57 | 36.20 | 26.56 |
| Sector P/E | 25.14 | 30.20 | 22.38 | 24.50 | 27.36 | 54.93 | 18.86 | 118.28 | 60 | 34.98 |
| Dividend Yield | 2.27% | 3.19 | 3.85 | 0.38 | 4.06 | 0.00 | 0.24 | 0.00 | 0.11 | 1.14 |
| Promoter Holding (%) | 12.95 | 72.30 | 60.81 | 16.33 | 27.13 | 59.89 | 72.91 | 19.05 | 43.92 | 68.66 |
| Debt to Equity | 0.11 | 0.00 | 0.03 | 0.44 | 0.06 | 0.07 | 0.19 | 0.03 | 0.00 | 0.01 |
Conclusion
Buying shares of the top VR stocks in India presents a singular chance to gain access to the exciting realm of immersive technology. These stocks have the potential to generate great returns thanks to innovation, a wide range of uses, and a developing market, and they ought to be taken into account by forward-thinking investors who want to embrace the future of digital experiences.
Frequently Asked Questions
Which Indian companies are investing in VR stocks?
There are many Indian companies whose VR stocks can be purchased, such as Tata Consultancy, Infosys, Tata Elxsi, and Reliance, to name a few.
What is the future of virtual reality (VR) in India?
The VR market is expected to grow potentially in India. It is estimated that the market can reach $1.38 billion by 2025. Therefore, it is a good idea to invest in virtual reality stocks.
Is investing in VR stocks a good idea?
The future of VR and augmented reality is very high. It has grown itself in different sectors, including gaming, entertainment, sports, education, and others. Hence, you should buy the best VR stocks to diversify your portfolio.
How can I invest in VR stocks using the 5paisa app?
You can download the 5paisa app, establish an account, fund it, and study VR stocks. Later, you can make purchase orders and manage your portfolio to invest in virtual reality stocks.
Start Investing in 5 mins*
Rs. 20 Flat Per Order | 0% Brokerage
Disclaimer
Investment/Trading in securities Market is subject to market risk, past performance is not a guarantee of future performance. The risk of loss in trading and investment in Securities markets including Equites and Derivatives can be substantial.
Open Free Demat Account
Mobile No. belongs to
By proceeding, you agree to the T&C.