Everything You Need to Know About Redeeming Mutual Funds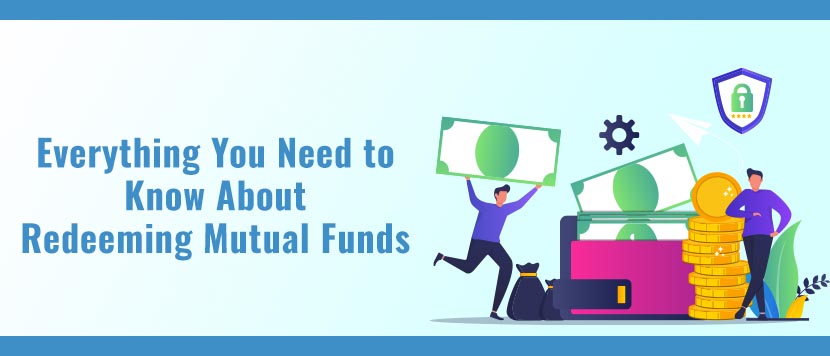 ---

There is always a lot of noise and deliberation in the air about where to invest or when to invest your money in the markets or mutual funds. What is less spoken about is when to make a smart exit from your investment to optimise your returns. Now you might be thinking: 'Not me. I don't have the time to actively track and redeem my investments! It's long-term.' 
Why bother to plan your redemptions?
Well, the truth is that in this time and age, a 100% passive approach towards investment by taking out your money only when you need to cater to your financial goals or obligations is bound to hurt you at some point. Having a strategy about your mutual fund redemption time would not only make it faster to reach your goals and garner more profits but can also help you save a lot of money in undesirable exit loads and taxes.
Two broad questions arise when it comes to redeeming your units:
When to redeem? And How to redeem? Let's understand both aspects.
 
When should you redeem your mutual fund units?
While a lot of other factors can impel you to sell your units and withdraw the sum invested, including personal emergencies, these are the rational triggers for you to take a call on redemption:
 
Consistent drop in returns/negative returns
No, that doesn't mean you jump ship based on a week or month's evaluation. The decision must be taken after comparing the category average returns of similar funds during the same period. Comparison with the benchmark stock index performance can also give you some insight if your fund is really doing poorly.
 
Your Objective Vs Fund's Objective
Your initial investment decision was most likely based on the objective stated by the fund. As you move towards retirement or some other horizon, your risk appetite might change. It's important to then shift to a fund with an objective that realigns with your new investor profile.
 
Profit Booking
Timing the market is a tricky thing. But at times, economic indicators can make it obvious for you to exit a particular sector, book your profits and divert the funds elsewhere.
For example, an increasing/declining trend in the value of INR or USD may indicate that the IT sector revenues are going to go down, and so is the tech industry. You can realise the accumulated appreciation in your Sectoral/Thematic Tech Mutual Fund units and invest the amount in, say, Pharma Funds.
 
To rebalance your portfolio
Allocating your total investment amount among multiple asset classes like Debt, Equity or Hybrid Funds in a fixed ratio helps you get diversification benefits. Whenever this ratio changes due to market movements, you can redeem units from one asset class and purchase units in another to rebalance your portfolio back to the same ratio, at fixed intervals. This will ensure the highest returns as per your risk tolerance levels.
 
Minimise/avoid exit loads
To reduce withdrawals and lock in a minimum investment window for investors, the Asset Management Companies charge an Exit Load as a percentage of the NAV. This charge is waived off when the units are redeemed beyond a certain period of time, say 3 months or 1 year. Hence your mutual fund redemption time largely affects your overall returns.
Tax optimisation 
Equity Oriented Mutual Funds are taxed in the long term (when redeemed after 1 year) at a 10% rate over and above Rs. 1 Lakhs gains and a flat 15% rate if redeemed earlier. The rates are different for Debt Mutual Funds with long term (when redeemed beyond 3 years) taxes being 20% and short term capital gains tax as per your individual income tax slab. 
So you need to be tactful about when to redeem your units to avoid paying hefty taxes.
Now that you understand why timing is so crucial, let's walk you through the different ways in which you can make your exit.
 
How to redeem your units?

Lumpsum redemption
This is redeeming your units in one go, just like withdrawing all or part of your money in a single chunk. While this is the simplest way to do it, you should make a plan ahead of your redemption as to where you will park this money after withdrawal, if not be used shortly. 
 
Systematic Withdrawal Plan
Instead of redeeming all your units at once, you can opt for an SWP and give instructions to your fund house to redeem a fixed number of units at fixed intervals for a stretch of time. You can choose this method if you wish to receive a steady flow of income and also want to minimise your capital gain tax burdens by spreading it over several financial years.
 
Systematic Transfer Plan
This works similar to SWPs, only here, instead of periodically withdrawing your units, instructions are given to redeem the units of one scheme and transfer them to another scheme of the same AMC. This way, you can gradually shift the weight of your portfolio towards less risky schemes to protect your capital, as you approach your financial goal.
Like investment, redemption too should be done by exercising caution and some amount of discipline. Whimsically liquidating your funds or switching from one scheme to another without considering the tax angle can erode your returns significantly. Remember to keep the above considerations in mind, and you're good to go!
Also Read About :- 5 Easy Steps to Exit & Redeem Mutual Fund
Start Investing in 5 mins*
Rs. 20 Flat Per Order | 0% Brokerage
Open Free Demat Account
Account belongs to
By proceeding, you agree to the T&C.