History of Adani Group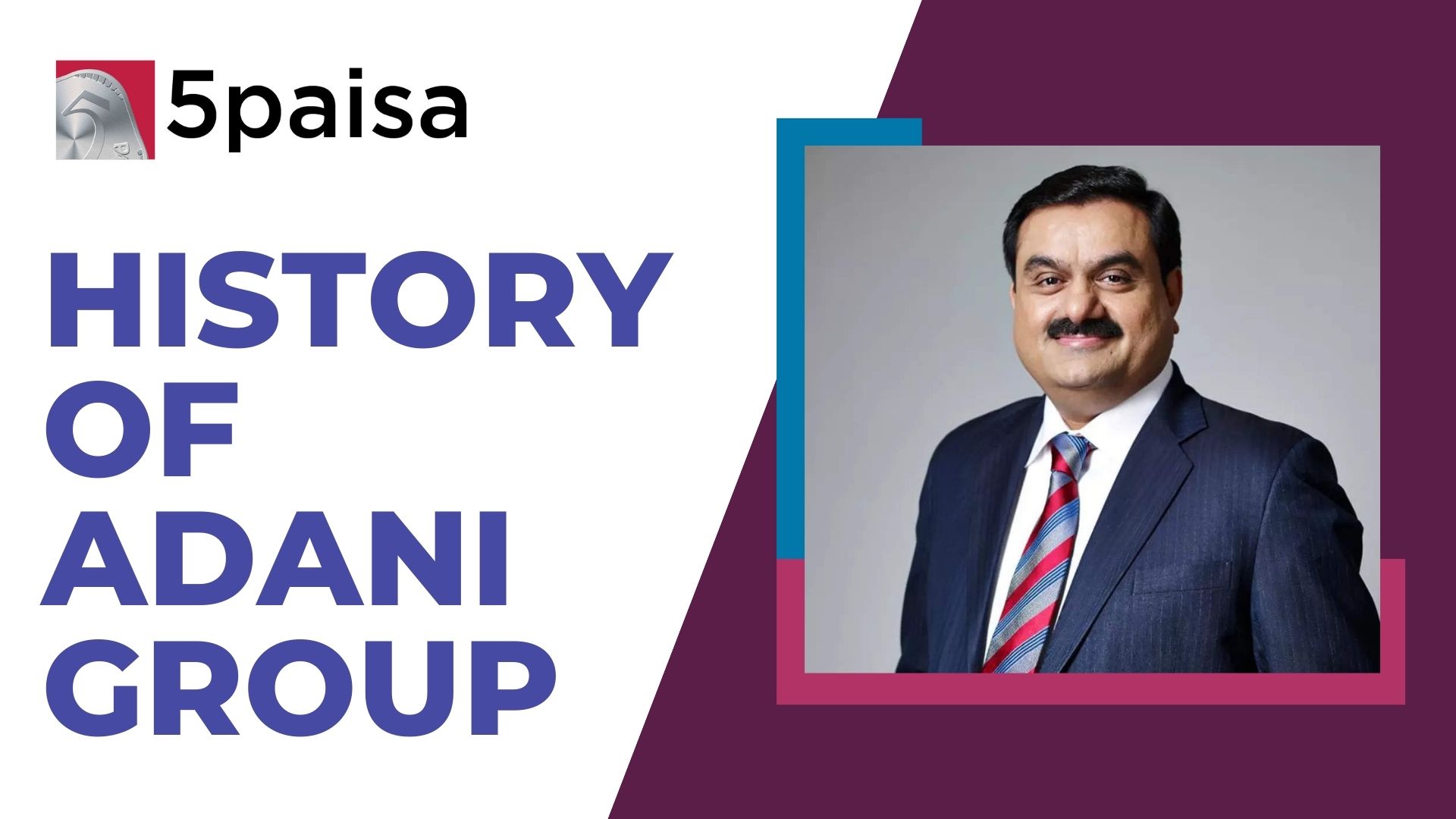 ---

Introduction
The history of Adani Group, one of India's premier conglomerates, is filled with strategic decisions, tenacity, and continuous growth. Since its inception in 1988 by Gautam Adani, the company has evolved from a modest trading firm to a multi-sector behemoth. This transformation didn't happen overnight. In 1991, the history of Adani Group marked a turning point by securing a significant contract from the Gujarat government. From there, the group took calculated strides, expanding into global commodity trading in 1993 and venturing into port development in 1995 with the Mundra Port. These historical milestones paved the way for Adani to diversify and build its portfolio in various sectors, including energy, agribusiness, and real estate. The history of Adani group's growth narrative is about Adani group economic success and its commitment to community welfare and environmental sustainability, making it a respected name in global business.
About Adani Group Limited
Here is the information about what Adani group do:
 
| | |
| --- | --- |
| Established | 1988 |
| Headquarters | Ahmedabad, India |
| Key People | Gautam Adani (Chairman), Rajesh Adani (Managing Director) |
| Industries | Ports, Energy, Agribusiness, Real Estate, Financial Services |
| Revenue (2023) | |
Adani Group, established in 1988 by Gautam Adani, has grown to become one of India's largest conglomerates. The group's operations are widespread and varied, with its headquarters in Ahmedabad, Gujarat. Its vast portfolio includes sectors such as ports, energy, agribusiness, real estate, and financial services. Under the leadership of Gautam Adani, the Chairman, and Rajesh Adani, the Managing Director, the group has experienced substantial growth over the years. The company's annual revenue for 2023 stands at an impressive Rs 1.37 lakh crore. With a solid commitment to sustainable development and community welfare, the Adani Group continues to make significant strides in various industries, contributing to India's overall economic growth and development. The information above says everything about what the Adani group do and how it helps India in growth.
History of Adani Group Limited
●    1988: Gautam Adani founded the Adani Group as a commodity trading firm in Ahmedabad, India.
●    1991: The company secures a binding contract from the Gujarat state government, marking a significant turning point.
●    1993: The Adani group is, as it reaches globally, delving into the import and export of various commodities.
●    1995: The group diversifies its operations by entering the port development sector and establishing Mundra Port.
●    The 2000s and Beyond: Adani Group continues its growth trajectory, venturing into energy, agribusiness, real estate, and financial services, becoming a key player in India's economic landscape.
About Adani Group Limited Timeline
1988
Gautam Adani laid the foundation for the Adani Gathering. He started a small trading business that mainly dealt with commodities. With restricted assets yet a wealth of desire and business discernment, Adani set out on an excursion that would prompt the making of a worldwide combination. In any case, Adani is outfitted with business sharpness and a groundbreaking approach, guiding the organization towards development. This information was all about how did Adani group started.
1991
A turning point in the Adani Group's journey came from a substantial contract from the Gujarat state government. This contract boosted the group's credibility, allowing it to make bold and ambitious business moves. The influx of financial resources from this contract also gave the Adani Group the stability to expand and diversify its operations.
1993
The year marked a significant milestone in the group's history as it ventured beyond national boundaries into the global marketplace. The move to import and export commodities worldwide opened new doors for the company and paved the way for the Adani Group to understand and penetrate international markets effectively.
1995
The demand for well-developed ports became evident as India was speeding toward industrialization and globalization. Recognizing this requirement, the Adani Group ventured into the port development sector. The Mundra Port project, which marked about the adani group's entry into this sector, would eventually become India's largest private port, cementing Adani Group's position in the industry.
1996
The operation commencement of Mundra Port merely a year after the project's initiation marked a crucial point about Adani Group's history. The operationalization of the port highlighted the group's commitment to delivering projects efficiently and its capabilities in infrastructure development. The Mundra Port project was a significant milestone for the company and marked a new era of private port development in India.
1998
The Adani Group established Adani Power Limited this year, expanding its horizons even further. The move into power generation was a logical step given India's rapid industrial growth and the corresponding increase in energy demand. The company soon began making a mark in India's power sector, laying the groundwork for its future standing as one of India's leading private power producers.
2001 
In an exciting diversification move, the Adani Group decided to expand into the agribusiness sector, establishing Adani Wilmar Limited. The move was strategic, given the agribusiness sector's demand and potential for growth. The establishment of Adani Wilmar marked the adani group's entry into the edible oil business, enhancing its business portfolio.
2002 
Adani Enterprises, the flagship company of the Adani Group, became a publicly-traded company, marking a significant milestone in its journey. Going public boosted the group's financial standing and visibility among investors and stakeholders. It gave the group the financial flexibility to expand and diversify its business operations.
2006 
By successfully constructing and implementing the Mundra Special Economic Zone (SEZ), the Adani Group demonstrated its dedication to Gujarat's infrastructure development and industrial growth. The SEZ's foundation set off a flood of industrialization in the district, prompting position creation and financial development. This move additionally set Adani Group's situation as an infrastructural force to be reckoned with in India.
2008 
The establishment of Adani Ports and SEZ Limited (APSEZ) was another notable achievement in the Adani Group's timeline. This company would be pivotal in the group's consistent growth trajectory. APSEZ enabled the Adani Group to consolidate its port operations and drive growth in this sector.
2009 
A remarkable achievement that demonstrated about Adani group's capabilities and power, Adani Power rose to become India's largest private thermal power producer. The company's strategic planning, execution skills, and leadership vision were the reasons for its rapid rise in the power industry.
2011 
The Adani Group responded by establishing Adani Green Energy Limited at a time when the world began to focus on renewable energy to combat climate change. The group entered the renewable energy market as a result of this. The move emphasized about the Adani group's commitment to sustainability and aligned with the global shift toward sustainable energy sources.
2013 
Exhibiting its abilities in the sustainable power area, Adani started working on the world's biggest single-area sunlight-based power project in Gujarat. This project was necessary for the Adani Group and India because it showed the country was committed to renewable energy.
2015 
The Adani Group expanded its port operations by acquiring the Dhamra Port in Odisha. This acquisition was strategic, allowing the group to broaden its geographical reach and increase its port capacity. Adding Dhamra Port to the group's portfolio bolstered its standing in the ports sector.
2017 
The Adani Group became India's largest private power transmission company with Adani Transmission. This accomplishment is evidenced about Adani group's achievement in the energy industry. In addition, it demonstrated about the Adani group's dedication to enhancing India's power infrastructure and capacity for successful large-scale projects.
2018 
Reinforcing its commitment to renewable energy, the group's solar manufacturing arm became India's largest manufacturer of solar panels and solar cells. This achievement underscored the Adani Group's manufacturing capabilities and dedication to sustainable energy production. The success in solar manufacturing highlights about the Adani group's ability to thrive in the highly competitive renewable energy sector.
2019 
The Adani Group ventured overseas, investing in Australia's Carmichael Coal Mine and Rail Project. This marked the group's first significant international investment and indicated a new growth phase for the company. The project also highlighted about the Adani group's ability to undertake large-scale, complex projects outside India.
2020
The Adani Group became the third Indian company to surpass $100 billion in market capitalization, marking a significant milestone. This milestone accomplishment exhibited the Gathering's development, economic strength, and the certainty of its financial backers.
2021
Following its obligation to an environmentally friendly power, the Adani Gathering laid out the world's most giant sun-oriented power plant in Tamil Nadu, India. The group's capabilities in renewable energy and commitment to implementing high-impact projects that align with global sustainability objectives were further emphasized by this project.
2022 
The group maintained a robust growth trajectory, expanding and diversifying its operations. The contributions significantly boosted India's economic growth and established the Adani Group as a versatile and dynamic conglomerate. The group's growth story remains a testament to strategic diversification, bold decision-making, and effective leadership.
About Adani Group Limited Subsidiaries
 
| | |
| --- | --- |
| Subsidiaries | Industry Type |
| Adani Ports and SEZ Ltd | Ports and Logistics |
| Adani Power Ltd | Power Generation |
| Adani Enterprises Ltd | Diversified |
| Adani Green Energy Ltd | Renewable Energy |
| Adani Transmission Ltd | Power Transmission |
| Adani Wilmar Ltd | Edible Oils |
| Adani Gas Ltd.  | Gas Supply |
About Adani Group Limited Subsidiaries: Overview
●    APSEZ, or Adani Ports and Special Economic Zone Limited
India's largest port company, Adani Ports and Special Economic Zone Limited (APSEZ), is crucial in maritime trade. The organization works on an arrangement of ports along the Indian shore, decisively situated to work with proficient import and product exercises. It manages multiple ports across the country's vast coastline, from Mundra in the west to Dhamra in the east. Each port provides cargo handling, storage, and evacuation services, operating as an essential hub in the global maritime trade. APSEZ's ports handle different freight, including compartments, dry mass, fluid mass, and raw petroleum. Thanks to the ports' seamless connectivity to major global trade routes, businesses can use the best supply chain solutions.
Mundra Port, on the western coast of India, is one of the flagship ports in the portfolio of APSEZ. APSEZ works on other remarkable ports like Hazira Port in Gujarat, Dahej Port in Gujarat, Kattupalli Port close to Chennai, and Dhamra Port in Odisha. These ports offer mixed abilities and take care of explicit exchange necessities, adding to the professional development of products across different areas.
●    Adani Power Limited
Adani Power is a significant private power generator in India and a critical component of the Adani Group's commitment to attaining India's energy security. The corporation is essential in the renewable energy industry and runs thermal power facilities throughout India. Adani Power's efforts are distinguished by technologically sophisticated systems, efficient procedures, and a consistent emphasis on environmental sustainability. The corporation supplies dependable electricity to millions of families, commercial organizations, and industries. 
To ensure power generation that is both effective and long-lasting, the company's thermal power plants employ cutting-edge technology and adhere to stringent environmental regulations. Adani Power is committed to implementing energy efficiency best practices and lowering carbon emissions to support India's climate change objectives.
Adani Power has reliably shown its capacity to execute huge-scope power projects. Mundra Thermal Power Station in Gujarat, Tiroda Thermal Power Station in Maharashtra, and Kawai Thermal Power Plant in Rajasthan are just a few of its operational plants. With a growing portfolio of solar and wind power projects, the company has increased its presence in the renewable energy sector.
Adani Power's drives in environmentally friendly power incorporate the turn of events, development, and activity of sun-oriented and wind power projects across India. The organization has a sustainable power limit of over 3,950 MW, emphasizing sun-oriented power age. Adani Power's obligation to environmentally friendly power aligns with India's perfect energy objectives and adds to the country's progress to a sustainable energy future.
●    AEL: Adani Enterprises Limited
Adani Ventures Restricted (AEL) is the lead organization of the Adani Gathering and goes about as the holding organization for different financial matters. AEL works in various industries, such as integrated resource management, mining, agribusiness, aerospace and defense, renewable energy, real estate, and financial services.
AEL's coordinated asset executives incorporate the acquisition, exchange, and dispersion of wares like coal, iron mineral, and agri-items. The business has a significant presence all over the world. It uses its knowledge of supply chain management to guarantee the prompt and dependable delivery of goods to customers worldwide.
AEL has taken critical steps in the environmentally friendly power area, especially the sun-based power age. The company contributes to India's clean energy goals by operating solar power plants nationwide. AEL's attention to environmental friendly power aligns with the Adani Gathering's obligation to manageable turn of events and diminishing fossil fuel byproducts.
In the mining sector, AEL excavates coal and ensures its efficient trading, handling, and logistics, making it an end-to-end contributor to the energy sector. Furthermore, its involvement in renewable energy generation positions the company at the forefront of the sustainable energy transition. AEL also has substantial involvement in agribusiness, contributing to food security and infrastructural projects. The scope of its domestic and international operations solidifies its position as a critical global business player. AEL drives the Adani Group's growth and diversification strategy because it is the holding company for the group. The company's operations cover various industries, demonstrating its adaptability to shifting market dynamics.
●    Adani Green Energy Limited (AGEL)
Adani Green Energy Limited (AGEL) is the environmentally friendly power arm of the Adani Gathering and a noticeable player in India's ecologically friendly power area. AGEL is devoted to creating, constructing, working, and keeping up with sun-powered and wind-energy projects across the nation. The organization has a vigorous arrangement of sustainable power resources, making a critical commitment to India's excellent energy progress. Adani Green Energy runs and maintains utility-scale grid-connected solar and wind farms. The corporation is a prominent participant in the Indian renewable energy market, significantly contributing to the country's green energy ambitions.
AGEL also actively generates wind energy, with a combined capacity of more than 3,400 MW. The organization's breeze power projects are decisively situated in locales with high wind potential, guaranteeing the ideal use of sustainable assets. AGEL's wind farms support India's renewable energy goals, which also aid in lowering emissions of greenhouse gasses.
AGEL strongly emphasizes implementing best practices in environmental management and energy efficiency as part of its commitment to sustainability. The company employs cutting-edge technologies and procedures to maximize renewable energy generation and reduce environmental impact.
●    Adani Transmission Limited (ATL)
Adani Transmission Limited (ATL) is the transmission and appropriation arm of the Adani Gathering. ATL, India's largest private transmission company, manages a vast network of transmission lines to guarantee the timely and effective distribution of electricity throughout various locations. ATL aims to provide reliable energy throughout India and contribute to the nation's infrastructure expansion.
The transmission network of ATL connects power generation sources to distribution networks in several Indian states. The company manages substations, high-voltage transmission lines, and other infrastructure. With an emphasis on cutting-edge innovation and productive tasks, ATL assumes an urgent part in India's power area by fortifying the transmission spine.
Notwithstanding transmission, ATL is likewise engaged with the dispersion of power. The company serves millions of customers by acquiring Mumbai, Maharashtra, and Odisha distribution businesses. The distribution operations of ATL place a high value on efficient billing systems, customer-centered service, and a dependable power supply.
ATL's obligation to manageability is apparent through its reception of trend-setting innovations like advanced substations and intelligent networks. These drives work on the proficiency of force transmission and dispersion, lessen transmission misfortunes, and improve the general unwavering quality of the power supply.
●    Adani Wilmar Limited (AWL)
Adani Wilmar Limited (AWL) is a joint endeavor between Adani Gathering and Wilmar Global, a main agribusiness bunch. AWL works in the food business and is conspicuous in the edible oil market.
The organization is known for its lead image, "Fortune," which envelopes many palatable oils, including soybean oil, sunflower oil, rice grain oil, and mustard oil. Fortune has established itself as a trusted household name in India thanks to the widespread acceptance of AWL's high-quality edible oils among customers.
Aside from consumable oils, AWL has extended its item portfolio to incorporate other food classes. The organization offers basmati rice, soya pieces, besan (gram flour), and wheat flour. Their assorted item contributions take special care of the advancing inclinations and dietary requirements of Indian shoppers.
From sourcing raw materials to manufacturing and distribution, AWL strongly emphasizes maintaining stringent quality control measures across its operations. The organization underlines sanitation, item development, and buyer fulfillment, guaranteeing its items satisfy the most extraordinary guidelines.
●    Adani Gas Ltd.  
Adani Gas is India's central city gas circulation organization. It supplies consumers in the residential, commercial, and industrial sectors with piped natural gas (PNG) and the transportation sector with compressed natural gas (CNG). Adani Gas revolutionized India's energy landscape by providing cleaner and more effective fuel options.
Conclusion
The incredible journey of the Adani Group from its beginnings as a modest trading concern to its present position as a worldwide conglomerate is a monument to visionary leadership and strategic diversification. The group has made substantial contributions to India's infrastructure, energy, renewable, agriculture, and logistics industries via businesses such as Adani Ports and SEZ, Adani Power, Adani Green Energy, Adani Transmission, Adani Wilmar, and Adani Enterprises. The Adani Group, with a solid commitment to sustainability, continues to drive development while promoting social welfare and environmental care.
 
Start Investing in 5 mins*
Rs. 20 Flat Per Order | 0% Brokerage
Disclaimer
Investment/Trading in securities Market is subject to market risk, past performance is not a guarantee of future performance. The risk of loss in trading and investment in Securities markets including Equites and Derivatives can be substantial. Also, The
Open Free Demat Account
Account belongs to
By proceeding, you agree to the T&C.