How to become a crorepati by 45?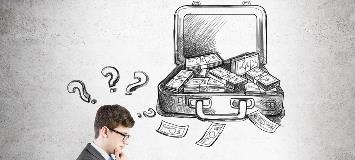 ---

Dreaming of a penthouse, an Audi car in your personal garage is one thing and working towards achieving that dream is another. If you have begun to question your current financial situation off late, assessing your future with minute scrutiny and hoping to make it to the crorepati club one day, chances are you are not alone. Your dissatisfaction with the current scenario in your life will propel you in the right direction to become a crorepati. However, you need extensive planning of your finances to achieve your goal in x, y or z years as worked out by you.
This article will steer your dream with the right kind of tips in financial planning to achieve your goal by 45 years of age.
Budget: Our entire life could be a never-ending luxury only if we could have a correct budget for ourselves. While the two ideas, luxury and budget seem contrary to one other, they can definitely co-exist in harmony in a better scheme of things if planned correctly. Before you start planning to become a crorepati, it is extremely essential for you to pen down your goals for the future. Bungalow, foreign trip, car, designer clothes and the list could be bizarre but something you have dreamt of over the years. Post writing down you will realize the importance of achieving some in the near future and the rest could be ignored or put on the back burner.
Achieving the Crore: It is true there is no shortcut to success and becoming a multi-millionaire overnight is a feat achievable only in films. With two core ideas very clearly engraved in our system, the task of attaining the first crore becomes more practical, realistic and achievable. In a lay man's language, the crore club is possible by following three simple rules
Increase your income

Cut down on your unnecessary expenses

Start your financial planning wisely with long term investments
Growing Your Money: Saving and budget are the last two words that hits us when we first receive our salary. Our growing expenses and increasing credit card usage has made our generation an excessively consumption based society. Our hunger for products refuse to end and that weak spot is exploited favorably by companies. It's time we give our future planning and earning a crore a serious thought. And what better and safe way to do so than putting your hard-earned money safe in a long-term investment that will allow it to grow. The following is a suggestion for investing your money to become a crorepati.
Investment in Mutual Funds: Investing in large cap, mid-cap or blue chip funds will allow you to attain a diversified yet balanced portfolio. Sector based investment in mutual funds if you have the right knowledge will definitely boost your earning in a short term.
Investment in Start-ups or go for IPOs: The current market scenario is brimming with opportunity with startup companies floating every day. If there is a good startup company with a great idea, then investing in it is a sure formula to achieve your goal sooner. Investing in good IPOs always bring good returns.
Investment in Stocks: While stocks do require a risk-taking appetite, it also reaps in huge profits in a short period. However, do take note of the fact that investment in stocks and attaining short terms gains on them also levies tax.
While it is great to earn more money, the addition of the extra revenue also brings us under an increased tax scanner. We list few ways by which you can invest as well as save on your tax.

Investing in Public Provident Fund PPF not only gives you a high interest rate of 8.7 but also allows you to save tax under the sec 80C.

Go for ELSS to attain 12% to 15% returns while saving on your tax too.

NPS brings in tax benefit up to an income of Rs 50,000 and gives annualized returns of 14% to 15%.

The Voluntary Provident Fund is the safest way to invest to enjoy the dual benefits of extra revenue earning and tax benefit.
We advise you to thoroughly research the different investment options and take the help of a financial planner and plan your investments according to your goals and your risk appetite. The reviewal of your investment plans at different stages is a must to ensure its successful execution. Minor tweaks and changes required can be also looked into the long run situation and we suggest you be prepared for it.
Start Investing in 5 mins*
Rs. 20 Flat Per Order | 0% Brokerage
Open Free Demat Account
Account belongs to
By proceeding, you agree to the T&C.