How to Link an Aadhaar Card with LIC Policy?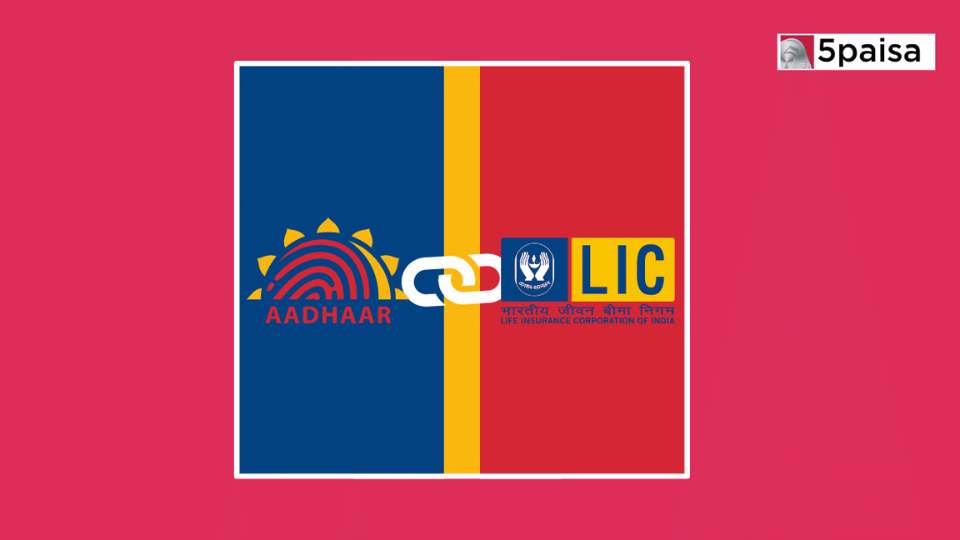 ---

Knowing how to link an Aadhaar card with LIC Policy is essential nowadays. In the current era of technology, it has become crucial to link your Aadhaar card with different financial services and policies. An essential link exists between your Aadhaar card and your LIC policy. In order to ensure smooth transactions, access government benefits, and improve the overall insurance experience, the Life Insurance Corporation of India (LIC) mandates the Aadhaar linking process for LIC policy.
Connecting your Aadhaar card to your LIC policy is a straightforward yet crucial procedure that guarantees quicker claim settlements and simplifies premium payments. Additionally, if you meet the criteria, it provides you with the opportunity to access a range of subsidies offered by the government. No matter if you prefer the convenience of an online approach or the traditional offline method, we've got you covered. In this all-inclusive guide, we will take you through detailed steps for how to link Aadhaar with LIC policy. Additionally, we will explore the benefits and key considerations to keep in mind throughout the process.
Online Process of Linking Aadhaar Card with LIC Policy
LIC policy Aadhaar card linking online is a hassle-free and efficient way to save time. To know how to link Aadhaar with LIC policy online, adhere to these straightforward instructions:
Step 1: Access the LIC Official Website - Launch your preferred web browser and navigate to the official website of the Life Insurance Corporation of India (LIC).
Step 2: Access Your LIC Account - If you are already a registered user, simply log in using your login credentials. If you don't already have an account, you can create one by providing the required information and registering your policy.
Step 3: Click on the "Link Aadhaar" section- Once you have successfully logged in, navigate to your profile and locate the section labeled "Link Aadhaar" or "Aadhaar Seeding". Click on it to continue.
Step 4: Provide Aadhaar Card Information - Enter your 12-digit Aadhaar number accurately in the designated field. Ensure that you verify the digits to prevent any potential errors.
Step 5: Enter Policy Information- Now, proceed to provide the necessary details regarding your LIC policy, such as the policy number and any other pertinent information.
Step 6: One-Time Password (OTP) Authentication - After providing your information, a unique OTP will be sent to the mobile number associated with your Aadhaar registration.
Step 7: Verification and Confirmation- Input the One-Time Password (OTP) received to authenticate the process of linking. By taking this step, we can guarantee the safety and authenticity of the information provided.
Step 8: Linking Success - Once the verification process is complete, you will receive a confirmation message informing you that your Aadhaar card has been successfully linked to your LIC policy.
It is important to know the Aadhaar-LIC policy linking deadline so that you can work on it on time.
Offline Process of Linking Aadhaar Card with LIC Policy
If you opt for a more conventional method, you have the option of the offline method to link Aadhaar with LIC policy. To do so, simply follow the steps outlined below:
Step 1: Pay a Visit to the Nearest LIC Branch- Find and pay a visit to the closest branch of the Life Insurance Corporation (LIC) in order to begin the process of linking your Aadhaar.
Step 2: Bring the Necessary Documents- Remember to bring a self-attested photocopy of both your Aadhaar card and your LIC policy document when you visit the branch.
Step 3: Proceed to the Customer Service Desk- Make your way to the customer service desk located at the LIC branch and notify them of your purpose to link your Aadhaar card with your policy.
Step 4: Submit Aadhaar and Policy Information- Furnish your policy details and submit a self-attested copy of your Aadhaar card, along with any additional documents required for Aadhaar-LIC policy linking for the purpose of verification.
Step 5: Verification Process- The information provided will be cross-checked by LIC officials against their records to ensure its accuracy and authenticity.
Step 6: Successful Linking- Once the verification process is complete, your Aadhaar card will be successfully linked to your LIC policy through offline means.
What are the Advantages of a LIC Policy with an Aadhaar Link?
Here are the benefits of linking Aadhaar with LIC policy: 
● Efficient and Speedy Claims Processing
By linking your Aadhaar to your LIC policy, you can experience a faster and more efficient claim settlement process.
● Effortless Premium Payments
Linking your Aadhaar allows for seamless premium payments, eliminating the requirement for tedious manual paperwork.
● Public Assistance and Government Subsidies
By linking your LIC policy to your Aadhaar, you become eligible for a range of government benefits and subsidies if they are applicable to you.
● Minimized Instances of Fraud
The process of Aadhaar authentication plays a crucial role in minimizing fraudulent activities and safeguarding the policyholder's information.
● The Era of Digital Convenience
By linking your Aadhaar, you will have the ability to conveniently manage your policy online, granting you access to all policy-related information and updates.
● Simplified KYC Compliance
There is Aadhaar linking compliance for LIC policyholders. By linking Aadhaar, the LIC policy, and Aadhaar KYC process for financial transactions is streamlined.
● Improved Policy Services
By linking Aadhaar, LIC is able to offer customized and enhanced policy services to its valued customers.
LIC Aadhaar Link for Lapsed LIC Policies
You can easily link your Aadhaar card to your lapsed LIC policy by following the same procedure as for active policies.
LIC Aadhaar Link for Multiple Policies
Easily link multiple LIC policies to your Aadhaar card using the same 12-digit Aadhaar number, ensuring smooth management of all your policies.
Things to Remember About Aadhaar and LIC Policy Linking
● Ensure Accuracy: Provide correct Aadhaar card details matching your LIC policy information to prevent any errors during linking.
● Updated Mobile Number: Ensure that your registered mobile number is active and up-to-date, as it will be utilized for OTP verification purposes.
● Secure Sharing: To ensure the security of your data, only share your Aadhaar and policy details on the official LIC website or at LIC branches.
● Offline Verification: For offline verification, remember to bring self-attested copies of your Aadhaar card and policy documents for the verification process.
● Multiple Policies: For a seamless insurance experience, you can connect all your LIC policies by using the same Aadhaar number.
● Government Benefits: By linking your Aadhaar, you become eligible for various government benefits and subsidies.
● Keep Documents Handy: Ensure that you keep copies of your Aadhaar card and policy documents for future reference and any transactions that may arise.
Conclusion
It is essential to know how to link your Aadhaar card with your LIC policy in order to have a smooth and protected insurance journey. By adhering to the above-mentioned step-by-step instructions, you can effortlessly complete the linking process, whether you opt for the online or offline method. By associating your Aadhaar card, you not only unlock access to government regulations on LIC policy and Aadhaar linkage benefits and subsidies but also enjoy the advantages of quicker claim settlements and seamless premium payments. By ensuring the accuracy of your details and keeping your documents readily available, you can fully leverage the benefits of the Aadhaar-LIC policy link. This will ultimately enhance your overall insurance experience with LIC.
Frequently Asked Questions
How long does it take to get the confirmation mail?
Does LIC provide a policy of linking through SMS?
What details does the Aadhaar number contain?
In the case of joint policyholders, whose Aadhaar should be linked?
Do you need to have a LIC login to seed Aadhaar and LIC policy?
Is it possible to link my Aadhaar to more than one LIC policy?
I am a policyholder of a policy under my daughter's name. Whose Aadhaar card should I link with the policy?
Will I be able to link Aadhaar with LIC if the registered mobile numbers for both of them are different?
Start Investing in 5 mins*
Rs. 20 Flat Per Order | 0% Brokerage
Disclaimer
Investment/Trading in securities Market is subject to market risk, past performance is not a guarantee of future performance. The risk of loss in trading and investment in Securities markets including Equites and Derivatives can be substantial.
Open Free Demat Account
Account belongs to
By proceeding, you agree to the T&C.