Tips for an investor to attain success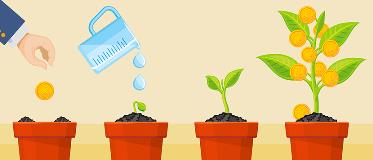 ---

Every successful investor follows some common strategies and tips that they must have analyzed through years of investing.  One should consider following the below tips in order to invest in the share market in a better way and avoid losses while investing.
1. Be prepared to incur small losses initially if you are a beginner investor.
2. Always put a stop loss to all your investments in order to cut losses
3. Always sell your shares if the price drops below 10 percent.
4. Don't get discouraged by losses, be persistent.
5. It takes some time to attain success in the market, be patient.
6. Always pick a brokerage firm charging a flat brokerage fee, rather than a commission.
7. It doesn't require a huge amount of money to invest; you can start investing with Rs15-20k.
8. Avoid investments which are highly volatile and invest in liquid assets.
9. Your sentiments are your worst enemy, don't get too attached to a particular investment.
10. Be careful of the companies having share price below Rs100; good companies mostly don't have share prices this low.
11. Learn from your previous mistakes, analyze them so that you never commit them again.
12. Study the people who have been successful in the market, and learn from their personality.
13. Combination of both fundamental and technical analysis is a must before taking an investment decision.
14. Fundamental analysis means you study the balance sheet, income statement, cash flow statement, and growth margin of the company.
15. Technical analysis suggests that you learn about the company by analyzing the price charts of the company.
16. Concentrate on few stocks which are of superior quality. Don't own stocks of more than 20 companies at once.
17. Look for companies having good growth potential and invest in them.
18. Companies having strong sales and consistent earnings are considered as the best companies to invest.
19. Buy stocks of companies that are just coming out of price consolidation in order to make money.
20. Analyse which industry is profitable in the market right now - pharma, technology, IT, etc., and find the best companies within that sector.
21. Always consider the volume: how many shares of the scrip are actively traded? Higher the volume, better the liquidity.
22. Try to pick stocks from the leading sectors. Successful investors usually hold shares of industry leaders.
23. If the stock price has gone up, it means that there is more buying than selling in the market.
24. If the price has gone down, there must be more selling than buying in the market.
25. Look over your financial position before investing and only invest what you can afford to lose.
26. Avoid the herd mentality and don't invest just because everyone else is investing.
27. The right time to buy a stock is at its "pivot point."
28. Don't chase a stock if the price has risen over 5% of its initial price.
29. The volume should increase by 50% on the day of the breaking out of stock.
30. Buy low and sell higher has become buy high and sell a lot higher, at the current time.
31. To let yourself know when a stock has reached its top, keep monitoring the chart price and volume action of the company.
32. History always repeats itself in the stock market. If a trend has passed, it will come back again in the future.
33. You should not take any rash decision and sell the stock if the price increases slightly. Keep the stock for at least four weeks and then decide.
34. Always track the direction of big indices like Nifty50. They make or destroy a current trend.
35. Ignore taking advice from people about the stock market. Do what's best for you in your opinion.
36. A bear market will decline up to 25% from its initial price.
37. Political or economic environment and interest rates can influence prices in the market.
38. Three out of four stocks will most probably follow the overall trend of the market, even if they seem good at first glance.
39. The market trend usually tends to change after a three to four week period.
40. Investors panic during a bear market and when the prices start to go up again, investors don't believe that the trend is changing.
41. At some point during a downtrend, the market will try to rebound in an attempt to advance in price level after declining for a certain period.
42. Most stock prediction charts are of little value as the market is volatile and can't be predicted perfectly.
43. You should try picking better stocks once you determine that the market is in an uptrend direction.
44. A company which can earn you profits will have strong previous earnings and continuous distribution of dividend.
45. Analyzing price charts of a company can help you identify the right time to buy or sell shares.
46. There are two types of investors: defensive and aggressive. A defensive investor spends less time in the investment process, and an aggressive investor spends more time towards investments.
47. Investors who seek growth can look for companies with high earnings and strong sales.
48. Investors who seek value can look for stocks which are undervalued and have lower P/E ratio.
49. Keep the investment process as simple as possible so that you understand your investments properly.
50. Keep monitoring your investments regularly. It will help you to identify which investments to buy or sell in order to to cut losses.
51. What you pay is what you get in the market. Higher the investment, higher the profits.
52. Identify your risk appetite before investing. Only invest what's in your budget.
53. Read different investment books to get basic knowledge about the factors that influence the prices in the market.
54. Diversify your portfolio by investing in stocks of multiple companies across various sectors and industries.
55. Sell the shares which you think can lower your overall profits to protect the performance of your portfolio.
56. Don't make decisions based on your sentiments or based on company's goodwill. A good company can also force you to incur losses at times.
57. Don't invest more money once you have achieved your desired financial goals.
58. Keep an eye on news related to the company you have invested your money in. It can influence the prices of stocks to a great extent.
59. Ask for advice from your stockbroker on how you can reduce your taxes and increase your profits.
60. Consider investing in stocks rather than bonds and fixed deposits. Stocks will provide you with better profits in less amount of time.
Start Investing in 5 mins*
Get Benefits worth 2100* | Rs. 20 Flat Per Order | 0% Brokerage
Start Investing in 5 mins*
Get Benefits worth 2100*
Rs. 20 Flat Per Order| 0% Brokerage
Open Free Demat Account
& get benefits worth 2100*
Have Promo code?

Use code ACT2100
Enter Promo code
By proceeding, you agree to the T&C.
Start Investing Now!
Open Free Demat Account in 5 mins