What do you mean by Derivatives Market?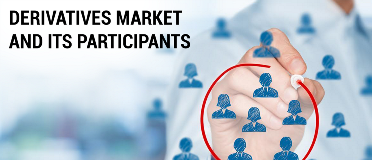 ---

Derivative is a type of financial instrument, whose value is derived from underlying assets. Underlying assets can be equities, interest rates, currencies and commodities. Derivatives are mainly used as a risk management tool where you can transfer the risk attached with the underlied asset to the party who is willing to take it. Risks can be Market Risk, Credit Risk and Liquidity Risk.
Who are the market participants in Derivatives market?
On the basis of their trading rationale, participants in Derivatives Market can be classified into three categories as follows:
Arbitrageurs
Arbitrageurs exploit the price difference between two different markets. Arbitrage trade is a low risk trade where a trader simultaneously buys an asset at a cheaper rate from one market and sells it at a higher price in another market. Such opportunities are very short lived in derivatives market. Since an arbitrageur rushes to grab this opportunity, it eventually narrows down the price gap.
For example: The cash market price of ABC Ltd is trading at Rs.100 per share, but is quoting at Rs. 102 in the future market. An arbitrageur would buy 100 shares at Rs. 100 in the cash market & simultaneously, sell 100 shares at Rs. 102 in Future markets, thereby making a profit of Rs. 2 per share.
Hedgers:
Hedging in simple term means buying insurance to minimize the risk. An investor/trader who wants to protect himself from unfavorable price movements is called Hedger. The primary motive of an hedger is to limit his exposure risk. Hedgers try to hedge their positions by creating exact opposite position in the derivatives market.
For example: An investor has a portfolio of Rs. 5,00,000 and he does not want to liquidate his portfolio ahead of key events, such as budget, policy announcements or even elections. Hence, to protect his portfolio from volatility, he can short index futures to make his portfolio beta neutral or he can buy Put option by paying a fixed cost known as premiums
Speculator:
Speculators are risk takers, who are willing to take high risk in the anticipation of making higher gains in a short span of time. They tend to buy stocks with the expectation that the price will rise and then sell them at higher level. While in the process of making large profit, the probability of losing the principal amount is equally higher.
For example: If a speculator feels that the price of ABC company is likely to fall in a few days due to some upcoming market developments, he would short sell the ABC company's share In a derivatives market. If the stock price falls as expected, then he would make good amount of profit depending on his holding. However, if stock prices shoot up against the expectation, then his loss would be equivalent.
Start Investing in 5 mins*
Rs. 20 Flat Per Order | 0% Brokerage
Open Free Demat Account
Account belongs to
By proceeding, you agree to the T&C.