Why Google and Cisco can kill the Indian Telecom players ?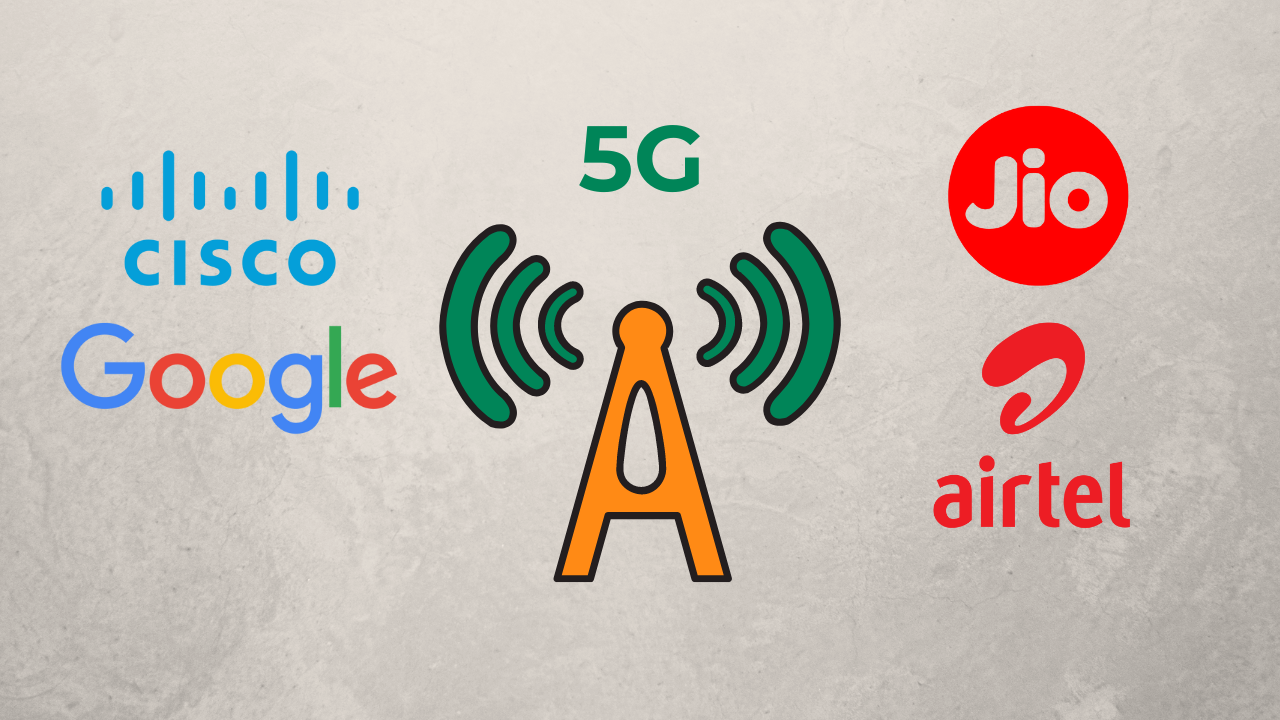 ---

The much-awaited 5G can be in India anytime now. According to the Department of Telecommunications (DoT), 5G will first be rolled out to only 13 major cities in India. These include Ahmedabad, Bengaluru, Chandigarh, Chennai, Delhi, Gandhinagar, Gurugram, Jamnagar, Hyderabad, Pune, Lucknow, Mumbai, and Kolkata. 
With 5G, in place, the time for Telcos to shine has finally come, but if rumors are to be trusted Telecom companies aren't really happy with the 5G rollout, there is one thing that is bothering them.
It is, GOI's decision to allow private players to set up their own 5G networks.
Huh
What the hell is a private network? and Why on earth does someone requires their own 5G network?
Everyone is doing fine with the network from telcos, no?
Mmm, Not really.
So in the last 10 - 20 years, when we went from 2G to 3G to 4G, things changed drastically. With 2G, you could barely speak on calls connected through the internet, and with 3G you could watch one mediocre quality video in a day, but with 4G, you could speak on whats app calls, ask your Alexa to sing for you and watch Instagram reels for hours.
A lot has changed with better networks. And with 5G in place, there are going to be revolutionary changes, like your Alexa, to automatically pay your bills through apps. Your washing machine could be connected to wifi, and it automatically rinses the clothes at your set times.
So, 5G could do a lot of things for us. If it could change things so much for us, just think about how it can work wonders for companies. Like, machines connected to Wifi can automatically process data and work, without the input of a human. Machine learning, IoT everything could be automated just by connecting to 5G.
Now, the problem here is the network provided by Telcos is sometimes a bit shaky and for these enterprises, it could cost millions of dollars. And, that's why these companies want to set up their own private networks.
As you see the network requirement for a Hospital is very different from the network requirement of an IT company. A Hospital may require uninterrupted connectivity and a dedicated customer support line, while in terms of an IT company, they would require a lot of high-speed data. So to cater to different needs, enterprises need their own private networks.
And you would be surprised to know that in different countries like Europe and US, there are companies that provide customized services to enterprises. These companies are known as MVNOs, (mobile virtual network operators), they purchase voice and data in bulk from existing telecom players and then resell those minutes and data to the end customer under their own brand name by 'virtually' riding on an established operator's network. They just customize their offerings according to the enterprise. 
It may sound a bit bizarre to you that a telco sells its data to another company. But understand it this way, so Telecom companies have to buy the spectrum, basically, the airwaves that connect your calls, and telcos have to pay a huge sum to acquire these spectrums from the government. Now, let's say Vodafone has a spectrum in a remote location where people aren't connecting to calls and it is not being used, so Vodafone can sell this capacity to some other player and make some money of it.
This model never took off in India, because telcos were kinda afraid these companies would eat their market share.
But with 5G in place, some companies want their own networks, now owning a network requires a lot of investments. You have to buy spectrum from the government, it is basically the airwaves that connects the calls. You need to set up the base station, and towers and then set up the routers, and gateways. Doing all of that just for a better network is both ridiculous and expensive! But what if someone else could do that for you, you just buy in the spectrum and there could be a third-party company that could do all the dirty work for you? Now it sounds amazing no? Companies like Google, Amazon, Cisco, and Ericsson are all venturing into this. These companies would provide what we call as Network as a service or NaaS.
Recently, Google has started selling its private wireless networks to enterprises in the US, which has put it in competition with telcos. 
Now with Google's services, manufacturers can deploy a private network across a large factory site bridging operations, automation, and IoT devices, with robust baseline connectivity which would support next-generation functionality.
Tech companies want to work out a similar sort of thing in India as well, but our Telcos aren't really liking it, they fear that these companies are invading their territory.
Their association CCOA, ( Cellular Operators Association of India ) has sent numerous requests to not allow captive private networks and to put in strict regulations that would not allow them to interfere with the public networks and keep their access restricted to the machine to machine communications. 
Telecom companies have all rights to be offended because enterprise plans make up 40% of their revenue and this move could take away a major pie of their revenues. And telcos are doing everything they can to stop these Tech companies but with the 5G ball rolling, it seems like the tech companies are ready to take on the Telcos completely as Cisco, the networking giant has reportedly applied for a Unified license to access services Pan India.
Cisco is into the networking and IT space, it supplies routers, and enterprise solutions like video conferencing software, cloud and computing solutions, etc to different organizations.
This license is everything that a telecom company needs to provide wireline and wireless services to users. The question here is why Cisco wants this license and what can it do with it. 
So, Cisco along with its other solutions has a video conferencing platform Webex, now with a hybrid work model and work from home in place, people are using this software a lot. With the increased traffic, the pressure on Cisco's internet infrastructure was huge and the company wanted to offload some pressure by connecting calls through the mobile network.
Now, if you have used any of this software you must have noticed that whenever you have to place a call, you do it by dialing a US number, but with a Unified license, you will be able to connect it using an Indian number,  Meaning, you would be accessing the service through a local circuit-switched telephone network (or PSTN)—or what we know as the landline—or a mobile phone, in addition to the usual connection through the internet. 
So, with these licenses Cisco, users can make calls to people from apps and mobiles to people that are connected to a Cisco network, now this kinda power is currently only with Telecom players, and this license could bring Cisco in direct competition with them.
To have this power it needs a VNO license and a Unified license. The company has already received the VNO license in March of this year.
With the grant of a Unified license, Cisco will become the first company to acquire licenses to independently sell communications services. The company will no longer have to be solely dependent on telcos. Instead of routing traffic through telco pipes. Cisco will be able to do that through its own infrastructure. 
Seems like Tech companies are encroaching on the turf of Telecom players, well new tech is gonna shake up a few things, or should we say a few industries.
Start Investing in 5 mins*
Rs. 20 Flat Per Order | 0% Brokerage
Disclaimer
Investment/Trading in securities Market is subject to market risk, past performance is not a guarantee of future performance. The risk of loss in trading and investment in Securities markets including Equites and Derivatives can be substantial.
Open Free Demat Account
Account belongs to
By proceeding, you agree to the T&C.