5 Tips on How to Trade When Sensex is at 60k by C.K. Narayan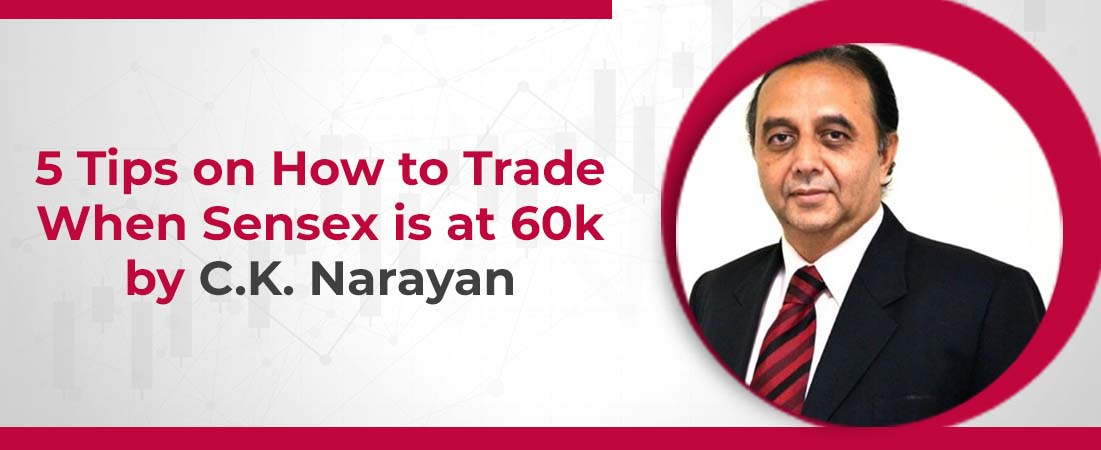 ---

Stock markets in India have been trading at a strong clip over the last 18 months. As a matter of fact, in this time period, both the Sensex and the Nifty have been hitting new highs and creating wealth for investors. However, now that the Sensex is at 60k, it has become important to review portfolio gains and create a strategy for the way forward. If you are muddled with questions like what to do now, should I book profits or continue the ride, should I invest more money or simply do nothing, then you should definitely read on. 
Guest:
Dr. C.K. Narayan, Founder of Growth Avenues, Chartadvise &  NeoTrader and Chief Investment Officer - Plus Delta Portfolios

1. Is the market overheated at present or do you see room for the market to move up further?

The market has been moving up since the last 18 months. It has been a relentless upside and this relentlessness is worrying people. The Sensex is at 60K. We usually expect a normal correction of 10-12% per year and frequent corrections of 4-5% in between but, over the last 18 months, we have only seen a correction of about 3%. People have been worried about a correction since April-May 2020 and the lack of correction is a huge source of concern. It is stopping seasoned people from committing completely to the market.
The share market started its ascent in the depths of the pandemic, when nobody knew what to expect with the lockdowns and other issues. Now the Sensex is at 60K. We could not understand why the markets were moving aggressively and therefore, nobody built major positions. In fact, positions are lower than normal because people are wary, ensuring that there is no position overhang. This indicates that the growth trend could continue further based on various factors of over heatedness.
Everybody is rightly sceptical and though there is a fear of missing out, nobody is willing to overcome it and come to the share market with high investments. People need a reason to flock to the market and there is no dearth of money. Nearly 30-40 billion dollars of money have come in and more is waiting. In this scenario, it is advisable to await the next quarter results and, if the upside trend continues, it is time for people to gradually enter the markets over the shorter term. Equities are holding strong across the globe, money flow is intact and liquidity is high, indicating this is a good time to build positions. 
2. With the Sensex at 60K, how can technical analysis barometers be used to identify stocks which can make good investments over the next 10-15 days?
It is best to take a structured way to understand the market. Technology has heightened volatility and reduced sustained directionality. Harness technical analysis and technology to identify stocks. Avoid information overload and use powerful software. For instance, if you consider Maruti stocks, the shares are facing a year to date decline. Recently Maruti has rallied in a short-term bounce but software indicates that it is currently within a cloud and therefore not a wise buy. 
3. What is your view on some of the recently listed IPO stocks and what sectors do you think will hold strong in the near future? Which are the best stocks to buy now?
I will treat the newly listed stocks as a single segment. Strong companies have come into the market and these IPOs have raised the market cap. These are clean stocks with no baggage so most definitely pay attention to new listings, especially those in niche segments. Pay particular attention to new IPO stocks which are making strong highs. If a month has passed, people who invested early have made profits and moved out.

If the stock is still moving up, it indicates that institutional investors are buying up the stocks. Big players are coming in, meaning the stocks are performing well. IndiaMart is a good example of an IPO making nice patterns and offering strong profits. People are holding such stocks for long-term gains. Focus on this segment and even if you go wrong in 2-3 out of the 10 new stocks, the money you make in the rest will help you gain back whatever you may lose.
  
4. How can we scan the best stocks to buy now and which stocks are making good movement in the first 15 minutes of the market?
Invest in a good scanner and have a strong understanding of technical analysis. If you do not know technical analysis, you can scan based on price action. If the price action is strong, check volume action. If there is large volume and good price action, there is strong potential for movement. Parameters of the scan should be built in well. Pick 4-5 good stocks to scan and you can make good returns.
5. What is your view on the short-term share market?
The market has recently fired some opening shorts. The Sensex is at 60K and Nifty reached an all-time high last week, at opening, and this was an artificial high. This is not a good sign. This week's candle pattern indicated a dark cloud cover, which is a warning to be alert. This week, we almost hit the previous week's low and this has not happened since July. There is a big dark cloud cover and this bearish candle was last seen in January 2021, so there are small warning signs which we should heed.
The second warning came when a short-term trend line was broken during the decline this week. The whole week has seen a decline. When you see a decline breaking a trend line, it is note-worthy. Recent short-term breaks have happened through consolidation and not declines, so that is another warning from the market.
Thirdly, throughout the upside trend, the momentum did not show any divergence pattern. The divergence indicates a lack of momentum which is not accompanied by nuance. This finally happened during this week's trade.
These are all tell-tale warning signs in the short term so prepare for the next week with extra padding as the market could be fierce. In the short term, there is a small question mark and we have to see if there is a follow-up. However, in the longer term, as long as the market remains slightly south of 17000, there is no need to worry. If these lines are crossed, there should be caution and investors should ensure that accrued profits do not get negated.
Start Investing in 5 mins*
Rs. 20 Flat Per Order | 0% Brokerage
About the Author
Open Free Demat Account
Mobile No. belongs to
By proceeding, you agree to the T&C.