10 Mistakes that Investors Make in Mutual Funds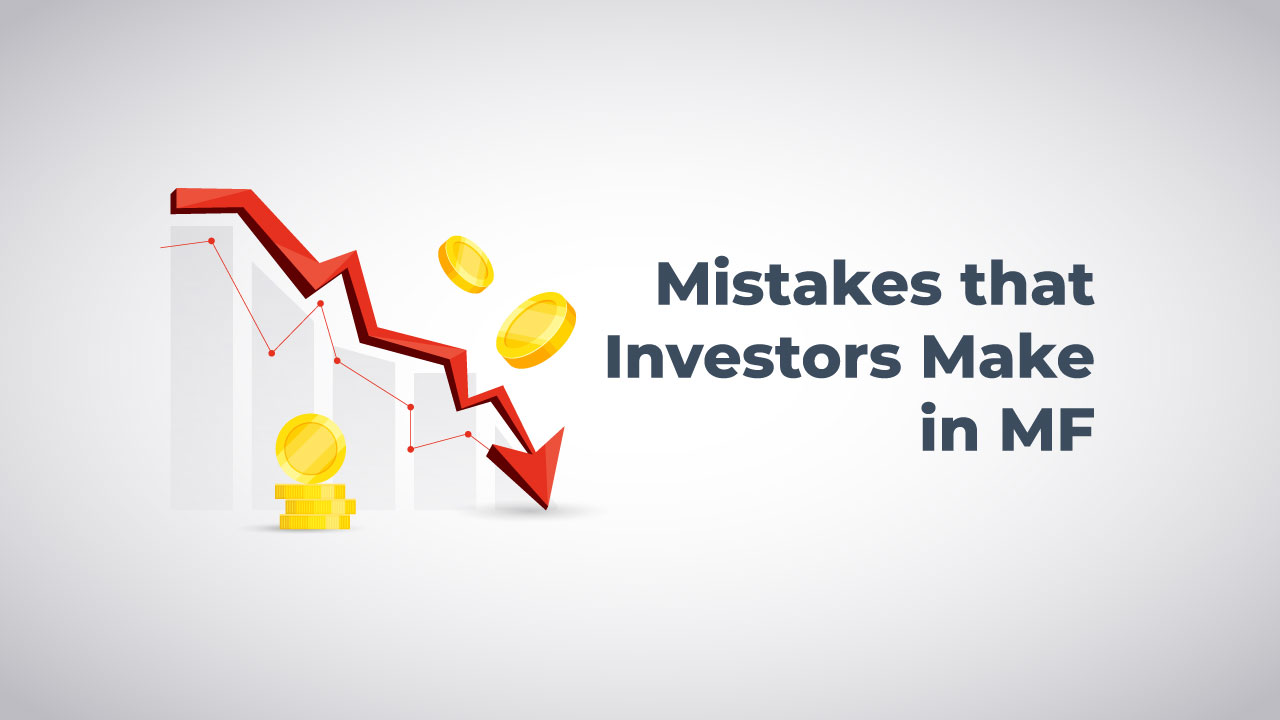 ---

Thinking about investing in mutual funds? You should definitely opt for them as they allow investors to diversify their portfolios. They are low-risk investments that bring in reasonably high returns, particularly when compared to savings accounts or fixed deposits.
 
Here are some common mistakes that investors usually make when investing in mutual funds. 
Top 10 Mistakes that Investors Make in Mutual Funds
1. Have high expectations 
This is one of the most common and frequent mistakes that almost every mutual fund investor makes. Even though you've selected the right type of fund, it is not possible for anyone to accurately predict the condition of the market in the future.
So it is highly suggested that you do not have unrealistic expectations about high returns on investments. Rather, you should try to stay grounded as much as possible by assuming the realistic picture prevailing in the market.
2. Making comparisons
Comparing the performance of different funds is like comparing apples with oranges. This is another mistake that investors tend to make. They compare how much return on investment the funds have given without considering whether the funds belong to the same category or have different aspects.
Investors need to understand that a comparison must be made within the same type of fund. For instance, one should never compare the performance of large-cap funds and small-cap funds because, if you see, the funds invest in a separate set of stocks.
3. Too many funds 
Another common mistake is that investors invest in too many funds to mitigate the risk. But they fail to recognize that when they unnecessarily invest a lump sum amount of money in numerous funds, they don't diversify the risk. If you want to diversify the risk, it is better to divide the investment into a few funds. When you invest in many funds, you will possibly not have the required bank balance left to sustain them.
4. Focusing only on tax-saving funds
Another common mistake that most mutual fund investors commit is focusing more on saving taxes over any other factor. Investors should focus not only on the tax-saving type of fund but also on funds that will greatly help them generate more returns on their investment.
 


5. Not considering the risks 
It is the nature of financial investments to carry a significant risk factor. Mutual funds, too, are not risk-free; they are subject to market risks. Therefore, you should always evaluate your risk tolerance capacity when investing in funds.
You should keep in mind the type of fund that would suit you. For instance, if you do not believe in high risk, then you should never go for small-cap or mid-cap funds because though they generate high returns, they carry a comparatively higher risk.
6. Delaying investment decisions
Procrastination is not good. When it comes to making investments, one of the major mistakes is that almost every investor is waiting for the right time, thus missing out on all wealth-creating opportunities.
If you tend to start too late, it might also result in you losing the benefits you would have received otherwise. So, just invest and don't procrastinate.
7. Not consulting financial advisors

Often, investors do not consider it important to consult a financial advisor. They forget that investment is a lifelong process that operates in an ever-changing society and is constantly in flux.
So, a financial advisor is needed to guide people to the right allocation and help them gain the proper returns while considering all the risks. So, you should always have an expert to guide you.
8. Not reviewing investments
Ignoring periodic reviews of the investment is another general mistake that mutual fund investors commit. Just investing in mutual funds is not enough; you should periodically review how they perform. Mutual funds keep going through numerous changes every day.
These changes can have either a negative or a positive effect on the fund's performance. If you keep reviewing them, you can be easily notified about their performance and take action accordingly.
9. Not considering the budget
Investors do not consider their budget before investing in mutual funds. Investing irrationally without any proper budget plan can even worsen your financial condition. Thus, it is essential to plan your monthly spending, income, and savings before choosing an investment. In doing so, you can analytically invest the savings from your salary in mutual funds without having a fear of creating a deep hole in your pocket. 
10. Not doing enough research 
People tend to invest in mutual funds without proper research. When you don't carry out the required research, it is highly expected that you will constantly buy funds or sell funds at higher or lower rates. This constant and irrelevant reshuffling results in numerous types of losses and risks, thus hampering your investments' return.
In Conclusion
These are some common mistakes that people make while investing in mutual funds. By avoiding these mistakes, they can get better returns on investment and many other benefits.
Also Read:-
Start Investing in 5 mins*
Get Benefits worth 2100* | Rs. 20 Flat Per Order | 0% Brokerage
Open Free Demat Account
& get benefits worth 2100*
Have Promo code?

Use code ACT2100
Enter Promo code
Account belongs to
By proceeding, you agree to the T&C.
Start Investing Now!
Open Free Demat Account in 5 mins