5 Financial Lessons to Learn from Lord Ganesha Ahead of Ganesh Chaturthi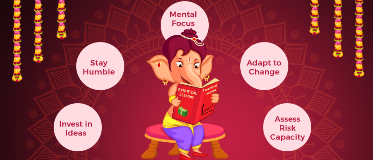 ---

In the pantheon of Hinduism, Lord Ganesha holds the unique distinction of being the "Prathama Pujaya", meaning the first lord to be worshipped. Whatever be the occasion, any religious ceremony always begins with oblations to Lord Ganesha. In India, and especially in the state of Maharashtra, the 10 days of Ganesh Chaturthi celebrations mark joy, fervour and optimism for the future. But, have you wondered why you will find almost every office adorned with an idol of Ganesha. That is because of the eternal lessons that Lord Ganesha offers. Here are five important financial lessons that we can pick up from Lord Ganesha.
1. Be willing to listen and keep your mind focused
When you plan your finances, there are two essential ingredients. You must get the bigger picture right and you must move on your investment plan in an organized manner. In the financial markets, the best way to get the bigger picture is by listening to different viewpoints before taking your own decision. Lord Ganesh embodies exactly that. His large ears embody the willingness to listen while his small and keen eyes embody a mind that is absolutely focused on the goal. When it comes to financial planning, you need to thoroughly weigh your options but once the decision is made, you must channelize all your energies to focus on the goal. That is what Lord Ganesha teaches us.
2. Adaptability will eventually determine the success of your financial plan
Like Darwin pointed out many centuries ago, the species that survives the longest is not the strongest or the most intelligent; but the most adaptable. If you want your financial plan to really survive through the thick and thin of volatile markets and macro conditions, then your financial plan needs to be flexible and also adaptable. That is exactly what the trunk of Lord Ganesha teaches us. The trunk is the perfect illustration of flexibility and adaptability. The trunk of Lord Ganesha embodies power and strength; but it also enables Lord Ganesha to perform a variety of very delicate and complex tasks. As an investor, you should be flexible with strategies for all kinds of markets and also willing to change your thinking.
3. Have an appetite for risk but let your head rule over your heart
One of the important lessons for any investor is to be logical rather than impetuous. But risk taking is a must because without risk there is no return. If you are wondering how to balance these apparently contradictory aspects, Lord Ganesha has some answers for you. The sumptuous belly of Lord Ganesha represents the risk appetite. But it also represents the need to know the difference between your risk appetite and risk capacity. The particular instance when Lord Ganesha circum-ambulates his parents (Lord Shiva and Goddess Parvati) as representative of the universe is a classic instance of letting your head rule over your heart. Lord Ganesha teaches investors to measure their actions by their risk capacity and to be driven by clear analysis.
4. Keep your thirst for knowledge alive
When you plan your finances or when you invest, don't forget that the biggest investment that you actually make is in knowledge and self improvement. That is an important lesson in the dynamic world of financial markets. Constantly changing macro variables means that you need to keep expanding your knowledge base and incorporating new ideas and techniques. That is only possible with a thirst for knowledge. Lord Ganesha represents the highest levels of intellectual curiosity as is evident from the speed and clarity with which he documents the entire Mahabharata. It is this thirst for knowledge and intellectual curiosity that will empower you to manage your investments and your finances much better. Keep learning about new investment products, new investment ideas, new methods of reaching your financial goals, new technologies to improve your investment performance, new medium of Online Trading etc.
5. Be humble and don't try to outsmart the market
When we manage to get a few investment ideas right the immediate response is to become supremely confident. Lord Ganesha constantly reminds us the lessons of humility. Despite being endowed with supreme powers, Lord Ganesh prefers the humble mouse (Mushika) as his vehicle. There is also an important lesson in the Visarjan that all good things are ephemeral and that is what the Lord reminds us on the tenth day. Good times don't last forever but good ideas and a good strategy does. That is the message.
This year as you celebrate the joys of Ganesh Chaturthi, also spend a moment to reflect on the important financial and life lessons of Lord Ganesha.
Start Investing in 5 mins*
Rs. 20 Flat Per Order | 0% Brokerage
Open Free Demat Account
Account belongs to
By proceeding, you agree to the T&C.