EV Industry: An Overview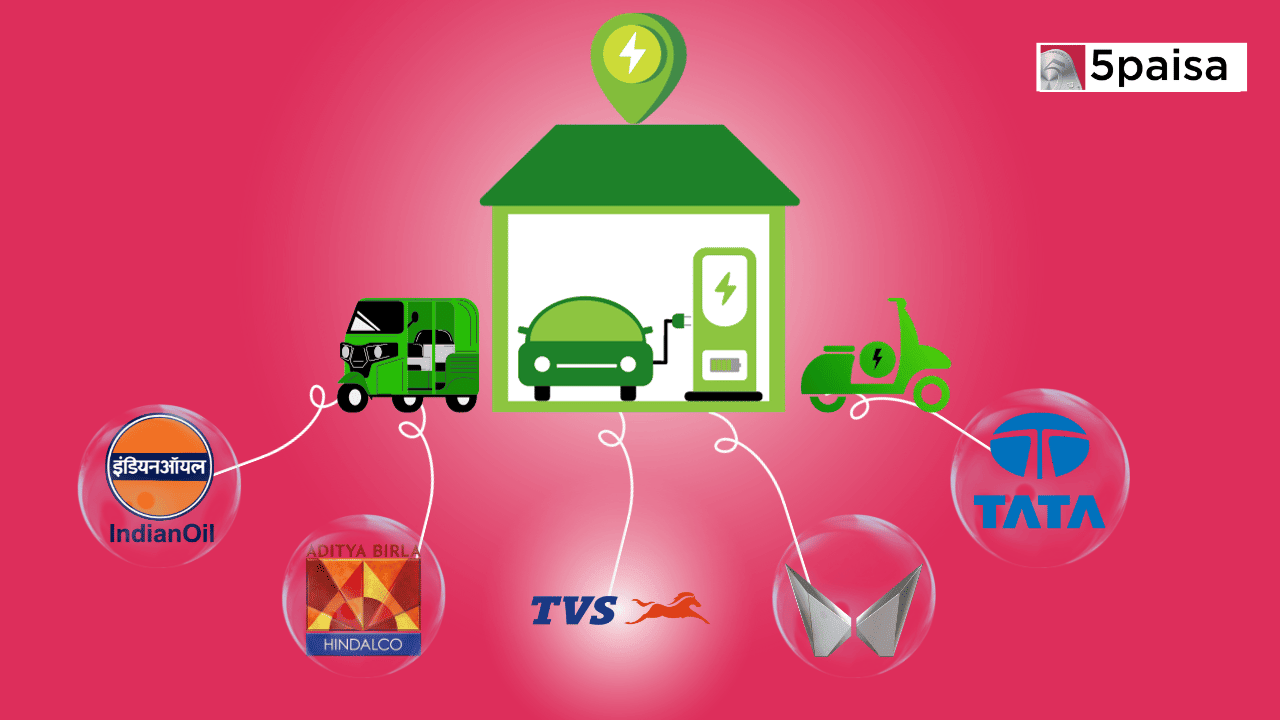 ---

New transport technologies are always being developed. These alternate transportation solutions, however, are centred on electric cars. Many firms have joined on board in order to achieve traction before the industry completely shifts away from conventional fossil fuels.
This move may also be seen as an attempt by existing enterprises to catch up to the standards set by Electric Vehicle (EV) companies like Tesla before it's too late.
If you're a real-time investor seeking for a reliable industry to invest in in the future, EV stocks are certainly your hot hook. Even if the market falls, the EV stock growth in India will allow you to benefit financially.
So, in this blog, we'll look at the Indian market for electric cars & the top EV stocks in India that investors should be aware of.
Overview Top EV Stocks in India
1. TVS Motor Company Ltd
Recent Operational Highlights
EV Sales Growth: The company has experienced significant growth in EV sales volume quarter after quarter. They sold 8,000 EVs in Q1, 16,000 in Q2, & 29,000 in the current quarter (Q3), with consistent doubling of sales each quarter.
Supply Chain Momentum: They anticipate continued momentum in Q4, thanks to the supply chain. The demand for EVs is ahead of supply, indicating strong customer interest.
Transformational Year: The financial year '23/'24 is expected to set the tone for EV transformation in India, with expanded coverage of the iQube EV & exciting new product launches.
Market Share: The company has achieved a 14.5% market share in December '22 in the EV market, with a focus on achieving further growth.
Product Portfolio Expansion: They plan to launch a series of new EV products catering to different customer segments, with a complete portfolio offering between 5 to 25 kilowatts in the next 12 to 18 months.
Strategic Collaboration with Amazon: The company has entered into a strategic engagement with Amazon India to deploy a fleet of electric 2-wheelers & 3-wheelers for last-mile deliveries, emphasizing their commitment to electric mobility & infrastructure.
International Market Focus: Despite challenges in the international market, they aim to improve their international retail performance in Q4 & have new product launches planned for both ICE (Internal Combustion Engine) & EV segments.
Profit & Financial Growth: The company reported positive financial results, with growth in EBITDA & profit before tax, demonstrating their financial strength & resilience in a challenging market environment.
2. Tata Motors Ltd
Recent Operation Highlights
Tiago EV Sales Milestone: The company achieved a significant milestone by selling the first 10,000 units of the Tiago EV.
Portfolio Expansion: The company emphasized its commitment to the electric mobility space and mentioned that the portfolio of electric products continued to grow.
JLR's Electrification Plans: In the context of Jaguar Land Rover (JLR), they highlighted the announcement of the Range Rover BEV and Jaguar BEV launches. There is a long-term investment plan of GBP 15 billion over the next five years, indicating a strong focus on electrification.
EV Industry Growth: The management mentioned the overall growth of the EV industry, with a 170% increase in EV sales, driven by new launches and increasing customer acceptance.
Transition to BS6 Phase II: The company successfully transitioned to BS6 Phase II, which is a significant step in aligning with emission standards.
EV Financials: The financials for EVs were discussed, indicating that while there are expenses related to product development, the underlying profitability is improving. They also mentioned plans to strengthen EV margins through various measures, including localization and cost reduction.
PLI Benefits: The management hinted at the potential benefits of the Production-Linked Incentive (PLI) scheme, which is expected to positively impact profitability.
Future EV Launches: The company alluded to upcoming EV launches, especially in the SUV segment, which is expected to have better margins.
Overall, the company highlighted its strong commitment to the EV market, expansion of its electric product portfolio, and efforts to improve EV profitability.
3. Indian Oil Corporation Ltd (IOC)
Key Operational Highlights
Promising Growth in EV Market: The Indian Oil Corporation recognizes the transition to electric vehicles (EVs) as a global strategy for decarbonizing the transport sector. The EV market in India is expected to grow at a CAGR of 44% and reach 6.34 million units of annual sales by 2027.
Comprehensive EV Blueprint: The company is actively working on an ambitious blueprint for electric mobility. This includes setting up charging stations, promoting the battery-swapping model, and developing niche technologies.
Aluminium-Air Battery Technology: Through its joint venture with IOC Phinergy Private Limited (IOP), the company is developing an Aluminium-Air battery technology that uses domestically available and abundant raw materials (aluminium). This technology has been successfully demonstrated in India for energy backup solutions.
Collaboration with Auto OEMs: IOP is collaborating with leading automobile original equipment manufacturers (OEMs) and aluminium suppliers to develop the necessary logistics infrastructure for commercializing the Al-Air battery technology in India.
Battery Swapping Business: IndianOil Board has approved the formation of a joint venture with Sun Mobility Pte. Ltd. Singapore (SMS) for battery swapping business in India. This 50:50 collaboration aims to provide faster, cheaper, and more convenient charging solutions, promoting sustainable and pollution-free transportation.
Infrastructure Investment: IndianOil is committed to investing in the EV charging infrastructure. It has already installed close to 5500 charging stations and plans to increase this number to 10,000 in the near future. Additionally, the company has 76 battery swapping stations, catering to the needs of electric two-wheelers and three-wheelers.
Government Grants: The company has received grants from the Ministry of Heavy Industries under the Faster Adoption and Manufacturing of Electric Vehicles (FAME) India Scheme Phase-II. These grants are aimed at establishing EV charging stations at retail outlets, and Indian Oil has received a substantial advance for this purpose.
Financial Commitment: IndianOil is making significant financial commitments to its EV initiatives, including equity infusion in the battery-swapping joint venture and investments in Sun Mobility Pte. Ltd. to strengthen its position in the EV infrastructure sector.
Future Expansion: The company is actively preparing for the growth of the EV market in India and is strategically positioning itself to contribute to the development of green and sustainable mobility solutions.
4. Mahindra & Mahindra Ltd
Key Operational Highlights
Significant Investment Commitment: Mahindra & Mahindra is committed to the development and growth of electric mobility, with plans to invest INR 10,000 crore over a horizon of 7-8 years through its subsidiaries. These investments will support the setup of manufacturing facilities and the development and production of upcoming electric vehicles.
Formation of Mahindra Electric Automobile Limited (MEAL): The company established MEAL with a valuation of USD 9 billion (INR 70,000 crores) with an investment from British International Investment (BII). This underscores their commitment to electric mobility.
Last Mile Mobility (LMM) Electrification: LMM is following suit with a valuation of INR 6,000 crores, and it has secured investment from the International Finance Corporation (IFC) to further electrification in the last mile segment.
Unveiling of State-of-the-Art EV Platform INGLO: Mahindra & Mahindra introduced the INGLO platform along with five new production-ready electric SUVs under two EV brands: Mahindra Twin Peak and BE.
Dominance in Electric Three-Wheelers (3Ws): The company holds a dominant market position in electric three-wheelers with approximately 65% market share.
New Technologies: Mahindra & Mahindra is leveraging emerging technologies, including EVs, digital-enabled platforms, and Human-Machine Interface (HMI) with software-defined vehicles.
Carbon Neutrality Commitment: The company is committed to achieving carbon neutrality by 2040, aligning with global sustainability goals.
XUV4OO Electric SUV: The XUV4OO, unveiled on World EV Day, is the company's first electric vehicle featuring the twin peaks logo with a satin copper finish. It offers cutting-edge technology, remarkable features, and impressive performance, reaching 0 to 100 kmph in just 8.3 seconds. It boasts a 39.4 kWh battery pack with a driving range of 456 km (Indian driving cycle standards).
Mahindra Zor Grand Electric: Launched in August 2022, this electric vehicle revolutionizes last-mile delivery and logistics with features such as the NEMO connected vehicle platform for fleet management and advanced Lithium-ion technology providing a range of over 100 km per charge.
Data-Driven Approach: Mahindra Digital Engine (MDE) partners with the EV NEMO team to provide analytics and data-driven decision-making across various group companies and functions. This includes state-of-health (SOH) analysis to improve product performance and data-driven marketing strategies.
Powerol's Sustainable Moves: Powerol, a subsidiary, introduced gas-powered gensets complying with new emission norms and initiated an EV Charger business for home charger installations, aligning with the rising demand for electricity.
Growth of Global EV Market: The global electric vehicle market has been rapidly growing, with annual global EV sales accounting for 12.4% of total passenger vehicle sales, compared to just 1% five years ago.
Focus on Local Value Addition: The company is actively investing in building capabilities in the EV space, aligning with the government's Phased Manufacturing Plan (PMP) to maximize local value addition and competitiveness in the Indian industry.
Recent Unveilings: In February 2023, Mahindra & Mahindra unveiled the Rall-E concept at the EV Fashion Festival, showcasing the BE.05 and XUV.e9. The XUV400 electric SUV was launched on Republic Day 2023, recording over 10,000 bookings and emphasizing safety and comfort on the GNCAP 5-star rated XUV300 platform.
5. Hindalco Industries Ltd
Key Operational Highlights
Alignment with India's Net Zero Target: Hindalco Industries is actively pursuing India's goal of achieving net-zero emissions by 2070. To support this vision, the company has implemented various incentive schemes and measures aimed at driving the adoption of electric vehicles (EVs) by reducing their costs.
Rapid Growth in Indian EV Market: As a result of these efforts, the Indian EV market has experienced significant growth in recent years and is expected to continue expanding substantially in the future.
Innovation in Battery Technology: Hindalco Industries is capitalizing on the growing EV market by developing new products such as battery enclosures and battery foils. These innovations aim to meet the increasing demand for lightweight and efficient EV components.
Hybrid Manufacturing Process: The company has developed a hybrid manufacturing process that combines additive technology with aluminium extrusions to create lightweight EV motor housings. This approach is focused on improving the efficiency and performance of EVs.
Battery Enclosure for Personal Mobility EVs: Hindalco Industries is actively involved in the personal mobility EV space, offering solutions such as battery enclosures, housing, handlebars, motor casings, and bus bars for original equipment manufacturers (OEMs) of two-wheelers. Collaboration with OEMs throughout the product development cycle underscores their commitment to the sector.
Leadership in Sustainable Aluminium Products: The company aspires to emerge as a leader in aluminium-based sustainable product ranges in the personal mobility sector. This aligns with their goal of helping India become a global hub for the design and manufacturing of aluminium products and components in the personal mobility space.
Second-Generation Aluminium Battery Enclosure Solution: Hindalco Industries has developed a second-generation aluminium sheet-intensive battery enclosure solution in collaboration with industry partners and automotive engineers. This solution is designed to maximize weight reduction, reduce costs, and deliver a higher pack energy density. It is 50% lighter, offers a 30% improvement in energy density, and achieves a 20% better mass reduction compared to commercial battery enclosures.
The Charging Infrastructure scenario in India
In India, the charging infrastructure landscape includes several companies from various categories. Charger makers, charge point operators (CPOs), and other stakeholders like as government-owned companies are among them. Charging stations might be private, semi-public, or public in nature.
JV & Partnership of Omega Seiki Mobility and Punjab National Bank
1. They have signed an EV financing arrangement worth INR 300 crore with public sector banking major Punjab National Bank (PNB) to finance around 2,500 electric three-wheelers in the passenger and freight divisions per year for the next three years. 
2. OSM plans to prioritise access to electric cars and localised charging infrastructure through its relationship with PNB in order to provide greener and more efficient mobility solutions to rural areas.
JV & Partnership of Tata Power and Zoomcar
1. The collaboration will promote Tata Power's EZ Charge stations on the Zoomcar platform, with an emphasis on assisting present and aspiring EV owners, as well as Zoomcar's existing consumers. 
2. Tata Power will give consumers with simple access to expedite the EV charging process and alleviate the issues that are frequently connected with using the charging infrastructure through its nationwide network of EZ Charge stations.
JV & Partnership of Adani Total Energies E-Mobility Limited and Evera Cabs
1. Adani TotalEnergies E-Mobility Limited (ATEL), a joint venture between Adani Group and French energy firm TotalEnergies, will build a strong EV charging infrastructure in collaboration with Prakriti E-Mobility (Evera), an all-electric cab aggregator. The agreement would include the installation of 200 EV charging stations at the Delhi superhub. 
2. This collaborative relationship will be expanded across India to promote low-carbon mobility. The cooperation, which will operate on a revenue sharing model, comes at a time when EV demand is increasing but charging infrastructure is scarce.
JV & Partnership of Bharat Charge Alliance and CHAdeMO Association
1. Bharat Charge Alliance (BCA), a collaborative open platform and CHAdeMO Association have joined hands to promote interoperable charging infrastructure in India. 
2. The specifications for building interoperable charging infrastructure will be adopted based on the IS/IEC standards.
Charging Infrastructure Globally
Mercedes-Benz, a luxury automobile manufacturer, expects to deploy its first high-power charging stations in October, as part of its ambitious ambitions to extend its worldwide charging infrastructure. 
The first Mercedes-Benz Charging Hubs will open in Atlanta (USA), Chengdu (China), and Mannheim (Germany) in October. 
Mercedes-Benz intends to expand its worldwide charging network to over 2,000 high-power charging sites by the end of 2024. By the end of the decade, the long-term objective is to have more than 2,000 Charging Hubs with over 10,000 charging stations.
EV's Outlook
India has made significant strides in expanding its electric vehicle (EV) charging infrastructure, with a total of 6,586 operational Public EV Charging Stations (PCS) across the country. 
These PCS are distributed unevenly among states, with some states taking a lead in this initiative. Delhi boasts the highest number of operational PCS at 1,845, followed by Karnataka with 704 and Maharashtra with 660. 
Other states like Andhra Pradesh, Gujarat, Tamil Nadu, and Telangana also have a substantial number of charging stations. However, several states have fewer operational PCS, indicating room for growth and further development in the EV charging infrastructure. 
In addition to state-wise data, India has also made progress in deploying PCS along national highways, with a total of 419 operational PCS strategically placed along these vital roadways. This expansion of EV charging infrastructure is a positive step toward promoting electric mobility and reducing the carbon footprint of transportation in India.
Global EV's Outlook
The global outlook for electric vehicles (EVs) continues to gain momentum as countries and industries invest heavily in EV infrastructure and technology. The Biden-Harris Administration in the United States is allocating a substantial $15.5 billion to support the transition to EVs, retool existing plants, and retain high-quality jobs. Meanwhile, companies like Bosch are acquiring semiconductor manufacturers to secure EV chip production.
Automakers like Mercedes-Benz are expanding their global charging networks, aiming to have over 2,000 high-power charging points by the end of 2024. Indonesia is widening access to EV subsidies to drive mass adoption, while Hyundai Mobis secures orders for battery system assembly for Volkswagen's next-generation EVs.
China's Xiaomi gains approval to manufacture EVs, and General Motors invests in AI-enabled battery materials innovator Mitra Chem to develop affordable battery chemistry. Dubai aims to have 42,000 electric cars on its roads by 2030, illustrating a strong global push toward EV adoption.
These developments showcase the growing commitment to electric mobility worldwide, with significant investments and partnerships driving the EV revolution.
Start Investing in 5 mins*
Rs. 20 Flat Per Order | 0% Brokerage
Disclaimer
Investment/Trading in securities Market is subject to market risk, past performance is not a guarantee of future performance. The risk of loss in trading and investment in Securities markets including Equites and Derivatives can be substantial.
Open Free Demat Account
Account belongs to
By proceeding, you agree to the T&C.