Five trading tips for a day trader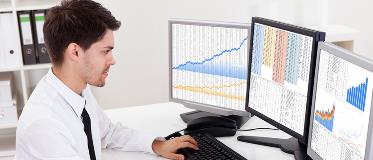 ---

Day trading or intraday trading refers to a trade that is done within a day. It means that you have to buy or sell the securities by the end of the day or before the market session closes. It makes up for an innovative tool for people who don't have much time to monitor their investments and who want more profits in less amount of time.
As the market is volatile, market trends can change within a day, and you can lose your money while day trading. There is no way someone can say that day trading is not risky, but if the investor is careful enough by following certain tips and strategies, he/she can avoid losses and can become a successful day trader. Given below are the five best tips for a day trader:
1. Identify Stock Trend: One of the most difficult things is to identify during day trading is a strong stock trend. You have to understand that the intraday trade is made within a day and the market is ever-changing, so it is relatively difficult to identify an ongoing trend in the market. Sometimes, a stock bought for short selling rises on the day of the trade. Therefore, it is essential for you that you identify when the trend is strong and when it can go downward in the future.
If you are unable to find a stock with a strong stock trend, it would be a wise option to back out and try again tomorrow. Investing in stocks during a weak trend will always result in you losing your money in the market.
2. Fix your Entry And Exit Points: It is crucial for a day trader to determine when to enter and exit the market. The sentiments of the day trader such as greed and fear can play a vital role in profit making during a day. You must know what you stand to gain and what you stand to lose before starting a day trade. The best thing you can do in this scenario is to set a stop loss at a certain price level.
Suppose you set the stop loss at Rs 300 of security, it is automatically sold if the price falls lower than this amount. It will allow you to cut your losses while trading and you don't have to worry about constantly checking the price of the stocks.
3. Wait For A While: Intraday trading can be highly volatile in the initial 15-20 minutes. You should try not to start a trade in the initial 15-20 mins from the time the market opens. Generally, a trend is established after the first 30 minutes, and the prices stabilize, limiting further price movement.
If the stock is in a strong trend, the position can be taken in just a matter of minutes. If you are definitely sure about the trend is strong, you can consider taking a position; else you should wait for half an hour to initiate a trade while day trading.
4. Limiting your Trades: Initiating multiple day trades in a single day is like cutting the same branch in which you are sitting. You should limit your trades to 2 or 3 during a day. The reason for this is that day trading is highly volatile, and it is humanly impossible to concentrate on multiple trades at the same time.
It is a known fact in the intraday community that if an investor is initiating trades more than three during a day, he/she will definitely lose the money invested and there can never be any profits.
5. Be Disciplined: The most important trait of a day trader to follow a disciplined approach towards day trading. If you have initiated a trade and you achieve the daily target in just 2 or 3 hours and close your trade, you should never start new trade just because there is still time.
You have to understand that you have missed the pulse that only happens within the first few minutes from the opening of the market. Investing just because you still have some time left will always result in losses, and your daily target achieved from the first trade will also be ruined. If you have reached the daily goal, be disciplined and back out for the rest of the day. 
Start Investing in 5 mins*
Rs. 20 Flat Per Order | 0% Brokerage
Open Free Demat Account
Account belongs to
By proceeding, you agree to the T&C.