How to deal with stock market volatility?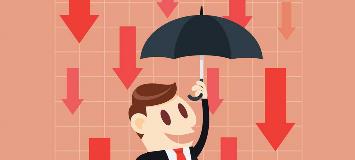 ---

A stock market drop can be an unnerving experience at any stage of life. It could have a financial as well as an emotional impact on the investors. Many investors tend to get baffled and take haphazard decisions to ensure the safety of their investments. But, if anything needs to be avoided in such a situation, it would be taking haphazard decisions. What is the best way to deal with it then? Well, let's first understand what exactly volatility is and then move to steps how you can deal with it efficiently.
What do you mean by volatility?
It means a sudden rise or fall in the market or any such security in a short tenure. It can be measured by standard deviation of return which means the amount of variation or deviation than expected. This causes heavy trading and wide price fluctuations. Everyone either tends to buy or sell in a volatile market.
How can you deal with it?
Stay invested: Don't let short-term losses take over the better you. Avoid taking decisions in the spur of the moment and stay invested. Focus more on your long-term goals and don't let the daily imbalance have an impact on your returns. Planning for future might help you gain as well.
Don't abort your plans: A sudden movement in the market might have different implications for those who just started investing and other professionals. Don't change your investment strategies by hitting the panic button every single time. Reassess your goals, time to achieve and your plan to ensure that you are still on the right track. The idea is to change course when needed rather than to abort the mission.
Diversify assets: The best way to deal with stock market volatility is to diversify your assets. Help your portfolio to modify according to the need of the hour. A good mix of equity and debt funds can give you a more balanced approach than just going all equity in such market. Ensure you have your safety net in place before you plunge into the volatile market.
Do an active risk management: Desperate times call for desperate measures, they say. Don't indulge into passive investing at such volatile times. Take the control in your hand to drive your investments towards growth. Adjust your investment portfolio on the basis of your risk tolerance. This would make you money as well as secure your future if the market decides to crash abruptly.
Consult your financial advisor: Talk to the professionals when you feel things are getting a little out of your own hands. Financial advisors can guide you by assessing your portfolio with other factors and suggest steps you need to take. They can also help you with a detailed financial plan if you wish to take some help in that as well.
Some other factors that would help you survive the volatile markets include:
Ensuring that all your essentials are insured or covered

Having cash handy as a shock absorber if markets crash

Having a strategic plan with reference to your investment income. This could mean creating a withdrawal strategy too

Adjusting your withdrawal rate that helps you navigate through the downslide in the market

Having backup temporary income sources as alternatives handy
To sum it up
Stock market volatility is a part of the market and there is nothing that you can do to avoid it from occurring. But with these tips, you could certainly try to protect yourself and your investment from losses as far as possible.
Start Investing in 5 mins*
Rs. 20 Flat Per Order | 0% Brokerage
Open Free Demat Account
Account belongs to
By proceeding, you agree to the T&C.