How To Do SIP In Stocks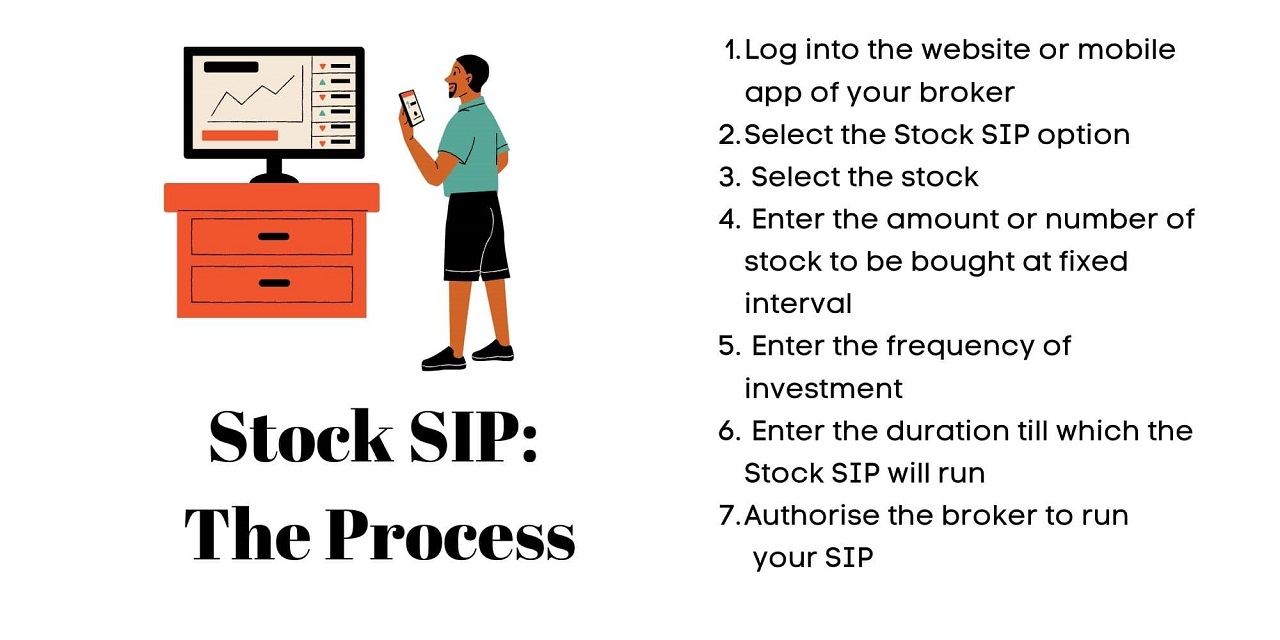 ---

A Systematic Investment Plan, or SIP, is usually used in the context of mutual fund investments. A certain sum is deducted every month from the investor's bank account and invested in a mutual fund scheme of choice. This money is then invested in stocks or other securities or a combination according to the scheme selected.
However, investors can also choose to buy a stock of their choice directly instead through an SIP and decide how many shares will be bought every month or a period of their choosing, thus accumulating the stock over time.
What is Stock SIP? 
Under Stock SIP, investors leave a standing instruction with their broker to invest a certain amount of money in a particular stock or buy a particular number of shares of a company in a consistent manner over a particular time. The investors thus accumulate the stock over time, building their portfolio. 
For example, you start a Stock SIP for Tata Consultancy Services, telling your broker to buy 10 TCS stocks every month for two years. So, at the end of the two years, you will have 240 TCS shares. The stock, numbers to be bought, frequency of purchase and the total duration can be set automatically on broking platforms. You can also choose to buy the stocks without duration, meaning the broker will keep accumulating the stock till you decide to cancel.
You can choose to accumulate different stocks or a single stock of your choice in Stock SIP.
Why Should You Choose Stock SIP?
Wealth is accumulated over time, with patience and with discipline. Stock SIP helps you do that. Also known as DIY SIP or "do it yourself" SIP, it lets you have control over the investment and at the same time makes you commit certain savings at a regular interval. There is no manager involved in Stock SIP to make your investment decision and neither do you have to pay any fees for such management.
Stock SIP is a good way to accumulate blue-chip stocks over a period of time. If one were to think of a heavy portfolio of such stocks to begin with it becomes daunting. Stock SIP helps tide over this by helping you build the portfolio slowly without hitting your regular monthly expenses.
Benefits of Stock SIP
Stock SIP helps a person make disciplined investment in stocks of choice over time. Here are some key features and benefits of SIP in stocks:
Averaging cost – An investor can avoid the risks of market highs by spreading the purchases over time and bringing down the average cost of stocking up on an equity share. You can also try to time the market by accumulating at dips through Stock SIP.
Disciplined approach – By committing to invest a certain sum of money at fixed time, a person gets into the discipline of investing. This ensures we don't try to time the market too much and stay on course for our financial goals.
Wealth creation – Creating a retirement corpus becomes easy if one were to commit a certain sum of money every month towards buying stocks. A person can create a retirement corpus this way without having to dip heavily into savings once in a while.
Diversification – Stock SIP doesn't mean buying only one stock. An investor can buy a clutch of stocks each at different price points and in different sector to help diversify the portfolio not just in different industries, but also away from debt market where most safe investments are made.
Control – All Stock SIPs come with a pause and stop options, meaning an investor can choose to not buy the chosen stock during the time of low income or when they feel that he share has been overpriced. Also, unlike mutual funds, Stock SIP gives an investor complete control over the investment decision.
Flexibility – An investor can choose to increase or decrease the allocation of stocks that is to be bought at fixed intervals or pause the, extend the time indefinitely, or cancel at any time.
Process of Stock SIP 
Stock SIP can be done easily at the website of most brokers. Here is a step-by-step guide for Stock SIP:
Log into the website or mobile app of your broker
Select the Stock SIP option
Select the stock
Enter the amount or number of shares to be bought at fixed interval
Enter the frequency of investment–-monthly or quarterly or any other
Enter the duration till which the Stock SIP will run
Authorise the broker to run your SIP
Why Investors Like Stock SIPs?
Stock SIPs allow an investor to accumulate stock of choice easily over a period of time without trying to time the market, which is mostly a futile exercise. It lets them build a portfolio without breaking a sweat. SIP in stocks also keeps investors in control of their portfolio allowing them to diversify it at their own pace.
How to use Stock SIP calculator?
You can enter the name of the share in Stock SIP calculator, the quantity to be bought, the frequency of investment, the total duration the SIP will run for and the expected value of return to generate what your investment will be worth at a particular time. Conversely, you can also calculate the amount to be invested or the frequency of investment needed to reach a particular financial goal.
Who should invest in stock SIPs?
Stock SIP is suitable for most investors.
Investor who don't want to invest in stock market in one go and would rather invest intermittently.
Long-term investors who don't mind small dips and rallies in the market
Investors who want to have control over their portfolio
Investors who don't want to involve themselves with daily movement in stock markets
Conclusion
Rome was not built in a day and neither were portfolios of great investors. Stock SIP provides investors to achieve long-term wealth creation without letting themselves be bothered with the everyday movement in stock markets, and still be in control of their investments. SIP in stocks inculcates a disciplined investment habit without leaving a big hole in wallet of the investor.
Start Investing in 5 mins*
Rs. 20 Flat Per Order | 0% Brokerage
Open Free Demat Account
Account belongs to
By proceeding, you agree to the T&C.