How to Protect Demat Accounts from Fraud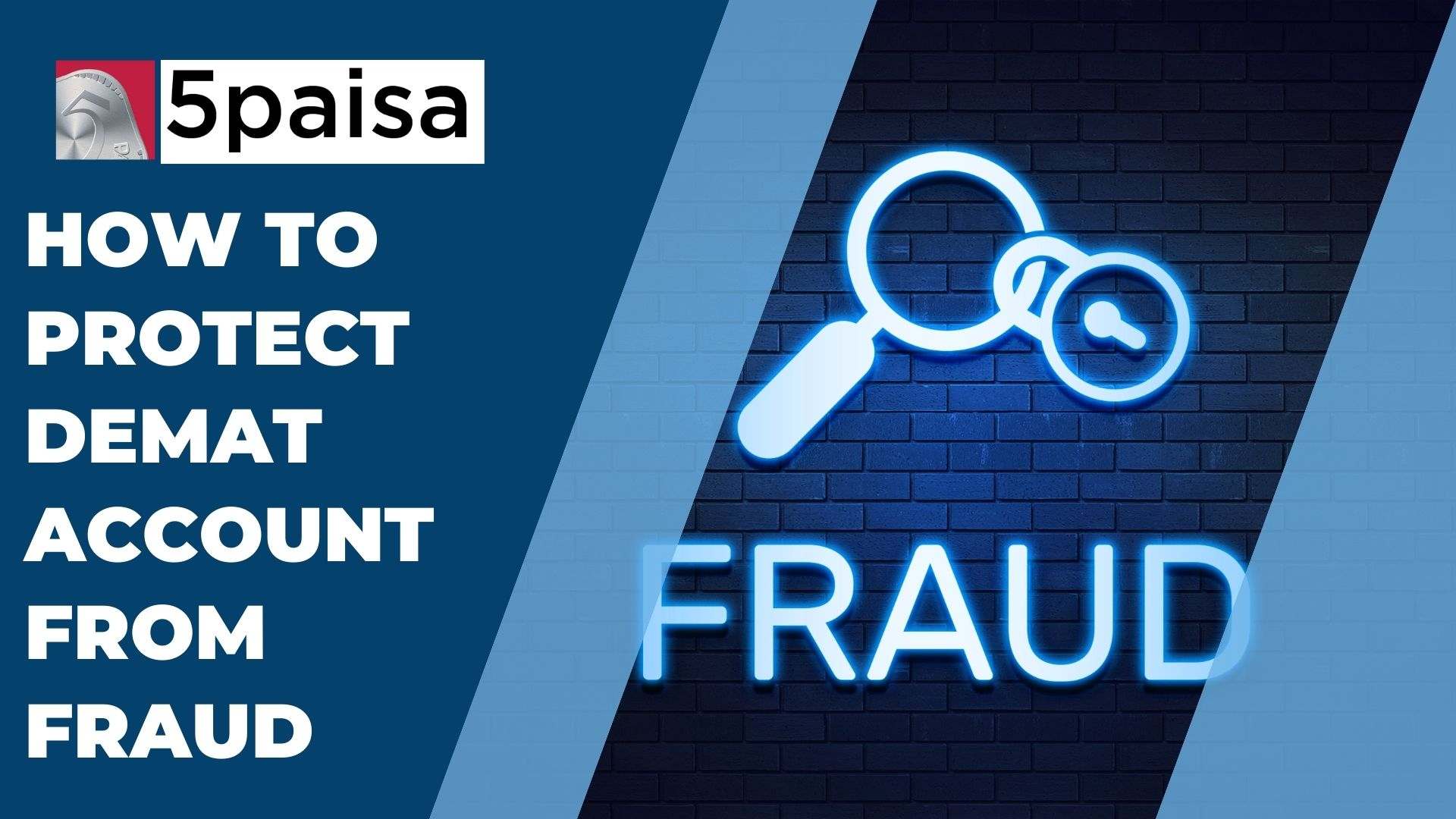 ---

Introduction
In today's digital age, knowing how to protect a demat account from fraud is crucial. An electronic repository for retaining your securities, a demat account is susceptible to many forms of fraud and online threats. However, you can protect your demat account and lessen the risk of fraudulent actions by taking crucial precautions.
First, ensure the depository participant (DP) you select to open your demat account with is respectable and well-established. Choose a DP with a proven track record in security after conducting in-depth research and reading reviews. Enable two-factor authentication (2FA) for your demat account to add a layer of protection by needing a unique code or password in addition to your regular login information. Monitor your demat account by examining the alerts and transaction statements your DP sends you regularly. You can easily master how to protect a demat account from fraud and secure your savings by being proactive and watchful.
How Safe is Your Demat Account?
●    Your depository participant's (DP) use of security measures is one of several things that affect how safe your demat account is.
●    Select a DP with a proven track record of security that is well-established and reputable.
●    Check if your DP has robust security measures to guard against fraud and unauthorized access.
●    Review your demat account statements and transaction history frequently to spot unauthorized or questionable activity.
●    Do not divulge your login information to anyone, and keep it private.
●    Avoid clicking on dubious sites or supplying sensitive information; be wary of phishing attempts.
●    Keep solid and one-of-a-kind passwords for your demat account, and replace them frequently.
●    Keep your computer or gadget secure by using up-to-date antivirus software.
●    Keep up with the most recent security procedures and know typical fraud tactics.
●    Report any worries or suspicions immediately to your DP or the appropriate authorities.
Best Practices to Protect Your Demat Account from Frauds
●    When selecting a depository participant (DP) for your demat account, be sure to do your research.
●    To increase security, enable two-factor authentication (2FA).
●    Regularly check your demat account for any irregularities or unauthorized activity.
●    Don't divulge your login information to anyone, and keep it private.
●    Avoid phishing and entering personal information or clicking on dubious links.
●    For your demat account, use secure and distinctive passwords.
●    Keep your antivirus software and PC up to date.
●    Keep up with current security procedures and fraud techniques.
●    Immediately inform your DP or the appropriate authorities of suspicious activity or concerns.
●    Become knowledgeable with demat account security, and use caution.
1.    Secure Your DIS Book
Keep your DIS book in a locked, safe location to protect it. Don't divulge its contents to others. Check the entries frequently for legitimacy and authenticity. Immediately notify your depository participant (DP) of any loss or theft. Choose an electronic DIS (e-DIS) if you want more security.
2.    Safely Keep Your Login Information
Take the following actions to protect your login information: Use safe password storage and solid one-time passwords. Don't divulge your login information to anyone. To generate and store passwords securely, think about using a password manager. Update and modify your passwords frequently.
3.    Protect with a Strong Password
Use these recommendations to create a strong password to secure your accounts: Combining capital and lowercase letters, numerals, and special characters is acceptable. Avoid utilizing data that can be guessed at. Make sure your password is 12 characters or more. Keep your passwords secure by updating and changing them frequently.
4.    Track Your Account Statements
Monitoring your account statements is essential to ensure your bank accounts are secure and accurate. It involves keeping an eye on the transactions connected to your account by routinely examining the messages given by your bank or financial institution. By carefully monitoring your account statements, you can find any unauthorized or suspicious transactions, incorrect balances, or other errors. To verify the accuracy, comparing the transactions with your receipts and records is crucial. It is essential to notify your financial institution or bank as soon as you become aware of any anomalies, mistakes, or suspected fraudulent behavior so that they can look into and address the situation. 
5.    Reconsider Signing a Power of Attorney with Your Broker
It is crucial to thoroughly explore your options before granting your broker a power of attorney (POA). By approving a POA, you give your broker considerable authority over your money and investments. It can be practical, but there are also possible hazards. The POA agreement's terms and conditions must be well understood to ensure they reflect your interests and goals. Before making a choice, consider your broker's reliability and reputation. As an alternative, you can look at limited or particular POA agreements to keep some control over your investments while transferring some duties. 
6.    Freeze Your Account When Traveling Abroad or During Inactivity
When traveling overseas or during idle times, freezing your account can be a preventative action to safeguard your bank accounts. If you plan to travel, let your bank or financial institution know in advance to prevent any unforeseen delays brought on by atypical transactions. Additionally, think about asking for a temporary account freeze to stop fraud or unauthorized access. Similarly, freezing your account can help protect it from unauthorized transactions if you expect a lengthy period of inactivity, such as during a trip or sabbatical. Before proceeding, know the procedure and any consequences of freezing your account, such as any fees or access restrictions that may be imposed.
7.    Inspection of the Brokerage Firm 
Before using the brokerage firm's services, give it a close inspection. Evaluate their reputation, track record, financial soundness, and adherence to regulations. Also, read and consider feedback from customers. You can then verify their certifications and licensing.
8.    SMS Facility
Use the SMS service your bank or financial institution offers to increase security and keep track of account activities. Activate SMS notifications for balance updates, transaction notifications, and security alerts. To quickly spot and take care of any unauthorized or suspect behavior, monitor these SMS messages regularly and take appropriate action.
9.    Check Share Credit Time
Consult the rules and regulations established by your depository participant (DP) or stock exchange to determine the share credit time. Share credits, such as T+2 (trading date plus two days), are often processed in a certain amount of time. Check with your DP or visit the stock exchange's website for accurate information on share credit timelines.
Are You a Victim of Demat Account Fraud? Here's What You Can Do
Take the following actions to take care of the situation if you are a victim of demat account fraud:
●    Inform your depository participant (DP) of the potential fraud immediately. Give them all the pertinent information and supporting paperwork.
●    In writing, send a formal complaint to your DP and the relevant regulatory bodies, like the Securities and Exchange Board of India (SEBI). Give them a thorough description of the fraudulent acts.
●    Cooperate fully with the investigation and give the authorities any further data or proof they deem necessary.
●    To stop further unauthorized access, update your login information, including your password and PIN, for your demat account and any other associated accounts.
●    For unauthorized transactions or questionable activity, carefully review your demat account statements. Inform your DP of any inconsistencies and ask for a full inquiry.
●    Consider submitting a complaint to the neighborhood law enforcement offices with all the necessary data and supporting documentation.
●    Speak with a legal expert for advice on potential legal remedies and procedures to recoup any losses.

Conclusion
Preventative measures, including picking a trustworthy DP, enabling 2FA, keeping an eye on account statements, and developing good cybersecurity practices, are necessary for mastering how to protect demat accounts from fraud. Contact your DP immediately, file complaints, and cooperate with the police if you suspect fraud. To protect your money and financial stability, use caution.
 
Start Investing in 5 mins*
Rs. 20 Flat Per Order | 0% Brokerage
Disclaimer
Investment/Trading in securities Market is subject to market risk, past performance is not a guarantee of future performance. The risk of loss in trading and investment in Securities markets including Equites and Derivatives can be substantial. Also, The
Open Free Demat Account
Account belongs to
By proceeding, you agree to the T&C.