SIP vs Mutual Fund: Difference Between SIP and Mutual Fund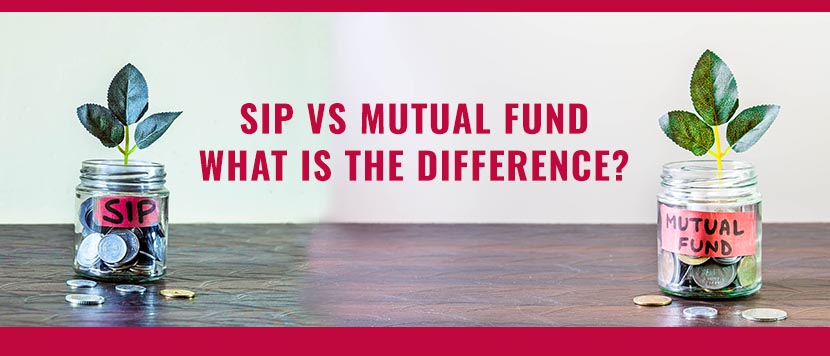 ---

Many investors see mutual fund investments as a simple and comfortable method to invest in equities. Mutual funds are managed and operated by professional specialists in the form of fund managers.
Before investing in stocks, they thoroughly study and analyze the businesses, their fundamentals, stock price movement patterns, and long-term prospects. The fund managers decide on the best investment choice based on the findings.
When it comes to their money being invested in the stock market, an investor does not have to be concerned beyond reason. Research staff and a fund management team support their investments.
Due to the diversification of the investments, the danger of market fluctuation is reduced. Reduced risk means that a portfolio's loss in one asset may be offset by a gain in another. Investing in stocks may be time-consuming and difficult for the uninitiated.
This is where fund managers step in to save the day; they make the right decision at the right moment. Therefore to clear misconceptions and get a better idea of the similarities and dissimilarities between mutual funds and SIP, we have discussed the differences between these investment approaches in this post. Let's begin with the sip vs mutual fund debate!
What is a Mutual Fund?
You and thousands of other investors combine their money in a mutual fund, which then invests it in various securities like individual stocks, bonds, and other types of financial instruments. Investments are made in a range of assets by a fund house with the aim of meeting a certain objective while also managing risk. 
Units purchased by mutual fund investors may be swapped for other funds on the secondary market. It's possible to categorize mutual funds according to their goals, approach to debt and equity, sectors they invest in, and risk tolerance.
What is a Systematic Investment Plan?
The acronym SIP stands for Systematic Investment Plan. Investments may be made in a single sum or over time, such as investing a little money each month. Depending on the fund house and the program, SIP enables you to contribute as little as Rs 500 each month in mutual funds. Almost all mutual funds provide systematic investment plans (SIPs), although the minimum investment amount differs. SIPs.
Mutual Fund vs Systematic Investment Plan: What's the Difference?
1. Mode of investment
When investing via the Systematic Investment Plan, regular contributions are made to purchase mutual fund units (SIP). When you invest on a regular basis, it becomes second nature. Compounding power is enormous in SIP investments. 
To accumulate wealth over time, SIP is a method in which an investor makes disciplined investments on a regular basis. One of the most effective ways to reach your financial goals is via the use of a systematic investment plan (SIP). 
An investor in a mutual fund can choose to reinvest their profits or receive a return, depending on his or her investment objectives. Instead of taking a loss, an investor may benefit from compound interest by reinvesting in the same plan.
2. The ability to change course when necessary.
It is possible to invest small amounts on a weekly, fortnightly, or monthly schedule with SIP investments since they provide you more flexibility in terms of when you want to invest. As a result, SIP works best for those who are employed or have a regular source of income. 
Systematic investment plans (SIPs) may be used to invest in mutual funds without disrupting your existing spending patterns. If you have a lot of spare cash, putting it in a mutual fund may be a good idea.
3. Reduced Costs
Cost averaging is available to you if you invest in SIP. Buying more units when the market is down and fewer units when the market is high can reduce your total purchasing cost.
As a result, your average purchase cost will be lower. In contrast, if you invest in a lump amount, you'll pay a greater price since you won't receive the advantage of averaging over all of your purchases.
4. Market Volatility
Inexperienced investors, in particular, are often perplexed as to when the ideal moment is to join the market is When investing in a lump amount, there's always the concern of when to make the purchase, which puts you at risk during times of high volatility.
With a SIP, your investment is spread out over time, so only a portion of it will be subject to higher-than-normal market fluctuations.
Conclusion
SIPs provide versatility, reduced costs as a result of averaging, and a useful method to deal with volatility. It's just a better investment strategy.
If an investor is arguing between SIP and mutual funds, he or she should evaluate the ease with which they may invest their income and profits.
Start Investing in 5 mins*
Rs. 20 Flat Per Order | 0% Brokerage
Open Free Demat Account
Mobile No. belongs to
By proceeding, you agree to the T&C.