IPO Synopsis
IPO synopsis
Jesons Industries Ltd filed its DRHP worth approximately Rs.800-900 crores, with SEBI. The issue comprises of a fresh issue of around Rs.120 crore and an offer for sale of up to 12,157,000 equity shares. According to the DRHP, these shares are being offloaded by Dhiresh Shashikanth Gosalia, a promoter who has 86.53% equity share capital in the company. 
The company is considering a private placement of shares up to Rs.24 crores. On the event of this happening, the amount will be reduced from the fresh issue value. The book running lead managers to the issue are JM Financial Ltd and Axis Capital Ltd. 
Currently, Madhavi Dhiresh Gosalia, Ravina Gaurav Shah, Jhelum Dhiresh Gosalia, Usha Shashikanth Gosalia, Madhuri Madhusadan Mehta and Parul Rajesh Mody, collectively hold a 13.37% stake in Jesons Industries Ltd.
Objectives of the issue
Rs.90 crore from the net proceeds are to be used to repay and prepay the debt availed by the company and its subsidiary, Jesons Techno Polymers LLP
About Jesons Industries Ltd
About the company
Jesons Industries Ltd is the country's leading manufacturer of specialty coating emulsions and water based pressure sensitive adhesives in the tape and label segments. The company is the leading SEC supplier to India's paint sector and accounts for 30% of the market share in this segment, in terms of sales value, as of FY21. The products produced by the company are used in various industries like, paints, packaging, chemicals for leather, textiles, carpets and paper. 
Jesons Industries has a portfolio of 170 products, as of June 20, 2021, under various brand names, namely; Bondex, Rdymix, Coviguard, Blue Glue, INDTAPE, and Polytex. Their R&D team consists of 27 well qualified and skilled scientists. As of June 30, 2021, 111 products out of the 170 kinds of products manufactured, were specialty products and accounted for 65.29% of the total product portfolio. The company started exports in 2008 and since then has exported to over 50 countries across the globe. Exports accounted for 36.62% of the revenue in Q1 ended 30 June, 2021. 
Jensons Industries has 6 manufacturing facilities- 2 located in Daman, 1 each at Roorkee, Chennai Metropolitan Region, Mundra and Vapi. 
Their SCE products are supplied to very well-known players in the country like, Berger Paints, Indigo Paints, Kamdhenu paints, JSW paints, Nippon paints, Shalimar paints and also a few major players in the global industry namely; Apollo paints, Kansai Nerolac, Moon Star paints and Caparol paints. Jenson Industries' PSA products are supplied and sold to reputed companies in the domestic industry like, Cosmos Twisters, Cellotape, Storm Infracon and the products are also supplied to companies in the global industry like Tuftape, Well Accessories and Western Paper Industries.
. 
 
Financials:
Particulars

(In Rs cr)

Q1 ended 30 June, 2021

FY21

FY20

FY19

Revenue from operations

438.43

1,085.71

901.4

917.7

PAT

54.3

92.9

29.64

24.75

EPS (In Rs)

10.13

17.55

5.51

4.62
Particulars

(In Rs cr)

Q1 ended 30 June, 2021

FY21

FY20

FY19

Total Assets

703.3

701.84

369

325.97

Total Borrowings

152.83

78.23

45.5

0.71

Equity Share Capital

8.94

8.94

8.94

8.94

Debt to Equity

0.48

0.29

0.26

0.00
Key ratios:
Particulars

(In Rs cr except %)

Q1 ended 30 June, 2021

FY21

FY20

FY19

EBITDA

73.73

128.8

47.5

47.9

EBIT

77.21

132.11

47.22

47.1

NWC

211.23

172

92.3

85.15

ROCE

84.12%

41.65%

25.61%

30.77%

ROE

74.10%

42.13%

18.67%

18.92%

ROA

30.90%

17.35%

8.57%

8.04%

EBITDA Margin(%)

16.82%

11.87%

5.27%

5.22%

PAT Margin (%)

12.38%

8.55%

3.29%

2.70%
Peer comparison: (FY21)
| | | | | |
| --- | --- | --- | --- | --- |
| Company | ROA | ROCE | ROE | Fixed Asset Turnover |
| Fine Organics | 13.38% | 19.13% | 17.82% | 5.11x |
| Galaxy Surfactants | 15.65% | 24.68% | 25.51% | 3.36x |
| Aarti Industries Ltd | 7.49% | 13.70% | 16.15% | 0.98x |
| Vinati Organics | 16.96% | 19.25% | 19.08% | 1.11x |
| Apcotex Industries | 10.41% | 19.35% | 15.87% | 3.62x |
| BASF | 11.08% | 27.07% | 36.47% | 10.25x |
| Jesons Industries Ltd | 17.35% | 41.65% | 42.13% | NA |
The Key points of Jesons Industries IPO are- 
Key Points
Strengths

1. Jensons Industries has a very diverse portfolio along with customized customer solutions which cater to a large and rapidly growing market. The company has one of the largest varieties of products in the SCE and PSA product category. In the last 3 fiscal years, the company has managed to launch 113 products
2. The company is one of the largest players in the SCEs and PSAs segment with their customer base spanning over the key geographical locations. The company has a strong hold in growing economies like Asia- Pacific, Middle East and Africa
3. Their manufacturing facilities are very strategically located in order to enable an efficient supply chain management and exports. They have 6 manufacturing facilities which provide for the domestic market as well as exports
4. The company has a very diversified customer base spanning across various industries like the paints industry, packaging, and chemicals for the paper, leather and carpet industry


Risks

1. The demand for the products of Jenson's Industries is highly dependent on the demand from the end-user industries. If there is any downtrend in demand from that end, then that will materially affect the business operations
2. Any unanticipated shutdowns, slowdowns or prolonged disruptions in the manufacturing facilities will adversely affect the operations of the company
3. Foreign exchange fluctuation risks could negatively affect the financials and operations of the company
4. The highly competitive market that the company operates in is open to new entrants and this leads the company to face pricing pressures which could adversely affect the growth prospects and business of the company

How to apply for an IPO?
Login to your 5paisa account and select the issue in the
current IPO section

Enter the number of lots and price at which you wish to
apply for

Enter your UPI ID and click on submit. With this, your
bid will be placed with the exchange

You will receive a mandate notification to block funds in
your UPI app

Approve the mandate request on your UPI and funds
will be blocked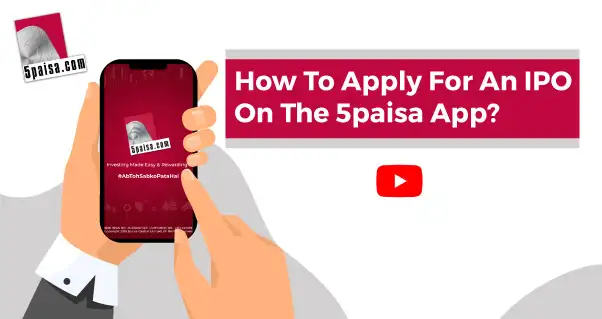 Open account in 5 minutes
Be a part of the 5paisa community now with 10 million mobile app users
There is some issue, try later
Please keep below documents handy:
 PAN Card
 Aadhar Card
 Bank Account Number