5 Samvat Resolutions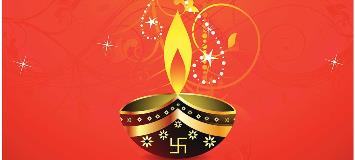 ---

Samvat also known as Vikram or Bikram Samvat (VS or BS) is the official Hindu calendar followed mainly in India and Nepal. The next day of Diwali is considered as the Samvat New Year. People celebrate it with festivities and often observe resolutions. Diwali is the time when people worship Laxmi, goddess of wealth with a wish of happiness and prosperity. How are you planning to welcome Laxmi (wealth) in your lives? Resolutions have always been an important part of New Years and so making resolutions for betterment is always a good go.
Which resolutions are you going to make for the betterment of your finances? Yet not decided? Here are the 5 Samvat resolutions which you can make to enhance your finances as you enter into a new Samvat year.
1) Payoff your Credit card debts and personal loans: It is very important to pay off your credit card debts and personal loans as they are high-cost debts. Paying them off will help you save a large amount which you would otherwise have paid as high rate interest.
Unsecured loans such as personal loans and credit card debts can prove to be very costly. The sooner you would pay them off the more you would save on the interest. Another benefit of it is that you not only save on the interest but you also tend to improve your credit score. So, paying off the high cost debts should be the first priority this Samvat.
2) Try to work on alternative income sources: With the rising inflation and soaring prices, it is very difficult to manage the expenses and maintain savings with just a single source of income. It is thus advised to look for alternative income sources for extra income. These alternate sources will help you to not only work out with your expenses smoothly but have those extra bucks as savings as well.
Alternate income sources could be anything right from the rental income, to freelancing, shares or interest earned on fixed deposits.
3) Work on the savings: Working on savings is very important. Though each one of us often thinks to start saving it happens with very few of us. So, it is important that you start taking the savings part seriously and contribute to it a good amount every month. To have a secured future, savings is very important, and you must make it a point to work on your savings this Samvat to have a good amount of funds and a secured future.
RD i.e. Recurring Deposits which are kind of recurring fixed deposits can be really very useful if you want a disciplined approach for your savings. It requires the deposit of a fixed amount every month and thereby maintaining the deposit.
4) Broaden your portfolio: Though you might be investing in stocks it is important that now you should look on to broaden your portfolio for better prospects. It is always better to go for the greener pastures. Broadening your portfolio in different businesses will decrease the risk quotient and would ensure even if one domain sinks you still have better prospects.
The most important thing is to choose the portfolios. Try to go by business and not the stock price. Avoid speculating. If you focus on business you can understand the nature of the investment.This would help you in making decisions and yield better returns in the long term.
5) Cut down unnecessary expenses: We often end up buying things which are non-essential without thinking and planning much. This kind of expenditure acts a drain for your wealth. It is very important to keep a check on them and think carefully before spending. This will help you control expenditures and save more money which would you have spent otherwise.
The best way to control this is to distinguish the essential and non-essential expenses. Try to adapt to minimalist approach and you could see the difference in no time.
This Diwali welcome Laxmi to enhance your wealth by working out on your financial activities. Make financial resolutions this Samvat and follow them around the year to enhance your wealth. Happy Samvat!!!
Start Investing in 5 mins*
Rs. 20 Flat Per Order | 0% Brokerage
Open Free Demat Account
Account belongs to
By proceeding, you agree to the T&C.