5 Tips for Successful Long-Term Investors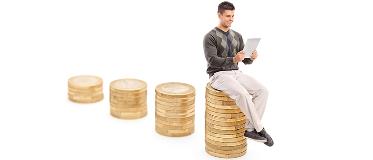 ---

We all want to make big money, and we all want to make it fast. However, what most of us don't realize is that patience is the key to better returns on all investments.
Why long-term investments are good
There are many ways to multiply your wealth. Based on your goals, you can choose between short-term and long-term investments. Short-term investments are anywhere between three-nine years, while long-term are those that last more than 10-15 years.
People invest in the stock markets because it yields a better return on investments. A ten-year fixed deposit of Rs5,000 with a 7.5% rate of interest will not give the same returns as compared to investments in the market. If you invest the same amount in stocks today, you could be able to draw much more after 10 years.
However, long-term investments demand a lot of patience, discipline, and moreover, an ample amount of research and understanding of the market.
While there is no perfect hack to the market, here are a few tips for you to become a successful long-term investor:
Be aware of what you're getting into
Read newspapers, books, articles on current trends in the markets. Don't get into a stock only on the basis of the company's popularity or hearsay, i.e. without checking for yourself how the business or the stock is performing. Learn to grow your money based on knowledge and sound understanding.
Invest in a business you understand
Expert investors often advise: 'Do not invest in stocks. Invest in a business.' Keeping this in mind, make sure you know the business and the industry before you invest in a company. This way, you can easily sense if the business's prospects go from good to bad and move out in time.
Don't panic if the market falls
In falling markets, we tend to make decisions out of fear as our money on the line. However, this isn't the best choice. Markets rise and fall all the time. If you've done your research well, you're targeting long-term growth. Hence, you need not dread any short-term fluctuations.
Avoid the herd mentality
It is the most common mistake rookie investors make. A typical buyer tends to make decisions because his neighbor, acquaintance, or relatives said so. This may backfire in the long-term. If you do not want to lose your hard-earned money, avoid the herd mentality. Stocks don't perform just because 'people say so'.
Select companies that give out regular dividends
Although the primary reason to invest in a company is profit from the rise in valuation, dividends can be a great source of income too. If the company is doing well, you will receive a certain amount of profit as regular dividend. This will also be a constant source of revenue throughout the holding period, which is far better than stocks, which don't give dividends and only give profit on selling.
Here's a bonus tip: Have a strong partner
Investing in stocks requires you to monitor the rise and fall of your shares continuously. You need a mentor or advisor that will guide you in making the right decision.
This may be a broker or a trusted friend. 5paisa.com is the right place to find your ideal financial advisor. We will help you with every step of the way to enhance your financial portfolio and make sure you get the returns you deserve.
Start Investing in 5 mins*
Rs. 20 Flat Per Order | 0% Brokerage
Open Free Demat Account
Account belongs to
By proceeding, you agree to the T&C.