5 ways to double your investment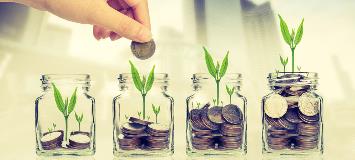 ---

Everyone dreams of making more money. But unfortunately, everyone doesn't have the privilege to ask for a pay increase. Our day to day expenses keeps on growing at a rate which is much higher than the annual increment of our income. But a pay raise is not the only way to increase your income. These are the many ways by which you can enhance your earnings and can even double your investments:
Earning it slowly: The Classic Way
One of the most tested ways to increase your investment over time is to invest in a good, old fashioned portfolio which has both stocks and mutual funds and is not speculative. The money you invest in these will not double right away, but it will inevitably increase eventually.
To be able to speculate how much time your investments will take in growing themselves, there is a simple rule of thumb called the '72 Rule'. It works on the principle that if you divide 72 by the expected annual rate of return, you will be able to predict the number of years it will take for your investment to double itself.
For example, let us assume that your expected annual rate of return on your investments is 8%. On dividing 72 by 8, you will get the number of years in which your investment will double; i.e., 9 years in this case.
High Risk-High reward: The Contrarian Way
Share market is the best and the quickest way to make money. You can purchase shares online by yourself or through a broker. You can sell your shares anytime and earn quick money.
There is no denying that buying shares and stocks come with the risk of losing all of your money. However, it also includes tremendous opportunities to earn a significant amount of profits as well. If you are careful and have researched all about the earnings and the book value of the company you wish to invest in, investing in stocks and shares will ensure that you double your investment in no time.
Systematic investments: The Safe Way
Most of us have a full-time job and are very busy with work and related projects. Investing and researching about a company takes a lot of time which most people don't have. However, this doesn't mean that you are out of the "doubling your investment game."
Investing in mutual funds through SIP (systematic investment planning) provides you an opportunity to increase your investments over time without continuously monitoring the market conditions. You can invest as little as Rs. 500 every month. Your money is automatically deducted from your bank account and invested in a particular mutual fund scheme. Your mutual fund account then gets credited with units equal to the amount you have invested.
SIP provides for a systematic investment without having to worry about giving your precious time towards investment and still doubling your investment over time.
Future values: The Speculative Way
While slow and steady might work for some investors, some investors are constantly looking to increase their investments as soon as possible and are willing to take bigger risks to earn greater returns. For these kinds of investors, derivative trading is a perfect choice.
Derivatives are financial contracts that derive their value from an underlying asset. These could be stocks, indices, commodities, currencies, exchange rates, or the rate of interest. These financial instruments help you make profits by betting on the future value of the underlying asset (such as stock, futures, a commodity, currency or an index) on which a derivative's price is based.
Derivative instruments are of two types: futures and options. Futures allow you to bet on future trends in prices of an underlying instrument in which you are not required to pay the entire amount right away but only a fraction of the value of the stocks. Options give you an alternative to buy or sell the stock, commodity or a debt instrument at a target price. If you think that the stock price of a company will increase in the future, you can buy the stocks today and can sell them in the future when their price increase, giving you the opportunity to earn huge amount of profits.
Appreciation values: The Smart Way
Real estate is another investment option which is capable of doubling your money in a period as low as 5 years. It provides for a stable cash flow as you can rent the property and is far more predictable from any other investment options. Buying a house or a land today for Rs 30 lakh can increase in value by way of appreciation and yield a return of up to Rs 50 lakh in just 5 years.
Right now, real estate is little down due to demonetization. However, it is expected that this sector will soon regain its former status, thereby providing opportunities for a huge amount of profits to be amassed in a short period.
Start Investing in 5 mins*
Rs. 20 Flat Per Order | 0% Brokerage
Open Free Demat Account
Account belongs to
By proceeding, you agree to the T&C.