Bearer Cheque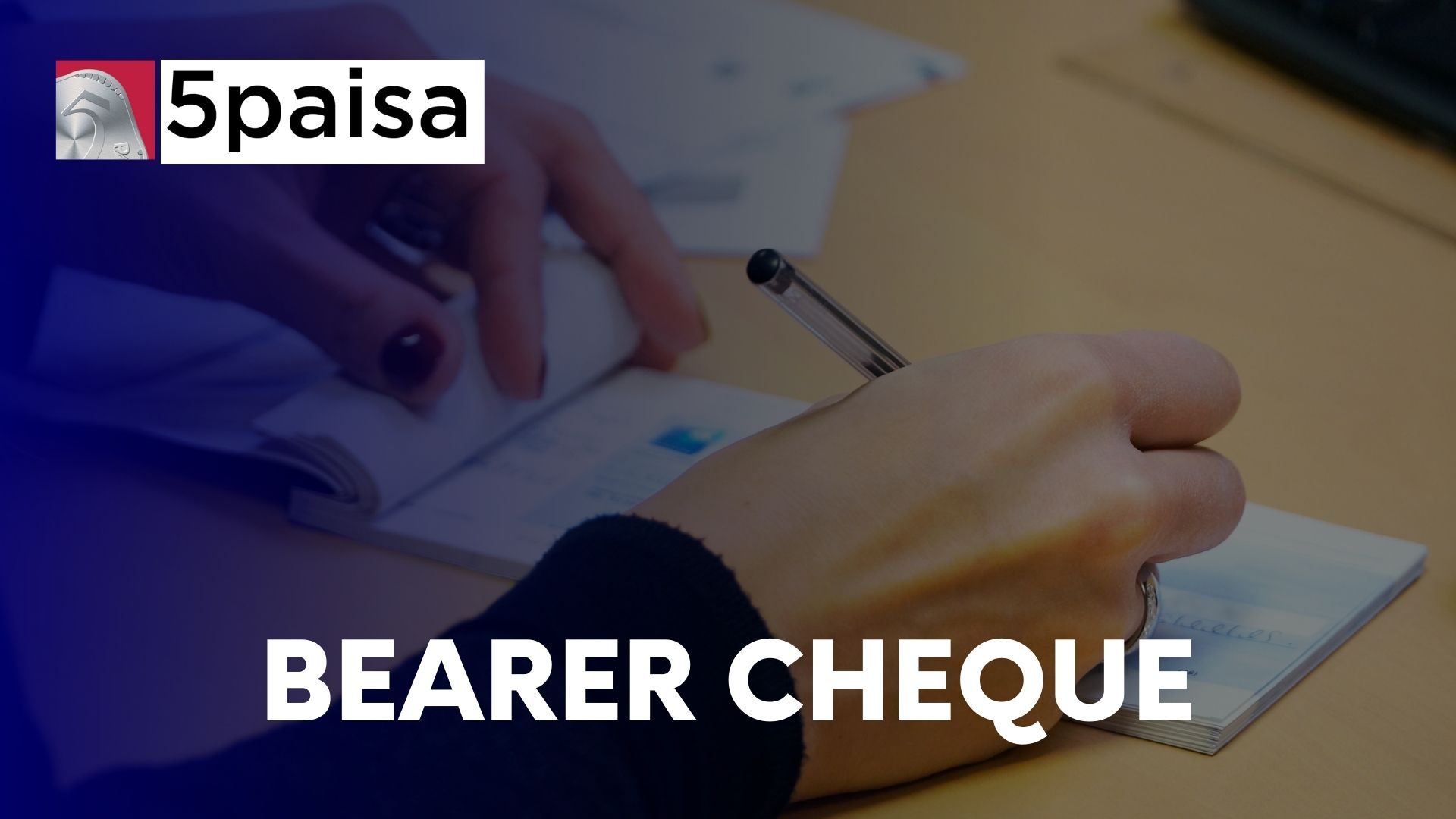 ---

Introduction
A bearer cheque is an efficient and adaptable financial tool. It is a method of payment where the cheque is made out to the owner or bearer of the document. Bearer cheques enable the holder to cash or deposit the cheque without any requirement for identification or endorsement, in contrast to other cheques payable to a specific person or business. Bearer cheques are highly liquid and easy to transfer since they may be passed from one person to another, allowing for quick and easy transactions.
This article will go deeper into the world of bearer cheques, looking at bearer cheques' meaning, their benefits, future uses, and safeguards that must be taken to ensure their safe and efficient service. People and businesses can use bearer cheques' potential to simplify financial transactions and increase flexibility by grasping their complexities. Read this article to explore the complexities of bearer cheques and learn what is bearer cheque and how they fit into the current economic landscape.

What is Bearer Cheque Meaning?
Bearer cheques mean payments made to the person holding the cheque rather than to a particular person or business. It indicates that no identification or endorsement is necessary for anyone possessing the cheque to cash or deposit it. With the help of this feature, bearer cheques have exceptional liquidity and transferability, enabling quick and easy transactions. A bearer cheque example is a traveler's cheque, which allows individuals to travel with a safe and easily exchangeable form of payment that can be used worldwide without the need for identification or endorsement.
Bearer cheques offer a feeling of secrecy and can be used for several things, including making quick payments, paying off debts, and completing business transactions where immediate payment is necessary. However, given their easily lost or stolen nature and potential for unauthorized usage, their personality also presents some concerns. They can be utilized to carry out financial activities if prompt payment is essential, such as making immediate payments, paying off debts, or conducting business. 

How to Write a Bearer Cheque?
A bearer cheque is easy to write and has to go through a few simple stages. A step-by-step tutorial for writing a bearer cheque is provided below:
●    Get a blank cheque from your bank to get started. 
●    Write the current date on the top-right corner of the cheque. 
●    Write "Bearer" or just "Cash" on the line beneath "Pay." 
●    In the space provided next to the currency symbol (such as " ₹"), enter the amount you wish to pay in numerical form. 
●    Write the same amount in words below the amount in numbers. 
●    Write the person's name on the line in the bottom right corner of the cheque. Your signature certifies the legitimacy of the cheque and expresses your agreement to the transaction.
●    You can, at your discretion, include a remark or reference on the designated line to indicate the reason for the payment.
●    Please verify that the date, amount, and your signature are all correct on the cheque before handing it along.
Who Can Withdraw the Bearer Cheque?
A bearer cheque can be cashed by any person who has it. Bearer cheques are payable to the bearer or holder of the cheque, as opposed to other cheques that are payable to a specific person or business. It indicates that the cheque can be cashed or deposited by the person who owns it without needing identification or an endorsement. Since bearer cheques are highly liquid and transferable from one person to another, anyone can quickly and easily access the funds.
What are the Withdrawal Rules on Bearer Cheques?
Depending on the individual rules and procedures of the issuing bank or financial institution, bearer cheque withdrawal policies may differ. However, the following general advice should be heeded when cashing bearer cheques:
●    Before approving the withdrawal, banks may occasionally demand that the person submitting the bearer cheque produce appropriate identification documents to prove their identity. 
●    Bearer cheques frequently do not call for endorsement, so the person handing the statement doesn't have to sign the reverse. 
●    Physical custody of the bearer cheque is a necessary condition for withdrawal. The individual holding the cheque should be able to withdraw the money as long as they submit it to the bank. 
●    Banks may conduct specific tests to establish the bearer cheque's legitimacy, such as validating the account information, looking for any revisions or inconsistencies, and ensuring the cheque has yet to be reported lost or stolen.
●    Withdrawing money from a bearer cheque is subject to the bank's usual clearing and processing times. 
●    To reduce the risks of large transactions, some banks may restrict bearer cheque withdrawals. These restrictions could change depending on the bank's rules, the account holder's standing with the bank, or other elements.
Can You Encash a Bearer Cheque from Any Bank?
As long as the bank accepts bearer cheques, cheques can be cashed at any bank. To make sure of the specific bank's regulations and processes regarding the encashment of bearer cheques, it is usually advised to call them in advance.
Withdrawal Limit for Bearer Cheques
Bearer Cheques withdrawal restrictions vary between banks and can be affected by account type, client relationship, and bank policy. It is advised to contact the appropriate bank and ask about their specific laws and regulations to determine the precise withdrawal limit that applies to bearer cheques.
Advantages of a Bearer Cheque
Bearer cheques are a useful financial instrument because they have the following benefits:
●    Instant payment: Because bearer cheques can be cashed or deposited without identity or endorsement, they make quick transactions possible.
●    Transferability: Bearer cheques are excellent for scenarios that call for a speedy and hassle-free exchange of funds because they are easily transferable from person to person.
●    Anonymity: Because bearer cheques do not name a payee, they offer some measure of anonymity, enabling covert transactions and protecting privacy.
●    Flexibility: Bearer cheques are versatile since they can be utilized for various things, such as making prompt payments, paying off debts, or completing business transactions that call for immediate payment.
●    Convenience: Bearer cheques are an easy solution for quick financial transactions because they don't require complicated procedures or verification cheques.
Different Types of Cheques
Different types of cheques include:
●    Bearer Cheque
●    Order Cheque
●    Joint Account Cheque
●    Crossed Cheque
●    Dividend Cheque
●    Post-Dated Cheque
●    Self Cheque
●    Traveler's Cheque
●    Demand Draft
●    Gift Cheque
●    Escrow Cheque
●    Certified Cheque
●    Government Cheque
●    Banker's Cheque
●    Electronic Cheque
●    Open Cheque
●    Stale Cheque
●    Counter Cheque
●    Electronic Funds Transfer
●    Payroll Cheque
Conclusion
In conclusion, bearer cheques offer a practical and adaptable payment method, enabling quick transfers and transactions while stressing the significance of careful handling and security precautions.
FAQs
Is there any maximum limit for a bearer cheque?
The maximum amount for a bearer cheque may differ based on the rules and guidelines of the particular bank or financial organization. To determine if there is a bearer cheque maximum limit, it is best to speak with the bank directly.
Is it safe to issue a bearer cheque for large payment amounts? 
Large payment sums may not be issued as bearer cheques due to the inherent dangers involved in their transferability. Bearer cheques are readily misplaced or stolen, which could result in unauthorized use. It is advised to consider alternate payment solutions or speak with the bank for safer selections.
Start Investing in 5 mins*
Rs. 20 Flat Per Order | 0% Brokerage
Disclaimer
Investment/Trading in securities Market is subject to market risk, past performance is not a guarantee of future performance. The risk of loss in trading and investment in Securities markets including Equites and Derivatives can be substantial. Also, The
Open Free Demat Account
Account belongs to
By proceeding, you agree to the T&C.