Best Automation Stocks to Buy in India in 2023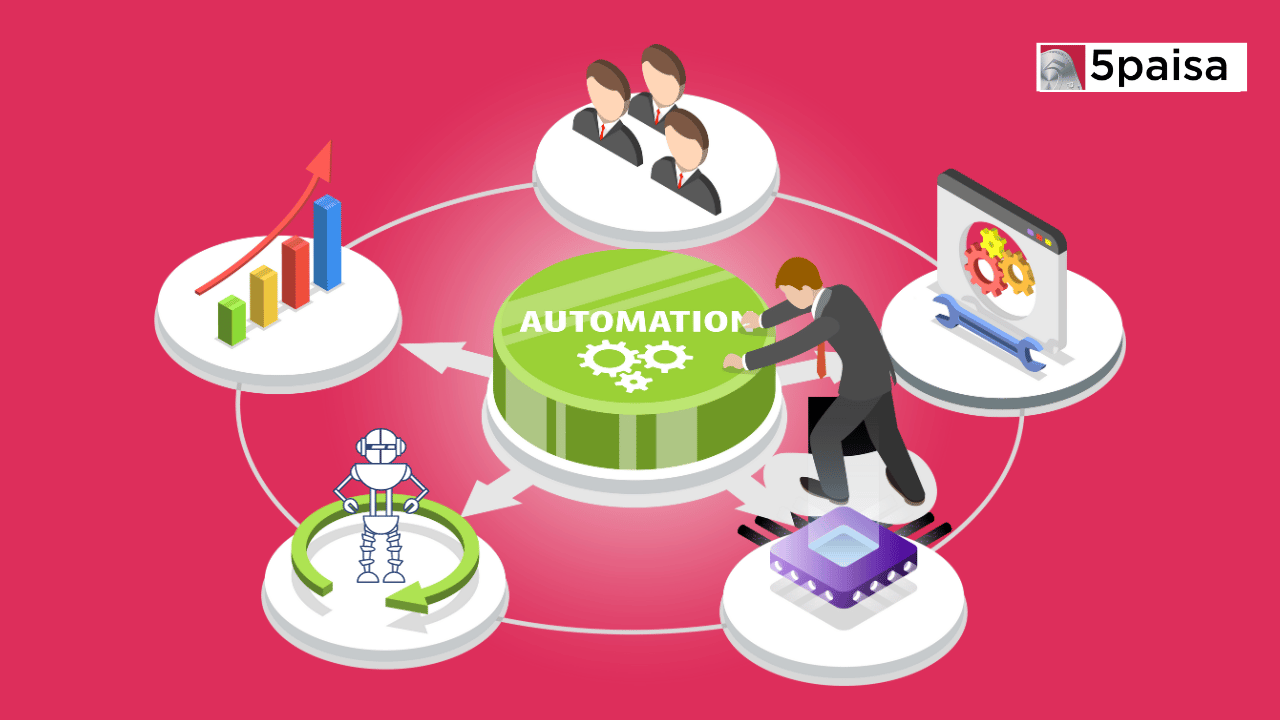 ---

Best automation stocks to buy now in India for 2023 promise investors a thrilling ride through cutting-edge technology. Companies leading this change are poised for significant development as industries adopt automation and digitalization. Thanks to robotics, artificial intelligence, and process automation advancements, these stocks are the engine of India's Industry 4.0 Revolution.
Investments in these industry leaders in automation have the potential to yield sizable returns and give people a chance to participate in the revolutionary process that will shape business and society as a whole in the future. These equities cover a wide range of industries, from manufacturing to healthcare, e-commerce to logistics, demonstrating the variety of opportunities that automation brings to the Indian market.
What are Automation Stocks?
The best automation stocks to buy now are shares in companies that specialize in developing and providing automation technologies and solutions. The companies that use robotics, artificial intelligence, machine learning, and other cutting-edge breakthroughs to automate processes, boost productivity, and minimize human interference across various industries are represented by automation stocks.  
Investors are drawn to these stocks because they frequently benefit from digital transformation, offering the possibility of significant growth as businesses in various industries, including manufacturing, logistics, healthcare, and finance, increasingly adopt automation to maintain competitiveness and promote operational excellence. Investing in automation stocks demonstrates a conviction in the ongoing significance of technological advancement in influencing business and the future of the global economy.
Overview of Best Automation Stocks
Before investing in the best automation stocks in India, it is necessary to understand the company and where they are dealing. Here is an overview of each stock listed above:
1. Tata Motors
Tata Motors, headquartered in Mumbai, is an automotive manufacturing Indian multinational company. It is a USD 37 billion organization that covers different cars, SUVs, trucks, vans, buses, and coaches. They are predominantly focused on creating machines that are the future of tomorrow. Listed under NSE, it is amongst the most popular automation stocks.
2. Maruti Suzuki India
Maruti Suzuki India is a one-man store for all automation needs. It is the Indian subsidiary of Suzuki Motor Corporation, a Japanese automaker. The company deals in cars, driving schools, and even vehicle insurance. Maruti had the leading market share of 42% as of September 2022 in the Indian passenger car segment.
3. Mahindra and Mahindra
Mahindra and Mahindra is a technology and innovation-driven global company that is into diverse products and services. It is also India's largest commercial and passenger automobile company. With a net income of over 1.4 billion USD, the company has a stronghold in the automation market.
4. Happiest Minds
Happiest Minds is an IT consulting and digital transformation company focusing on data analytics, big data, cloud services, and mobility for businesses. In a short time, the company with headquarters in Bangalore has reached globally with its offices in the UK, US, Australia, Canada, etc. What started in 2011 is now a next-generation IT services and solutions company.
5. Kellton Tech Solutions
Kellton Tech Solutions is a digital technology and IT consulting and servicing company, Kellton believes in delivering exceptional business and innovative solutions. It is a publicly listed, ISO 9001:2015 certified and CMMI Level 5 approved company. The company operates across Europe, the US, Asia-Pacific, and India, with a total net revenue of Rs. 7.39 billion.
6. Tata Elxsi
Tata Elxsi is a technology and design company specializing in automation, communication, healthcare, transportation, and broadcasting. The company has recently seen an uptick in its stock prices and registered a return of 5%. Tata Elxsi is also partnering with BrainChip to offer ultralow-power and intelligent solutions.
7. Tata Consultancy Services Ltd.
Tata Consultancy Services, or TCS, is a consulting, IT, and business solution organization. TCS partners with many top and renowned companies worldwide and operates in more than 150 locations. The company focuses on technology, innovation, and collective knowledge. It has a total revenue of over USD 29 billion.
8. Infosys Limited
Infosys is a pioneer in consulting and next-generation digital services on a global scale. It is an Indian multinational IT company offering IT, outsourcing, and business consulting services. The company has total assets of around USD 16 billion, with equity of USD 9.5 billion and a total net income of USD 3 billion.
9. Wipro Limited
Wipro provides innovative solutions to the most complex digital transformation problems. Wipro Limited is listed on the NYSE, BSE, and NSE. It is a multinational company with a net income of USD 1.4 billion. The company works on two segments - IT products and IT services.
10. HCL Technologies Limited
HCL Technologies operates in over 60 countries and has more than 2,23,400 employees. It is also a multinational company that supports the companies in reimagining their businesses for the digital world. It operates in computer programming and other software and automation-related services. The company registered a net revenue of USD 1,118 crores.
Performance List of Top 10 Best Automation Stocks to Invest
Here is the comparison and performance review of the best automation stocks in 2023 to invest in:
Parameters
Tata Motors
Maruti Suzuki India
Mahindra and Mahindra
Happiest Minds
Kellton Tech Solutions
Tata Elxsi
 Tata Consultancy Services Ltd.
Infosys Limited
Wipro Limited
HCL Technologies Limited
Growth/Loss in 52 weeks
4%
10,036.95 / 8,076.05
1,594.80/ 1,123.40
1,092.90 / 763.25
40.53/89.4
5708.1/9275.05
3,575.00 / 2,926.10
Rs. 1,259 (low)
38% down
Rs 905.2
(down)
 
MCAP (in cr)
2,01,686.84
2906312.26
1,92,653
13,192.75
7703.16
459933.31
12,35,131
5,88,375
2,13,729.89
3,14,229
LTP
607.15
9,621.25
1,560.85
902.35
79.80
7383.35
7383.35
1418.20
408.05
1157.95
P/E
70.89
30.52
16.74
56.88
77.29
60.57
28.24
23.85
22.32
20.81
P/B
9.07
4.62
2.82
15.97
5.00
20.22
13.57
7.31
4.04
4.58
Volume
6,956,667
317,224
1,325,882
88981
33105
5200
63,180
30,74,444
1,999,281
17,94,652
Current Ratio
0.98
0.58
1.29
2.5x
2.24
4.83
2.36
1.67
1.72
2.68
Debt to Equity
0.84
0.02
138.5%
0.0
0.22
0.0
0.0
0.0
0.22
0.0
ROE
12.90
14.06
16.44
27.4
6.29
36.20
52.46
31.78
15.82
23.84
Dividend Yield (%)
0.33
0.94
1.04
0.00
0.00
0.82
3.41
2.4
0.24
4.18
EPS
8.56
315.20
54.70
15.86
0.96
121.93
106.88
11.67
18.29
11.23
Net Profit Margin
3.13
7.58
10.11
14.42
5.55
24.01
18.22
18.72
12.57
24.76
Promoter's Holdings (%)
46.39
56.5
26.47
53.2
52.1
43.9
72.3
14.94
72.91
44.53
Who Should Invest in the Best Automation Stocks?
A variety of investors may find it appealing to invest in the best automation stocks. Automation stocks may be especially alluring to people who think technology can revolutionize sectors on a broad scale. Investing in the top automation stocks can benefit long-term investors looking for growth prospects, income investors wanting dividends, and portfolio diversifiers hoping to go outside conventional industries. 
Benefits of Investing in the Best Automation Stocks
Below are some of the benefits of investing in automation stocks in India:
Investing in the automation industry can help in scaling and diversifying your portfolio.
Technology is here to stay for long; hence, these companies will only perform better and earn profit. Thus, it will eventually impact your overall earnings on the share.
Companies in robotics and artificial intelligence will have a good and sizable market as industries seek to automate their processes. If companies automate, the share value will increase, thus increasing your portfolio.
The Government of India also focuses on the latest technology, so investing in the best automation stocks is a good option.
Things to Consider Before Investing in Best Automation Stocks
Here are a few things to consider before investing in automation stocks:
It is recommended to do thorough research before selecting any stock.
Always check the company's price to earnings you wish to invest in.
Remember to determine the risk level in investing in that particular company or stock.
How to Invest in the Best Automation Stocks?
Follow the below steps to invest in the best automation stocks today:
Step 1: Choose the amount you want to put into these stocks.
Step 2: Choose an investing account.
Step 3: Understand the difference between different stocks and companies.
Step 4: Set up a budget for investment.
Step 5: Focus on investing in a long-term plan.
Step 6: Once purchased, carefully manage your portfolio.
Conclusion
Automation is crucial for every business and industry and is an expanding market in India. It has gained immense popularity, and companies want to invest in good automation tools and resources. Hence, investing in the best automation stock will be fruitful and profitable if invested long-term.
 
Frequently Asked Questions
Is it safe to invest in the best automation stocks?
Is it worth investing in the best automation stocks in 2023?
How much should I invest in automation stocks?
Who is the market leader in the automation sector?
Start Investing in 5 mins*
Rs. 20 Flat Per Order | 0% Brokerage
Disclaimer
Investment/Trading in securities Market is subject to market risk, past performance is not a guarantee of future performance. The risk of loss in trading and investment in Securities markets including Equites and Derivatives can be substantial.
Open Free Demat Account
Account belongs to
By proceeding, you agree to the T&C.