Comparison Between Online And Offline Equity Brokerage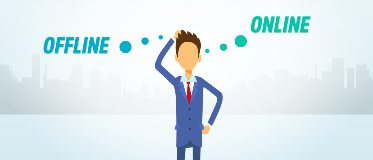 ---

In the past, when traders wanted to get involved with anything from stocks to futures, they had to find a quality broker that could help them close these deals in the market. This basically meant that anyone who couldn't reach a broker or who didn't want to work exclusively with these professionals had little choice but to do just that. In this day and age, this has changed as now you have the option of choosing between online and offline equity brokerage.

What exactly is the difference between online and offline equity brokerage? Is one better than the other? Will choosing one of them lead to greater success in your investments?

There are certain points, on which comparison on both can be made which will enable you to understand the right choice for you:
1) Real time information
Trading needs to be done with real time information because without this, you are just trading blindly. When you opt for offline equity brokerage, you won't be able to get real time information about trade as they are posted online in real time. This can end up putting you at a disadvantage.

2)Flexibility
In offline equity brokerage, you have to call your broker every time you want to buy or sell something on the market. At times, this can be helpful in getting some valuable advice, but due to the nature of the market, you might not want to spend as much time on the phone as you would while dealing with these professionals.

3) Fees
One of the most important differences between online and offline equity brokerage is that online equity brokerage offers the best saving options while offline equity brokerage is always on the higher side. When you choose to trade through online equity brokerage, you have to pay less brokerage fees. In fact, there are companies which only charge a flat fee as low as Rs. 10.

4) Trade at any time/place:
Another great benefit of online equity brokerage is that you can trade from anywhere and at anytime; from your personal computer or your smartphone. You don't have to worry about visiting the office of your broker during his office hours. In offline equity brokerage service, you have to wait until business hours to speak to your brokers but this is not the case in online equity brokerage as you can do the trading whenever you want.

5)Fraud Prevention
As online equity service provides users with complete control over transactions, the risk of potential frauds is eliminated. There are certain instances when the brokers execute trades on behalf of their clients without receiving permission, which can cause significant losses to the users who choose offline equity brokerage option.
Apart from these, the following benefits of online brokerage lead to a simpler, hassle-free experience, giving peace of mind.

 
                            Fig 1: Benefits of online trading

If you find that you need a hands-on approach that an offline broker has to offer and that you want to spend much of your time trading in the market, you might want to opt for offline equity brokerage service. However, if you want the flexibility that comes with an online trading option, online equity brokerage might just be the right choice for you.
Start Investing in 5 mins*
Rs. 20 Flat Per Order | 0% Brokerage
Open Free Demat Account
Account belongs to
By proceeding, you agree to the T&C.