Decoding Ola Electric's game plan to capture India's two-wheeler EV market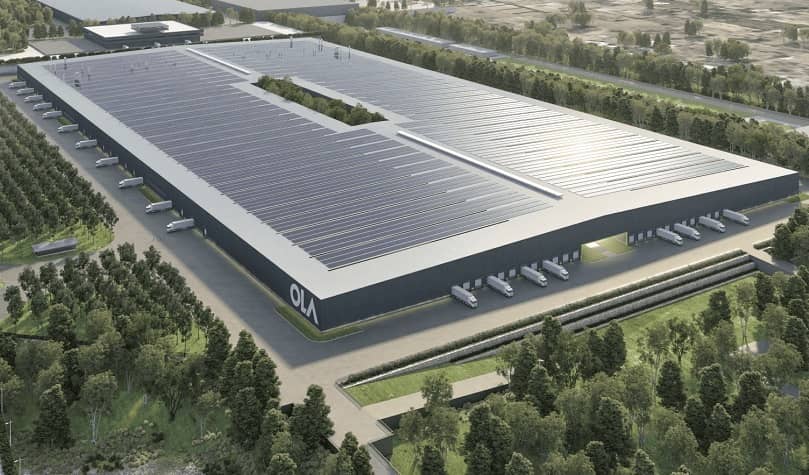 ---

In 2010, when Ola Cabs began operating in India as an Uber clone, it wanted to capture the then-nascent cab aggregator market in the country. And the Bhavish Aggarwal-led company had near-instant success.
It grew organically and by acquiring competitors like Taxi For Sure in 2015 in a $200-million deal. Soon, it had become the undisputed leader in the taxi aggregator market, having left Uber significantly behind.
Now, Ola wants to do an encore in the electric two-wheeler market. With that aim in mind, Ola last year began constructing a mega-factory in the Krishnagiri district of Tamil Nadu to manufacture electric scooters. The so-called 'Future Factory', Ola says, is designed for a capacity of 10 million units of scooters annually across 10 assembly lines.
But what makes Ola so bullish about the future of the EV market in India? And what exactly is its game plan?
The new opportunity
Ola smells a $1 trillion opportunity in India's fast-growing market for EVs. It thinks that over the next few years, India will generate demand for as many as 155 million electric two-wheeler and passenger cars, and that it will have a huge advantage over its competitors, even though it entered the market only last year.
According to Bloom Ventures, one of the most active early-stage venture capital firms in India, sales of electric two-wheelers can jump as much as 24 times in the next eight years.
Ola thinks that its EV arm, Ola Electric, can ride pillion on this growing domestic demand and go on to capture at least 15% of the global EV market.
The company thinks that the EVs will completely replace two-wheeler internal combustion engine (ICE) vehicles by 2025. To this extent, Ola Electric is increasing its research and development spends to drive a vertical integration strategy. It thinks vertical integration will allow it greater control on technology and the cost of manufacturing. So, it plans to develop capabilities in key areas such as cell technology, motor technology and autonomous driving.
Multi-pronged strategy
Ola plans to roll out a multi-pronged strategy over the next two-three years. As a first step, it is looking to launch a series of EV products across scooters, motorcycles, sedans and SUVs. It plans to launch its mass scooter by 2025.
Ola plans to launch its premium motorcycle in 2023, followed by the mass-market variant and a sports motorcycle. It also plans to launch a premium SUV and a premium sedan in 2024 followed by their mass-market variants.
Finally, Ola wants to launch a Robotaxi with autonomous capabilities to complete its suite of products.
"Ola Electric is creating India's EV revolution and is driving cutting-edge manufacturing from India for the entire world. With Ola S1, we've changed the entire scooter industry and are now looking forward to bringing our innovative products to more two-wheeler categories, including bikes as well as cars," Aggarwal said earlier this year.
Focus on service delivery
Ola thinks it will be able to deliver the aftermarket service for the vehicles through dark service stores and mobile vans augmented to service vehicles. It wants to enhance the customer experience by using predictive and preventative maintenance delivered to the customer.
Ola wants to expand its offerings to location services and charging infrastructure, beyond the existing ride-hailing and financial services arms. It is likely to tailor its location services for the Indian roads using data from Ola cabs.
The charging infrastructure, Ola hopes, will be compatible across both two-wheeler and passenger vehicle segments. The company expects the hypercharger network to be able to charge half of the batteries in under 20 minutes in three years. With this, Ola expects to complement the home charging business and to capture 20-30% of the energy needs for EVs.
Indigenizing technology
Ola is also looking to invest aggressively in developing its tech capabilities to develop in-house solutions across the value chain. The company has invested more than $100 million in setting up an R&D centre for battery technology, according to a report by Kotak Institutional Equities. It employs more than 200 researchers and plans to expand the strength to more than 500 researchers and scientists in the next few years.
The company's tech headquarters will be in India's IT capital Bangalore. It will also have research centres in San Francisco in the US, Coventry in the UK, as well as in Pune and Japan.
The company plans to build cell technology capabilities of various kinds between 2022 and 2026. Apart from cell technologies, the firm also wants to develop the technologies for L3 autonomous capabilities with point-to-point navigation, emergency braking and collision avoidance. 
The Future Factory
Ola's 'Future Factory' has already operationalised one assembly line with a capacity of 1 million units annually. The current throughput is about 500,000 units annually and is expected to be ramped up in the next few months.
The Future Factory is highly automated with more than 3,000 robots transporting the material between all supply chains. The facility is home to manufacturing technologies such as laser cleaning to prepare the bus bar and cells for welding, ultrasonic welding to weld cells without any heat and fully automated painting line. The plant is fully operated by women and is expected to generate employment for 10,000 women at full capacity.
Ola already has more than 60,000 scooters on the road. Its order book is robust, too, but the supply chain related to battery cells continues to impact production ramp-up.
Financial muscle
But does Ola have the financial muscle to achieve its ambitious plans? At least on paper, it seems to.
Ola has raised more than $5 billion thus far, mainly for its taxi aggregation and financial services business, and, as of December 2021, was valued in excess of $6.3 billion.
In fact, Ola has had an impressive history of fundraising. Just a year after being founded by Agarwal and Ankit Bhati, in 2011, Ola raised $500,000 from a bunch of angel investors. The following year, it raised $5 million from Tiger Global Management and in 2013, snagged another $20 million cheque from Matrix Partners and Tiger Global.
By 2015, Ola had become a unicorn—or a startup with a valuation north of $1 billion—after it had managed to raise more than $900 million. In 2017, it raised $1.1 billion from Tencent Holdings and another $300 million from other investors. The following year, it raised another $250 million and expanded its services to Australia.
Separately, Ola has also raised millions of dollars for its EV arm. Earlier this year, Ola Electric secured $200 million in funding from New York-based Tekne Capital, San Francisco-based private equity firm Alpine Capital, Indian financial services firm Edelweiss and other investors. This funding round valued the EV arm at $5 billion.
Overall, since its inception, Ola Electric has raised at least $880 million in equity funding and $500 million in debt. It also counts Japanese conglomerate SoftBank, Singapore's Temasek, and IIFL among its investors.
Controversies and setbacks
While it may have raised top dollar, Ola has seen its fair share of controversies and setbacks over the last decade.
Much like rival Uber, Ola has faced criticism for surge pricing and for significantly reducing incentives being offered to the taxi, cab and bike drivers that offer services on its platform. Further, just as it did with Taxi For Sure, Ola shuttered Foodpanda in India, just two years after acquiring it, and laid off all its employees.
Ola's biggest challenge yet, though, is the backlash the company, along with other two-wheeler EV makers, has been facing over the last few months in the wake of dozens of incidents of EVs catching fire.
Alarmed by a series of incidents of EVs catching fire, the government has sent show-cause notices to manufacturing companies like Ola Electric, Okinawa Autotech, Boom Motors and Pure EV, warning them why a penal action should not be taken against them for delivering faulty electric two-wheelers to the public.
News reports say that EV manufacturers have been given till July-end to respond, following which the government will decide on what action, if any, it wants to take against them.
These notices come after several e-scooters manufactured by these companies exploded in April, and preliminary findings showed the fires were caused by issues with battery cells or faulty design.
The issue of the exploding e-scooters has gained such traction that at least three government wings—the Defence Research and Development Organisation, the road transport ministry and the central consumer protection authority, which comes under the consumer protection ministry—have been probing it.
According to a report by The Economic Times citing a DRDO probe report, these defects occurred because the electric two-wheeler manufacturers like Okinawa Autotech, Pure EV, Jitendra Electric Vehicles, Ola Electric and Boom Motors may have used "lower-grade materials to cut costs".
Even the Bureau of Indian Standards has issued new performance standards for lithium-ion batteries to safeguard the consumers amid the rising EV fire episodes in the country.
In fact, the issue has become so serious that even the roads and highways minister Nitin Gadkari has had to step in and warn EV makers. "If any company is found negligent in their processes, a heavy penalty will be imposed and a recall of all defective vehicles will also be ordered," he tweeted recently.
Ola, at present, controls around 6% of the two-wheeler EV market in the country, and it has ambitious plans to dominate it. It does have the financial muscle to get ahead of competitors like Hero Electric, Okinawa, Ampure, Ather and PUREV. But Ola will need to get past the speed bumps it faces in quick time, lest it be trumped by another startup that may be waiting in the wings to disrupt the disruptor.
Start Investing in 5 mins*
Rs. 20 Flat Per Order | 0% Brokerage
Open Free Demat Account
Mobile No. belongs to
By proceeding, you agree to the T&C.