How should you invest - Goals and Risk profiles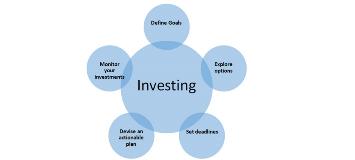 ---

Investing is a complex process. You need to define your goals before you invest.
From the above cycle, we can deduce that any investing decision fundamentally revolves around how aligned the investment goals are with your goals and how risky it is. Let's further explore the effects of these two fundamentals on your investment decisions.
Goals
As explained earlier, it's a thumb rule that you set your goals before you plan your investment. This is because you need to understand your requirement: What are you investing for? You could be investing for to pay the amount for the down payment of your house or your car. You could also be investing for your retirement or for your child's marriage or education.
Based on your goal, you may set a timeline for your investments. If it's a short-term investment like arranging for a down payment, you would want to invest in short-term debt instruments. For a long-term investment like retirement or your child's education or marriage, you would want to invest in equities as they have the potential to earn in the long run. The next factor determining your investment is your tolerance for risks. If you are in your youth, you can afford to take more risks. If you are married and have a family, you would want to play it safe. If you are nearing your retirement, you would want your investment to be risk-free and stable.
Risks
We have heard so many times that "Investments are subject to market risks; please read the offer documents carefully before investing". What are those risks and how do they affect your investments?
The recent economic breakdown of Greece and Zimbabwe and other economic depressions like the one caused by Lehmann brothers have had hyperinflation as a major factor. Thus, inflation has the potential to break down an entire country's economy. Imagine what it can do to your savings. Inflation has the potential to eat into your savings. Inflation is one of the risk factors you need to consider while devising your investment strategy.
There are some other global or national or business decisions that can heavily impact your savings and investments. For example, the recent demonetization move had a drastic impact on world economy. Your savings could or couldn't have been directly affected by the demonetization. However, there are other decisions that could directly impact your investments like the decision to not issue H1B visas. This caused many IT companies to lose their market share. Thus, many big IT companies had to take drastic decisions like offer VRS to the top management team or fire 300-400 of their employees. Thus, if you were invested in IT companies, it would have definitely affected your investments.
To sum it up
Your investments are usually vulnerable to all economic turmoil and while you can protect yourself against many of them, you cannot protect the outcome of many financial decisions. Thus, it is advisable to diversify your investments for damage control in case of an economic turmoil. It is advisable that you do not keep all your eggs in the same basket.
Start Investing in 5 mins*
Rs. 20 Flat Per Order | 0% Brokerage
Open Free Demat Account
Account belongs to
By proceeding, you agree to the T&C.