How to be a millionaire?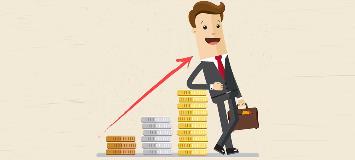 ---

An individual's ultimate dream is to become a millionaire without breaking a sweat. Though this dream seems highly improbable, it is possible to become a millionaire and also have enough time to enjoy your life. All you require is the right strategy, discipline, and consistent savings.
There are certain areas where you can invest your savings and earn a significant amount of money.
Where can you invest?
The most important step towards becoming a millionaire is to inculcate the habit of saving money. Without savings, there won't be any investments, and without investments, there won't be any profits. Once you get into the habit of saving, you can invest the saved money in one or more of the following areas:
Real Estate
Real estate is the largest investment option. Your investment in real estate can rise in value over time. You may use this as a part of your overall strategy to  begin building wealth. Investing in real estate can prove to be the best investment if you are planning for long-term capital gain.

For example, if you buy a house or a land for Rs 30 lakh in 2017 (even after taking a loan for the same), the price of this land or house can go up to Rs 50 lakh within 5 years. You can earn a profit of Rs 20 lakh in just 5 years of time. Furthermore, you can invest this Rs 20 lakh in other investment options without losing the initial 30 lakhs that you invested.

Equity investments
Buying equities of a company means that you buy shares of a company and generally, retain them for a long period of time. By investing in a company, you become part-owner of that company and are entitled to cash benefits like dividends and bonuses. If the company is doing exceptionally well and the share price is at its peak, you can sell these shares in the market; thereby, reaping substantial profits.
For example, let's assume that you have bought 1000 shares of ABC company at Rs 500 per share; this means that you have invested Rs 5,00,000 in the company. Until you sell these shares, the company is liable to give you a certain amount from its profits annually (called dividends). When the company is doing well in the market and the price of each share goes up (say, by Rs 1000); you have the option to sell these shares. On selling these shares at the higher value, you'll be earning Rs 10,00,000 in total; thereby, making a profit of Rs 5,00,000.
Mutual Funds
Investing in mutual funds requires a considerable sum of money for investing. If you are looking for a more disciplined option to invest your savings, investing in mutual funds through a SIP (Systematic Investment Plan) is the best option.
A SIP is a flexible and an easy investment plan. Your money is automatically deducted from your bank account and is invested in a specific mutual fund scheme. Your mutual fund account is credited with the same units of value exact to the money you have invested.

Every time you invest more money, additional units of the funds are credited to your account.
Investing in mutual funds through SIP allows you to invest as low as Rs 500 per month in a mutual fund account; the rest is taken care of by the magic of compound interest.
For example, if you invest Rs 5,000 per month for 15 years and the expected return on an average is 12%, you could end up with Rs 25.22 lakh. If the expected return is 14%, this figure can become Rs 30.64 lakh. This is the magic of compounding. 
In the long run, this amount can prove to be really useful as you can choose to invest this amount in real estate or equities. By doing so, you can multiply this profit.
Derivative trading
Derivatives are financial contracts that derive their value from an underlying asset. These could be stocks, indices, commodities, currencies, exchange rates, or the rate of interest. These financial instruments help you make profits by betting on the future value of the underlying asset which is a financial instrument(such as stock, futures, a commodity, a currency, or an index) on which a derivative's price is based.
There are two types of derivative instruments:
a) Futures
b) Options.
Futures: It allows you to bet on future trends in the prices of an underlying instrument without paying the whole amount, but only a fraction of the value.
Options: It gives you an option to buy or sell the stock, commodity, or a debt instrument at the target price.
For example, if the price of a stock is Rs 100, and you expect it to go up to Rs 150 in a month's time, then can you buy a contract of 1000 stocks at Rs 100 today (amounting to Rs 1,00,000), and agree to sell it at Rs 150 at the end of the month. Hence, you will gain Rs 50,000 (150*1000 – 100*1000).
These are some of the best options for you to invest in and fulfill your dream of becoming a millionaire.
Start Investing in 5 mins*
Rs. 20 Flat Per Order | 0% Brokerage
Open Free Demat Account
Account belongs to
By proceeding, you agree to the T&C.