How to Create Regular Savings and Investments out of Irregular Income?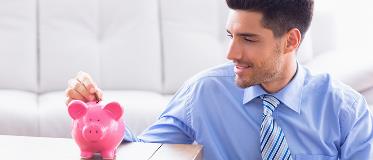 ---

Saving a portion of your salary and allocating the funds to a systematic investment plan (SIP) is quite straight forward. The real challenge arises when you don't have the luxury of receiving an SMS on the last day of every month that your salary has been credited. If you are a consultant or an entrepreneur or even a practicing professional, there are cash flow hazards because there is nothing like steady inflows. Business can be notoriously cyclical and vendor payments normally get delayed. How do you manage regular savings under these circumstances?
The challenge is about ensuring that you save regularly at a time when your earnings can be irregular and also uncertain. Here is how to go about it.
Make saving a habit not a choice
If you are on your own, then there is no employer to offer deductions into an automatic savings account or PF account. The question is how much to save when your flows are uncertain. Fix it as a percentage of your average likely inflows during the year. Set the fixed SIP saving at a much lower amount to provide for the uncertain months. Keep a core fund where the bare minimum amount goes and a satellite fund where the additional amount goes; which you can determine on a monthly basis.
Pay your home loans fast and your credit cards faster
When your flows are irregular, you need to ensure that you service debt on time. Delays in debt servicing will mean penalties and impact your credit score and you cannot afford either. Set rules and automate your debt payments and factor that into your budget. There is another thing to remember. For your home loan settle for a small home, smaller home loan and shorter payment period. Use intermittent flows to prepay part of your home loan so as to be debt free earlier than anticipated. Lastly, keep off high cost loans like credit cards, personal loans etc. Credit cards can be for convenience not for borrowing.
When you get lump-sum put them in a liquid fund and structure STPs
How do you create regular savings out of irregular flows. Here is a way out. Put your intermittent flows into a liquid fund or a short term debt fund. Then structure a systematic transfer plan (STP) in such a way as to sweep a fixed sum into an equity fund each month. You get regular saving, your idle money is put to better use and you also get the benefit of rupee cost averaging.
Adopt a stepped-up plan rather than a constant allocation plan
One of the challenges in entrepreneurship is that cash flows are erratic. However, you can broadly take a bet that business flows should grow over a time after the initial gestation of 2-3 years. That is when you must have a realistic step-up plan in place. A step up plan is all about estimating how much you expect incomes to grow on an annual basis and accordingly step up the amount invested in SIPs. Set constant mutual fund investment for a year and at the end of the year automatically step up to a higher level. This annual accretion done through stepping can make a substantial difference to eventual wealth creation.
Keep reviewing your goals and get realistic
You save for goals and hope that money works hard enough for you. Along the way, you find that your goals look unrealistic. That is the time to get real with your goals. For example, you may have planned a Scandinavian holiday after 3 years but business exigencies could mean that you have to settle for Singapore instead. Be pragmatic about it; after all you want to spend time with your family. Similarly, if you find that your dream of sending your son to Oxford is looking unrealistic, it is time to explain the same to your family and be pragmatic about it. You can still give quality education and not compromise on their long term dreams.
Make insurance pay for uncertainty
All your regular savings may come to nought if you have not built adequate insurance into your plan. Insurance has to be purchased at various levels. For example, you need to ensure that your life is adequately insured to take care of family needs. Of course, prefer a pure risk cover not those unwieldy endowments or ULIPs. Ensure that your assets are insured and also your liabilities. Above all, when you create a child education plan, build insurance into it.  It may add a small cost to it but it will ensure that dreams are not compromised in your unfortunate absence.
As an entrepreneur, the demand on you is a lot heavier to save regularly. You can smartly combine budgeting, stepping-up and insurance to meet your needs.
Start Investing in 5 mins*
Rs. 20 Flat Per Order | 0% Brokerage
Open Free Demat Account
Mobile No. belongs to
By proceeding, you agree to the T&C.