How to make a multi bagger portfolio? Here are 5 mantras from Peter Lynch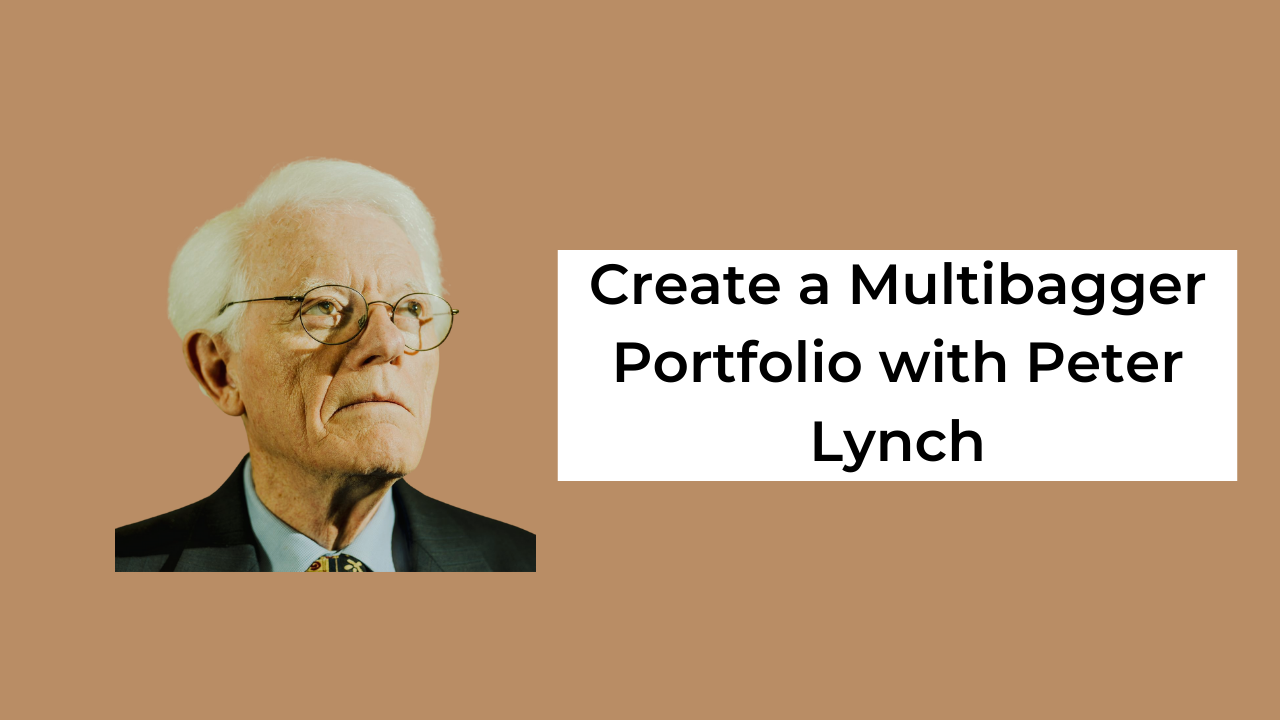 ---

Do you also envy superinvestors like Warren Buffet, Rakesh Jhunjhunwalla and wish to have that kind of returns? Well a sneak peek into an investment guru's strategy can teach you a lot. Today we are going to discuss the investment strategy of Peter Lynch.

Peter Lynch is to the investors, what Nawazuddin siddique is to the Indian fans! 
PS: ( Apologies for this dramatic analogy ), but the bollywood fan in me had to say it, because they have so much in common. Both are Underrated, Consistent Compounders and believe in keeping it simple.

Peter Lynch was the fund manager of Fidelity Magellan Fund for 13 years, and the fund gave an astonishing returns of 29% year on year. Not just that, The fund beat the S&P 500, its benchmark, in 11 of the 13 years (1977-1990) during which Lynch was the fund manager.

During his tenure of 13 years at Fidelity fund, he grew the assets from $18 million to $14 billion (as of 1990). 
Clearly, he is someone with an investment acumen, and his achievements are a testament of that. So, let's learn about his investment strategy and stock picking style.

1. Play on your strengths:
" Know what you own" is Lynch's investment mantra. He believes a retail investor should invest in a company/industry which he knows or works on. For example, A doctor should look for the business of hospitals, Pharma companies, Companies of which drugs he prescribes, because the person that is working in Industry, would have access to information that other investors may not have and therefore they would have an edge there. He believes only when an investor understands the business of a company, he should invest in it.
 
2. Don't gamble:
 
Peter Lynch: "The public's careful when they buy a house, when they buy a refrigerator, when they buy a car. They'll work hours to save a hundred dollars on a roundtrip air ticket. They'll put $5,000 or $10,000 on some zany idea they heard on the bus. That's gambling. That's not investing. That's not research. That's just total speculation."

Lynch believes that every stock has an underlying business, and whenever an investor purchases a stock, they should feel like they have bought an ownership in the company and therefore before investing they should thoroughly research about it. If an investor has just invested in the hope that the share price would go up, its pure speculation and not investing.

3. Company Size Matters! :
Peter Lynch - "Big companies have small moves; small companies have big moves."
A company's share price in the long run would increase with the growth in revenue and profits in the future and small companies generally have much larger potential to grow and expand than the large companies. Also, small companies are less covered by analysts and therefore there are chances that they may be undervalued. So, investors can make huge gains by investing in these companies. With this advice, Lynch doesn't necessarily mean that Large cap companies are a bad investment avenue, but he believes the returns on large cap companies are less due to their enormous size.
4. Stay away from the flavor of the season! 
Peter Lynch : "If I could avoid a single stock, it would be the hottest stock in the hottest industry."
According to Lynch, Hot stocks in hot industries, get a lot of attention initially but once the stock inflates due to this buzz and reaches a level where the company is highly overvalued, investors realise that the company does not have that kind of earnings or profits to back that valuation and eventually the stock prices deflates. Therefore, Lynch advices to avoid these kinds of stocks. The current scenario of new age tech giants like Zomato and Paytm is an example of that, the share prices reached a level where the valuation was not justified and prices crashed. 
5. Go Long or Go Home! 
Peter Lynch: "In the stock market, the most important organ is the stomach. It's not the brain."
Lynch believes that daily markets are flooded with negative news, ups and downs are a part of investing and anyone who wants to become a successful investor, should be able to tolerate the volatility in the markets. According to him, if an investor knows what he owns and why he owns that stock, the volatility in the prices should not affect him and he should be willing to hold the stocks for 10, 20, 30 years as in the long term market returns have been great.
This were some of his key teachings, further he classified stocks into different categories, so let's see those categories and how he selects stocks from these categories:
a. Slow Growers

 These are usually large and aging companies which were previously fast growers and now have slowed down. e.g. utility stocks They have earnings growth somewhat similar to GDP. These companies can be bought mainly for the dividend. While investing in them check the consistency of their dividend history.
 
Also check whether the  dividend payout ratio leaves room for dividend increase.

b. Stalwarts
 
They are not high growth companies  but they grow faster than slow growers. These are big companies that are unlikely to go out of business e.g. HDFC bank, Reliance.There earnings growth rates around 10-12 % per year. While investing in them investors should look if the company is available at a reasonable P/E.
 
Also, investors should check if the company would be able to maintain the growth rate in the long term.
 
Lynch tries to buy low and to sell with a 30-50 % gain after 1-2 years. These companies usually offer good protection during recessions and economic downturns.

c. Fast Growers

 
These are small, aggressive new enterprises that grow 20-25 % per year. If investors research and choose them wisely, they can end up being Multibaggers. While analyzing them , investors should look for fast growers with a solid balance sheet that is making substantial profits and should buy them at a P/E  close to or below the growth rate.
 
Also, they should know the future growth prospects of the company as well, they should see if the company still has room to grow respectively room for expansion

 
 d.  Cyclicals
 
These are companies whose sales and profits rise and fall in cycles and their growth is dependent on macroeconomic factors.For e.g. autos, airlines, steel, chemicals. The best time to buy them is when the economy is coming out of a recession and moving into a vigorous economy.While investing in cyclical stocks, timing is everything.

 
e. Turnarounds

These are those companies that are beaten down by the markets due to their failures but have the potential to turn around their business. While investing in these companies investors should look for the debt in the company, because high debt means there are chances that the company may go bankrupt. Further, investors should see what the management's plan is to turnaround the business.

f. Asset Plays

 
These are those companies that have huge assets in their balance sheet, but have been unnoticed by other investors. While investing in them, investors should see if the company has debt, that can set off the assets. Also, investors should see if the company is planning on taking on any new debt.

Conclusion
Peter Lynch's strategy seems quite simple on the surface, but as they say simple things are hard to follow in the market. He follows a buy and hold strategy, where he knows what he buys and sticks to the company in the long term. His strategy involves buying companies that are lesser known and are not the flavor of the season.
 
 
Start Investing in 5 mins*
Rs. 20 Flat Per Order | 0% Brokerage
Disclaimer
Investment/Trading in securities Market is subject to market risk, past performance is not a guarantee of future performance. The risk of loss in trading and investment in Securities markets including Equites and Derivatives can be substantial. Also, The
Open Free Demat Account
Mobile No. belongs to
By proceeding, you agree to the T&C.